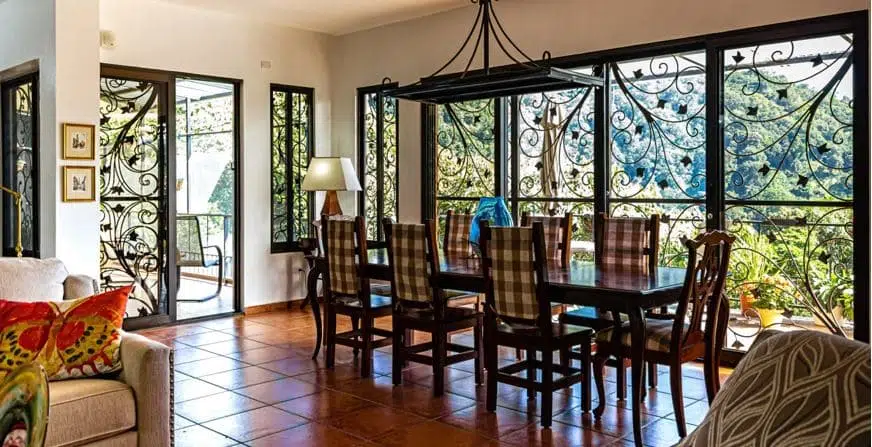 Choosing the best type of floor covering and finish for your summer house is a difficult process. Flooring can completely change the interior décor of your log cabin and before you make a final decision, we recommend taking into account the main purpose of your log cabin. Each flooring material has its advantages and disadvantages and the massive range of possibilities can make this a complex but fun project. Therefore, learning a little bit about mixing and matching and about combining colors, textures, and functions is always a good idea.
To make it easier for you to choose the right flooring for your summer house, our specialists have joined forces and created this short, but helpful, guide. Read on to learn about some of the most popular trends in flooring for 2020.
1. Wood
Hardwood floors are extremely popular, especially since summer houses are made of solid wood, more specifically slow-grown Nordic spruce. The most notable reasons that make hardwood floors a popular choice in 2020 are its natural beauty, shine, durability, versatility, and ease of care. If you plan on using your summer house daily and you think that the floor will take a beating over time, worry not! A thick veneer and regular maintenance will be enough to keep your hardwood floors in top shape.
Used for hundreds of years, pine and oak are by far the most popular types of wood for flooring. They have a beautiful natural texture that adds character to your interior décor, and they are very versatile and permissive when it comes to color and finishes. But if you want to go for something more special and exotic, you can try mahogany, cherry, rosewood, bamboo, cypress, or teak. If you prefer more domestic types of wood like pecan, hickory, walnut, ash, or the aforementioned oak and pine, you might want to know that a lot of manufacturers now offer center medallion pieces, hand-carved borders, and other custom details.
There are many different types of hardwood flooring, so the only limit here is your imagination (and your budget). The only issue with this material is that it can be susceptible to warping and discoloration, as it is quite sensitive to water. But the good news is that over the past few years the finishes have seen a huge improvement and wood has become much more water-resistant. But, if you worry that your log cabin might be flooded or if you live in a very humid climate, maybe you should try something else.
Hardwood flooring is the best option if you want to use your summer house as a garden office, guest house, children's room, studio, or meditation, yoga, and relaxation room.
2. Tiles
If you went shopping for tiles before, then you know about the plethora of options available on the market. You will surely find an attractive design at a reasonable price and you can choose it based on the interior décor that you've planned for your summer house. A lot of people choose this type of flooring because it's affordable, easy to install and clean, and attractive. When it comes to wear and tear, tiles are very resilient, so they make a perfect option for high-traffic areas. Although, you should avoid dropping heaving objects on your tiles because they can suffer serious damage.
Another notable advantage of tile flooring is the fact that it does not require much in the way of upkeep. Cleaning tiles is very easy and you won't have to worry about stains. All you have to do to keep your tile flooring in top shape is to reapply sealant once every 5 years.
The interesting thing about tiles is that they are particularly versatile when it comes to heating. Tiled flooring is becoming a popular choice among log cabin owners because it is very compatible with log cabin underfloor heating systems. Made out of materials like clay, sand, and glass, and sometimes even recycled materials, tiles are considered an eco-friendly flooring option. Combined with an underfloor heating system, they will help you reduce your heating bills in winter and keep your summer house cool in the summer.
Tile flooring is ideal if you want to use your summer house as a sauna room, gardening hub, garden party hub, GYM, DIY workshop, barbecue hub, summer kitchen, or storage room.
3. Concrete
We all know concrete as a great material for outdoor flooring. In recent years, however, indoor concrete flooring has become increasingly popular. Concrete can be stained and colored in pretty much any hue, and there are infinite textures and patterns available on the market. If you live in a warm climate, you'll find that concrete is a great option for your summer house because it holds coolness and it will lower your air conditioning bills. But concrete flooring works great for log cabins in cold areas too, especially if you want to install floor heating.
If you are a creative person and want your summer house flooring to be unique and stylish, you can opt for terrazzo, which is a composite material perfect for all-purpose flooring. Terrazzo is usually made of cement and chips of glass, marble, granite, quartz, etc. Installing terrazzo has many benefits like affordable price, longevity, eco-friendliness, resistance, and elegance.
Concrete flooring is perfect if you want to use your summer house as a garage, utility area, storage room, gardening hub, sauna, summer kitchen, GYM, etc.
4. Resin/Epoxy
Resin flooring is an innovative and versatile option if you want to order and build a summer house in 2020. This type of flooring is particularly tough and resistant and it is perfect for domestic use, but also industrial and commercial projects. The main advantages of resin flooring are its durability, resistance, and flexibility under stress. Therefore, resin flooring is perfect for high-traffic areas.
Other benefits of resin flooring include the fact that it is very easy to clean, safe, anti-slip, flexible, and attractive. Epoxy resin can be colored in any shade and you can even add flakes for a more stylish look.
Epoxy resin flooring is perfect if you use your log cabin as a garden office, GYM, garage, hobby room, studio, summer kitchen, etc.