After experiencing increasing demand for our cabins from Irish customers, we have worked out a cost-efficient way to deliver cabins from our UK warehouse to Ireland. We are happy to announce the launch of Summerhouse24 log cabin retail sales and deliveries to Ireland.
By doing so, we can also eliminate dishonest log cabin dealers, poor customer service in Ireland as well as well as unprofessional installation works that we have been experiencing lately by some cabin resellers.
Customers from Ireland can now experience one of the best cabin ranges available in the area. We offer over 200 garden rooms and offices, nearly 20 garden storage sheds, over 20 wooden garages, over 30 residential cabins and large log cabins as well as numerous sauna cabins, BBQ huts, gazebos and other garden buildings.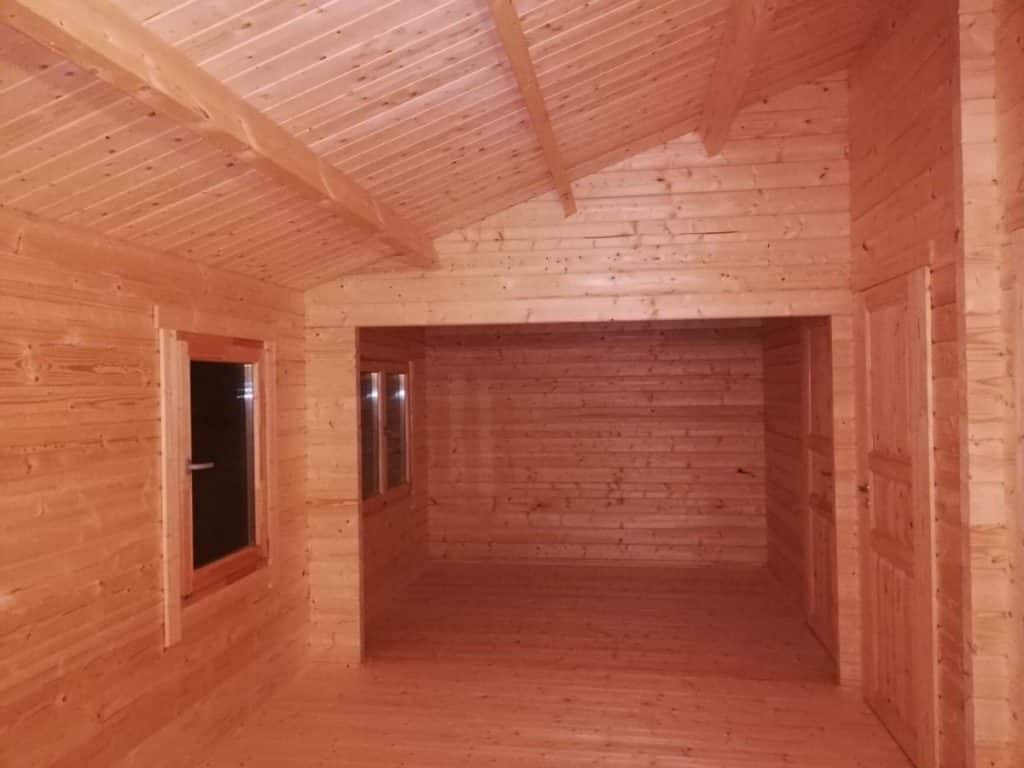 Our cabin deliveries are made with crane trucks, which means that we are able to unload your cabin as soon as it reaches its destination. All our log cabins are designed for fairly quick and easy DIY installation, but we also do offer our professional cabin installation services for our Irish customers. Besides fitting the cabin, we also supply and install cabin insulation, roofing shingles, EPDM rubber roofing and FireSmart self-adhesive roofing felt. Base works, electrical works as well as plumbing shall be ordered from local construction or home improvement companies separatley.
Our delivery times for Irish customers are similar to what we have in the UK, which means that made to order standard cabins can be delivered within 6-8 weeks and stock cabins within 2-4 weeks.
Summerhouse24 log cabins and sheds range from 28 mm up to a massive 92mm wall thickness. The most affordable garden buildings are 28 and 40mm sheds and garden summerhouses for seasonal use. These 5-12 m2 cabins come with single glazed doors and windows, 18 mm thick floor and roof boards, impregnated foundation beams, prefabricated tongue and groove wall planks and other wooden components as well as with all fixings, screws, nails, product manual and assembly instructions. Apart from 28 and 40mm cabins, all our 44 mm garden rooms, sheds and offices have double glazed doors and windows in the standard kit as well as metal storm braces for inserting throughout the entire wall in all four corners for extra strength and stability. Our 58-92mm garden rooms and residential cabins have additionally extra thick 28mm floor boards and all cabin windows come with German made Roto turn tilt systems for more user comfort and longer life span. 70 and 92mm cabins are commonly insulated and used all year round for living, rental businesses and working. Air source heat pump or radiators are also required for keeping the cabin warm during winter months.
Our customer service is open from Monday to Saturday 09:30 – 17:30 and Sundays / Bank Holidays 10:00 – 17:00.When buying your Hansa24 garden room or a residential cabin at Summerhouse24 online shop, you can avoid low quality copies which have become common at several log cabin shops in Ireland!