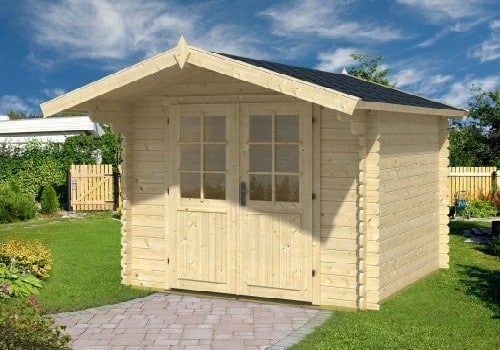 A garden shed, a small summer house or summer house shed can be found in evermore gardens in the UK.
The shape and size of these buildings designed as storage space for gardening tools and machinery is often different from garden houses built to accommodate people most often by size. These garden sheds are in the UK often quite small, like under 4 sq m, they have no windows in order to maximize the usable wall area used for hooks or shelves. Often times windows are in the doors, which is more of an optical thing because once you open the garden shed or small garden house, the light will fall inward through the open door anyways.
However a nice look is also important for such a small summer house, because garden sheds and summerhouse sheds do have the potential to be a decorative element in your garden, which makes the garden just look more civilized, more inhabitable.
Neat Storage Skills are Essential in Small Garden Storage Sheds
The smallest models of such garden sheds are more like garden closets. However, if you do it right, they might take a lot of stuff. I saw a photo, where all that stuff stored in such a small summer house shed covered a terrace of about 20 sq m completely. Hooks, hanging drawers, folding elements, deep shelves and astute organization can multiply the capacity to store valuable tools, devices and accessories.
Many garden sheds do have a porch which is well suitable to park a bicycle under it or where you can install a hook for workwear, so that you can access it quickly.
In larger gardens, where the gardener uses different kinds of machinery like lawn mowers, maybe even drivable – or robotic lawnmowers, and other bigger devices like rotary harrows, choppers, a bench saw, hedge cutter or chainsaws the garden sheds should get bigger. Most of them would then also have windows to shed additional light into the spacious inside and they would have larger, double-winged doors. However, these garden sheds or summer house sheds still differ quite a lot from summer houses, which are designed to provide a living space for example as a garden office, an artists workshop or a place to spend leisure time and have tea in. Of course, a great summer house or a wooden garage set up as workshop can support storage space for quite a number of devices and tools or garden furniture as well, if the size allows for that, but a small garden shed or a small summer house shed provides the same function for a much lower price, which is at just a fraction of what a wooden garage or a large summer house would cost.
Garden Sheds Come in a Huge Variety to Choose from
There are many mixed forms between garden sheds, small summer houses, garden closets, garden pavilions or wooden garages. If you look at the online offers, you will find a large variety of forms, colours, sizes and functions, where there is really some dream garden building for everybody.
Our tip: Even though a small garden shed is an extremely useful and quite affordable investment, you might want to look for a size, which is a little larger, than the one you could use right now. The future will bring new ideas, new projects, new tools and devices, maybe new hobbies, new cultures or flowers into your garden and the options for all these are provided by a garden shed or a small summer house shed, where there is some space for storage still unused.
A small summer house with a porch will be good to put a chair under it, where you can have a calm look over your garden, even if we have drizzle rain, which seems to be our most prominent weather today in the UK. Probably you will have made a good, dry and mouse proof space for the paddings of the garden furniture, where they could also spend the winter in safety.
A Garden Shed will Take the Load off your Garage, your Cellar or your Workshop
If you plan to use the garden shed especially for gardening tools, you could make some space in your cellar, your summer house, work shop, garage or where ever you stored them before, and take the opportunity to establish a better system there, while you could erect the garden shed or small summer house shed directly into the garden, right where the tools will actually be used. Organisation is the key!
After all, such a garden shed provides a dry storage place for your valuable tools and devices, which will prolong their life expectancy. It can be locked easily and with that your utensils are also protected against theft or unauthorized access, which can be important for example if there are children playing on the estate.