Garden Storage Sheds – Online Sale
18.08.2017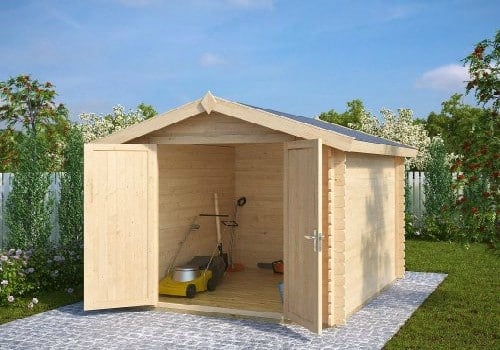 Garden storage sheds create a safe and dry place for gardening tools and materials, garden furniture, or whatever you want to keep safe in the garden. They provide the garden storage space just where it's needed. Summerhouse24 carry a wide range of garden storage sheds of all shapes and sizes with and without windows for you to choose from according to how much space and security you need.
Click here to find our portfolio and latest prices: Garden Storage Sheds
We have a great variety of garden sheds to choose from as for example the windowless Garden Storage Shed Andy M with 5m² of space ideal for storing all the gardening tools and a lawn mower. Sturdy 28 mm logs provide enough stability even to attach hooks or shelves on the walls and a large double door opens up much of the front for easy loading. An internal eaves height of 6'4" makes it fully accessible.
If you need a bigger shed to store bicycles, sports-equipment or more machinery like garden shredders, pressure washers or alike, we would like to direct your attention to our best-selling garden storage shed Eva A with 12m², but even sturdier with 40mm walls. A cylinder lock keeps the storage safe and no windows allow curious by-passers to take a look inside.
Of course, we offer garden storage sheds with windows in comparable sizes as well. For example, the Wooden Workshop Nora F comes with two opening windows high up on the wall, so that peeping in is not that easy, but you will have natural light in the inside. This garden storage shed offers an internal space of 8.5m² and also has sturdy walls with 40mm wall thickness and a double door. All these sheds come with a 5-year warranty, and are usually delivered to all the UK within five weeks from the order.
We would also like to mention our garden houses with shed, where you find all the amenities of a summer house plus a built in storage shed opening to the outside.
Click here to review a price list of our Garden Summer Houses with Storage Sheds
If you need any advice on our Garden Storage Sheds, please review our website or call Oliver on  020 3807 0369. He will be happy to answer your questions. You can also email him at info@summerhouse24.co.uk or contact us through our website. You can order your garden storage shed per phone, email or the website.
Want to discuss over phone. Let us call back to you
If you need any additional info regarding any product, please fill in the below form and we will get back to you, usually the same or next working day.
Have any questions regarding some product?
If you need any additional info regarding any product, please send us your questions.