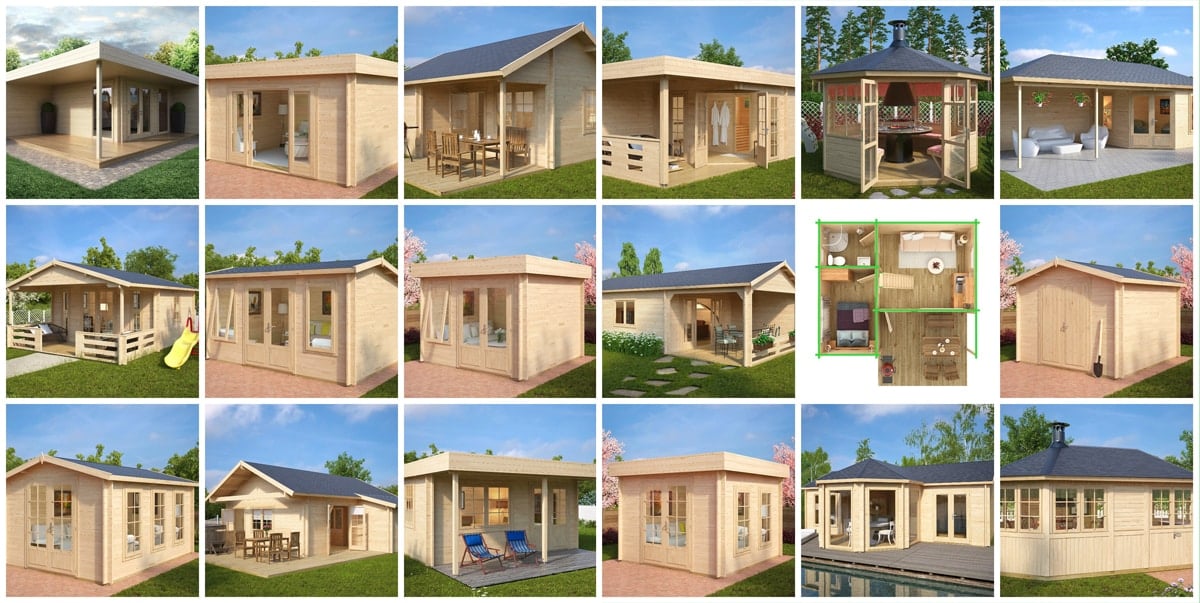 If you've recently made the smart choice of extending and bringing you indoors outside with a trendy decking as part of a wooden log, garden room, wooden office, timber-made shed, veranda or BBQ gazebo, then, most certainly, you will want to learn how best to maintain it and keep it clean without using a pressure washer.
However, the wooden surface will inevitably suffer spillages, dust accumulation, water stains and general adverse effects caused by the elements unless you have good decorative, liquid wood preserving stain. It's also possible for your deck to show signs of mildew and mould growth during wet seasons and if positioned in the shade.
On that note, if you don't have a high-pressure washing machine, then, the task of keeping your exterior flooring may somewhat dishearten as you prepare your deck or shed for the summer you well before you even attempt to do the cleaning job.
But relax, because today, at Summer House 24 we share with you some tips on how to clean a deck without a power washer.
Best ways to clean a wood deck without a pressure washer
Well, there are several cleaning methods, suitable for wooden deckings, which involve the use of different products, easily accessible online or at your local store. And instead of investing in or hiring a high-pressure cleaning machine, you can resort to your good old garden hose and attach a nozzle sprayer to its end. To agitate hard-to-clean marks and stains, as well as clean in between the floorboards, don't forget to use a stiff brush or a broom.
Consider these 10 useful tips about wooden summer houses and sheds before you buy and find the right modern summer house for you, quickly and easily.
Below, we list some effective cleaning solutions, you can choose from, depending on how dirty your outdoor timber floor surface is.
Try using insecticidal soap
Manufacturers base most insecticidal soaps on potassium salts of fatty acids. These active ingredients are a menace to any living organisms, such as bacteria, algae, fungi, pest insects on plants, mould and mildew. We can tell you firsthand how useful can that tip is for cleaning sauna cabins.
So, if your wood decking suffers from mould spots, consider using such type of products.
Don't forget to wear gloves and just follow the instructions on the product label.
Leave the solution to work its magic over the problem areas and rinse well.
Clean the deck with a general washing detergent
This is an easy-to-make DIY cleaning solution for your decking if the surface is just generally dirty and doesn't have stubborn stains. You can use any all-purpose washing product, including a laundry powdered detergent.
Mix well about 4 litres of water with a cup of general powdered or liquid detergent.
Apply, leave to sit for about 10 minutes and rinse.
Remove mould with a hydrogen peroxide solution
Another mould and mildew removal solution can be quickly concocted by mixing 1 part of food-grade hydrogen peroxide with 2 parts of water to make about 4 litres.
The result will be an extra-strength cleaning mixture, which will successfully dissolve grime and mould.
Scrub well with a brush
Leave to sit for 15 minutes and rinse.
Mix trisodium phosphate with oxygen bleach and water
If you need to apply a heavy-duty cleaner to remove stubborn marks and dirt build-up from your deck, mix about 3 litres of water, a cup of oxygen bleach and a cup of TSP (trisodium phosphate)
Note: Oxygen bleach is a safer alternative to bleach, which is a hydrogen peroxide-based substance that won't cause damage to the wood surface if you don't leave the solution to sit for over 10 minutes.
Apply,
Scrub well with a bristle brush
Rinse.
Use a strong formula decking cleaner
You can't go wrong if you clean your deck with a purposely made product.
There are several excellent wood maintenance products available in the UK. Shop around and go for proven extra-strong formulas and wood deck cleaners. Then follow closely all manufacturer instructions on effectively removing mould, dirt, and algae off your deck!
Just as an example, products, such as Ronseal DC Decking Cleaner or Pro-Kleen Decking Cleaner have received stellar reviews and won't break the bank.
Now that we've described some of the proven and most effective solutions for cleaning your deck, let's see what the best approach is and the steps to clean a deck without a power washer.
The easy-to-follow steps of the deck cleaning process
For an easy time and effective results, we asked the Fantastic professional jet power pressure washing company for the following tips to clean your deck the DIY way:
Clear the surface. Remove garden furniture and pots from your deck, first, before proceeding to the next steps.
Sweep or vacuum the deck. This step is optional, but you'll find it much easier to work with a surface that is clear of any large particles, dried mud and debris.
Clean the gaps. Remove leaves and dirt from in between the gaps of the decking with a broom. If needed and you have one, use a leaf blower.
Perform a preliminary rinse. Get your garden hose with a good quality nozzle sprayer attachment and rinse your wooden deck well.
Make or purchase the cleaning solution of your choice. Decide on what deck cleaner you want to use from our list above, based on the type and extent of the contamination.
Test the substance, first. Always perform a test on an inconspicuous area as some of the active ingredients of the solution (oxygen bleach, hydrogen peroxide, etc.). It may affect adversely the colour of the deck or the wood itself. Remember! Never use regular bleach to clean your deck!
Apply the product/DIY mixture. Apply the deck cleaning solution with a mop. Consider working your way in sections if the decking is on the large side, as you don't want the cleaning agent to dry before it does the job.
Scrub well with a stiff broom. Agitate the surface by scrubbing well the cleaner onto the surface with a bristle brush or an outdoor broom. Do not use a metal brush so that you avoid any damage.
Leave the solution to sit. Allow for the deck cleaner to work its magic for 10 to 15 minutes, depending on what you use. Follow closely the label instructions if you've opted for a store-bought product.
Rinse thoroughly. Rinse the deck very well with your garden hose to remove any substance residue. We recommend that you wash the surface several times to be on the safe side.
Repeat steps 7-9 if needed. Heavily contaminated decks could do with repeating the cleaning process (from step 7 to step 9).
Allow for the deck to dry. Leave the deck to dry completely.
Apply a protective sealant (if necessary). If you spot damage on the top layer of the deck, be it a varnish or a sealant, reapply a suitable protective solution to seal the surface and thus prolong its life.
How to clean a composite or PVC/vinyl decking without a pressure washer
Finally, let's explore the most effective and safe approach if you want to restore the shiny clean state of your composite or plastic decking and don't own high-pressure washing equipment.
Resort to the same steps of decluttering, sweeping and rinsing your deck, first.
Make a solution of 1 part mild soap and 4 parts water.
Mix well.
Apply the DIY deck cleaner generously over the surface with a mop.
Scrub gently stubborn marks with a plastic brush and rinse thoroughly your deck with a hose. Again, never risk using bleach-based products to avoid damage.
Alternatively, use a deck cleaner that is specially made for the type of decking you have.
Ready, now what? Refresh your exterior.
Once your wooden deck is fresh and clean, it's time to ennoble your outdoor area.
Is the grill ready? Have none? Explore the BBQ & Grillkotas products at SummerHouse24.co.uk here.
Cleaning decks without a power washer – Wrap up,
To clean a wooden deck without using a pressure washer can be difficult but not impossible. Make sure you are well-prepared with both time, DIY ingredients, and off-the-shelf products, and get down to scrub and rinse!