We're grateful to see that our clients enjoy our products. We've just received a few photos from a customer who ordered our "Large Garden Room D" last year and we're extremely happy to share them with you. The customer chose the standard log cabin set, grey roofing shingles, and the optional roof and floor insulation kit. Having installed the cabin a year ago, our client and his family had plenty of time to enjoy their purchase. They hosted several birthday parties, dinners with friends and family, as well as Christmas and New Year's celebrations. They couldn't be happier with their investment and they look forward to making the best of it in the years to come. Isn't that wonderful?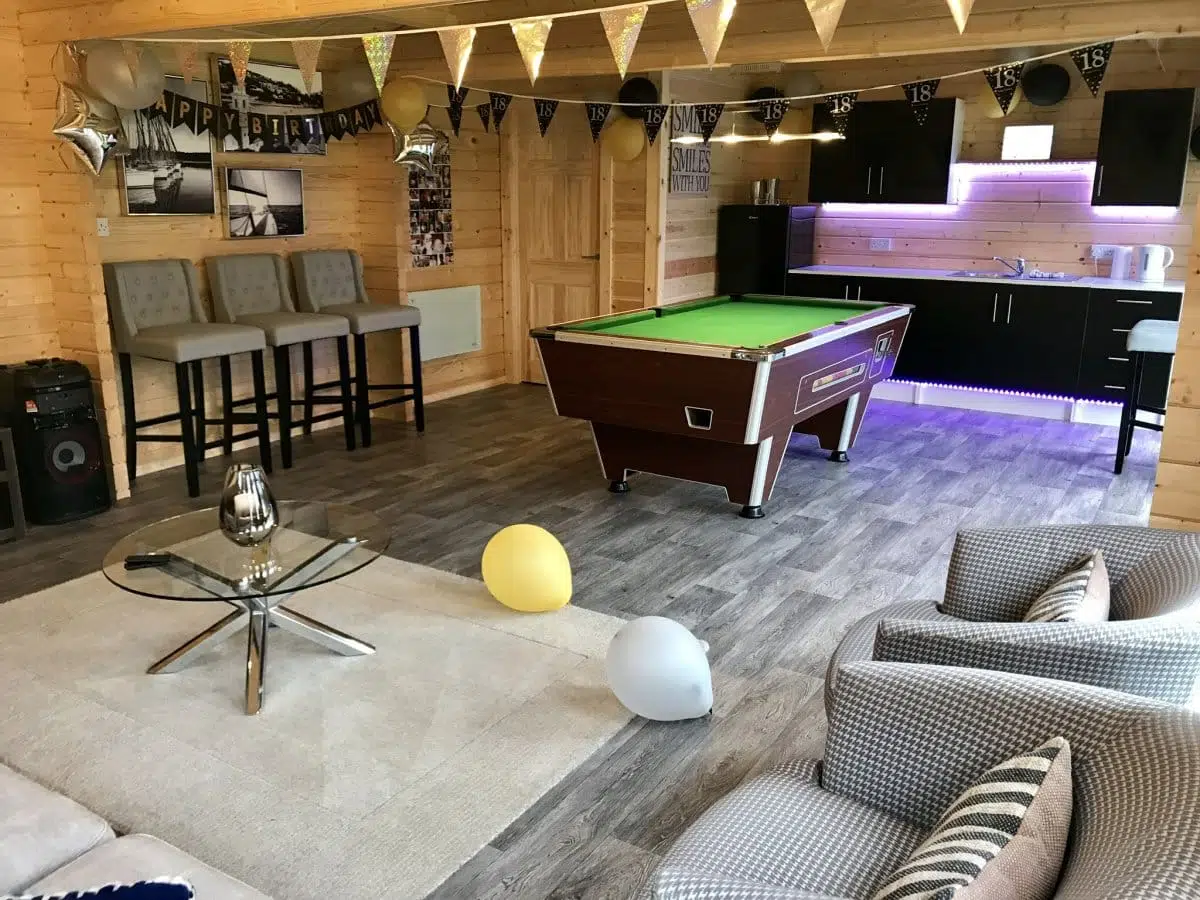 Now that you've seen how nicely our clients have decorated their new space, you might want to learn more about this versatile garden room. This product is very popular because it's spacious, around 40m², it is equipped with thick 70mm wall planks and double-glazed windows. This means that it can easily be used year-round, even in harsh winters, thanks to our optional roof and floor insulation kit that our client wisely purchased. It can accommodate a full-size snooker table, a Ping Pong table, or any other hobby or activity that requires plenty of space.
But that's not all, like most of our garden cabins, the Large Garden Room D is extremely versatile and it can easily be transformed into a garden office, a hobby room, an extra bedroom, a granny annex, a guest house, a rental unit, and anything you can think of. Additionally, garden rooms are great investments, especially in the current socio-economic climate.
Garden cabins are eco-friendly and made of natural (slow-grown Nordic spruce) or recycled materials (see our Container Cabins). If you plan on selling your property in the near future and you're not eager on making an investment, keep in mind that garden cabins will increase your property's curb appeal and make it more appealing to potential buyers. If you change your mind about selling, you can use your garden cabin as an alternative source of income by renting it. The possibilities are endless!
Many amendments can be made to the standard cabin. For instance, our clients decided to build a toilet room, a kitchen, and to install parquet flooring which gives the room a homely vibe. The whole cabin building process also involved base works, electrical works, and plumbing and was carried out by a local home improvement company.
Would you like to be Summerhouse24's next happy customer? Browse through our products and find your favorite cabin. Contact us if you have any questions! We're happy to help!