Summer houses come in all shapes and sizes and the decision if to purchase one with or without a veranda surely involves some kind of vision about what you would like to use your new summer house for.
No hard decisions are necessary though, because experience has shown that the originally assigned purpose can change with time and evolution of personal needs and ideas may occur. So if you plan to use the summer house for storage, as an extension of your living space, as a garden office, as a gardening hub, or for any other of the many purposes a summer house can serve, the main idea is to sit on your deckchair outside in your garden after work in your own little holiday time every day on the veranda of your summer house.
If this idea is similar to your idea, you should consider purchasing a summer house with a veranda.
How is a summer house with veranda usually built?
A summer house with a veranda usually has one common floor for the house itself and the veranda. So both the summer house and the veranda are placed on one large wooden deck. Most verandas offer some shelter from the rain with at least a part of them under a roof overhanging the summer house. With the sun slanted in the sky most of the times, it is your planning, how to place your garden house, so that you can enjoy the sun on the veranda and at the same time be sheltered from the rain.
If you look for summer houses with verandas in the internet, you will find that they come in all shapes and sizes. Even very small garden houses can come with a veranda suitable for one or two chairs to sit on. If you would prefer a larger veranda, where you can also invite your friends for tea-time, bigger sizes of verandas are also available.
Some examples of summer houses with veranda
You might think it is necessary to buy a large summer house to have the additional benefit of a veranda, but the MINI HANSA LOUNGE proves otherwise. The room of only 9m2 has much light through the windows which are basically floor to ceiling and is well suited to contain a garden office. The veranda of about 6m2 is protected by a large roof overhang and offers enough space to take the laptop outside or have a business talk on it.
The walls are of 44mm and thus provide excellent stability and insulation properties.
A really impressive and elegant summer house with veranda is the GARDEN ROOM SOPHIA WITH VERANDA which also comes with 44mm wall thickness and real glass windows like all the summer houses of summerhouse24. Here the roofed part of the veranda offers 18m2 of space while the room contains 10m2.
This decorative summer house with veranda is the perfect fusion of a gazebo and a garden room suitable for many purposes and made from high quality Northern Spruce.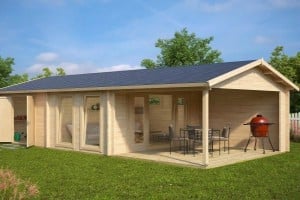 A summer house with veranda suitable for permanent residence is the LARGE GARDEN SUMMER HOUSE CARL which features walls of 70mm, so that an excellent insulation allows for heating and all-year residence. With 25m2 inside and a large veranda in front, covered by a roof overhang which also protects the entrance from the weather this is a serious summer house suited to rent it out as a holiday house or for your own purposes.
Why opt for a summer house with a veranda and not one without?
Not only is sitting on the veranda of your summer house watching your garden and listening to the birds singing a little holiday, a perfect stress-relief you will be able to enjoy every day without packing bags, travelling, or extra costs, it also just makes a summer house look more elegant and classy. If you ever watch pictures of summer houses with or without verandas, you will notice, that those without look like cubes on the ground, while those with a veranda look much more inviting. They really offer a place to rest in the garden and change the whole atmosphere of a garden. A summer house with a veranda makes your garden a part of your living space and enhances your quality of life.