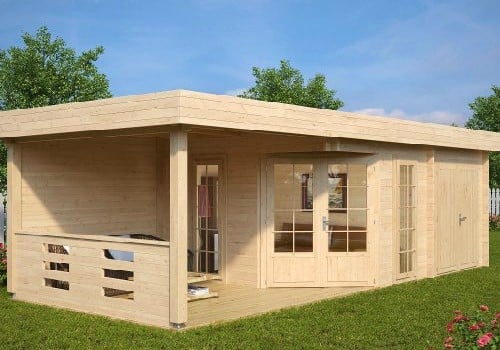 Before somebody invented the first summer house with shed, the simple summerhouse often had to serve many purposes: As a garden room it was an expansion of the living space of the main house and as a storage shed it had to take gardening tools, bikes, garden furniture, toys, old furniture from the house and many more things.
So it was always a little cramped in the summer house and somehow the stored things were preventing it from unfolding the potential to internal beauty and style that can be achieved with a contemporary summer house with a side shed for storage.
If you want to use your summerhouse as a garden office, as a sauna, a fitness room a guest room or as a playground for the kids: In every case it is a good idea to have a storage shed integrated so that all the things are out of sight, out of direct reach and the interior design of the living area can be fully appreciated by everybody.
A summer house with shed is a multifunctional garden building
As the classical garden shed is approached from the outside, so are most sheds that come as a combination of a summer house with a shed. This makes sense: You want to get a gardening tool from the shed and you will be happy that you don't need to take off your muddy wellies to reach the shed from inside the summer house, but just step to the shed from the outside, open it, get your tool and continue working.
The same is true for children playing in the summer house: You most probably would not like them to play around with spades, garden hoes or hedge shears.So usually the shed doors can also be locked from the outside to keep the tools away from the children as well as from thieves who might be looking for tools to use to break into the summer house or the main house.
This functional separation of the summerhouse from the shed opens up the full potential of the summer house as a quality place to stay in the natural beauty of your garden, for example as a garden lounge offering a breezy living space with comfy armchairs and a sofa. Make it a modern minimalist design or a country-inspired style with a table set, furniture from raw wood and rustic home accessories and a comfortable sofa. Everything about such a nicely styled summer house can emanate peace and tranquility, and offer you a perfect retreat for your own little daily holiday after work free of charge and with a look into the picturesque natural surroundings of your garden.
Your perfect summer house with shed is waiting for you
The idea of a summer house with shed came late; after so many ideas were developed of making a summer house into such a variety of useful extensions to the individual lifestyle. However, now there is such a huge choice of this combination of a summer house with a shed to be found on the internet that nearly all individual needs can be met. Summerhouses with shed come in all sizes, all proportions of the distribution of the space between the summer house and the side shed -even though in most cases the summer house will be at least slightly larger than the shed -, they offer verandas, terraces, different roof forms, a wide range of different floor plans, glazings, designs and of course different wall thicknesses.However, the idea is already now so successful that it can be expected that a summer house with shed will soon be the new normal when you talk about summer houses or garden sheds.