Summer Houses in the UK – 10 Ideas For Function and Decoration
07.09.2017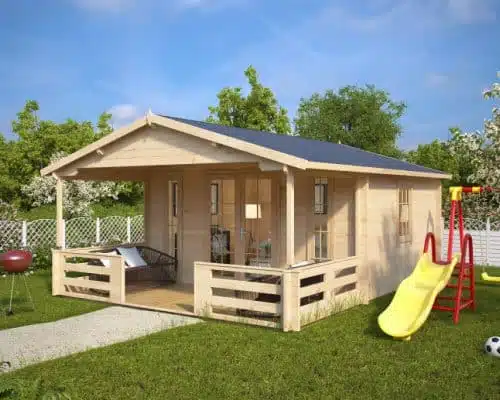 Summer Houses in the UK are used increasingly as individual extensions of our living space As much as a summer house looks nice just by itself; there are still some possibilities to decorate it in a certain style. Here are some ideas of how to make the summer house more attractive, or add some new functionality.
Navy Style:
Make it look like the bridge of a traditional sailing ship. Keep it white and blue, some thick ship's ropes, golden fittings, and maybe some sea shells make a decoration.
Children's Playhouse:
Bright colours, small furniture make the inside look really big. If you have a flat roof, why not make it accessible? A ladder could lead up to the observation deck on the roof. Maybe a slide to get down quickly? Great way to give the children some safe space to play.
Beach Hut:
Romantic South Sea style with some coconuts and maybe a fishing net as decoration. A terrace with beach chairs in the sand.
Swiss Chalet:
With split log frontage and railings for the veranda. Paint it with a darkening wood stain or let the untreated wood be darkened by the sun, and decorate the railing and the windows with boxes overflowing with flowering plants.
Bespoke Summer House:
The smaller versions fit even in the smallest garden, and add chance and opportunity, and make your garden a place to live in.
Vintage:
Retro style furniture, conservative colouring, chintzy curtains and wooden armchairs for sitting, reading a book or just peaceful relaxing with a cup of tea.
If you are looking to buy a new summer house, choose a model best suited for your ideas
Garden Office:
Working in summer houses becomes more popular in the UK by the day because a home office in the summer house offers a perfect quiet space where concentration and focus can make your work even more successful. A desk, a laptop, WiFi or a telephone cable, some filing folders. Some lucky ones don't need much more to make a living.
Meditation Retreat:
Be inspired by eastern Buddhist monasteries and decorate the outside Zen garden style for example with a rock placed in carefully raked gravel. Inside you have flat cushions to sit on, maybe a holder for incense sticks or a golden, smiling Buddha-face on the wall.
Garden lounge:
Make it your own comfy zone with everything you like to have to relax and have your little private holiday free of charge every day after work. Comfortable sofas and armchairs are OK.
Workshop:
You always wanted to repair things, or create things, but never had the space to operate a fully equipped work shop? A summer house or a wooden garage with a large double door might be best to be able to transport materials and things in and out. Inside there is a workbench, a tool's wall and good lighting for safety and efficiency.
Want to discuss over phone. Let us call back to you
If you need any additional info regarding any product, please fill in the below form and we will get back to you, usually the same or next working day.
Have any questions regarding some product?
If you need any additional info regarding any product, please send us your questions.