Two New Large Garden Log Cabins
28.02.2020
We have just launched two of our biggest single room log cabins, both with 43m2 of internal area. They are two identical cabins, with the only difference being the roof type. The Garden Snooker Room I, has a pent roof and The Garden Snooker Room II has a classic apex roof.
Both log cabins have been designed to meet the minimum required room dimensions to accommodate a full size 12' snooker table with full size cue 58" but can be used for many other purposes. Both cabins have tempered safety glass in doors and windows, so they meet safety requirements for use in public areas such as schools and kinder gardens. Many of our large garden houses are used as extra classrooms in schools, conference rooms, gyms and yoga studios, show rooms as well as offices.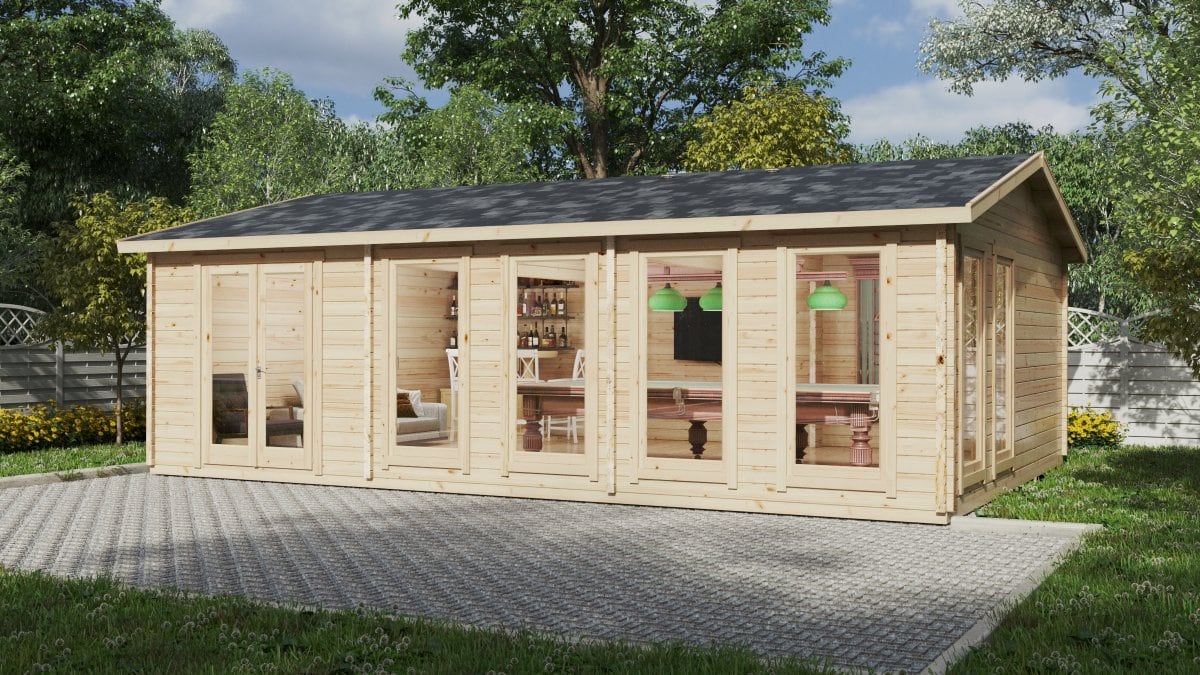 These cabins come with massive 70mm wall thickness, double glazed doors and windows, German made tilt and turn systems, metal storm braces inserted throughout the entire wall for more strength as well as extra thick 94mm foundation beams and 28mm floor boards that ensure a very sturdy and stable floor. All wooden components are made of carefully selected Nordic spruce.
For increasing thermal resistance and extending the period of use throughout the year, we recommend our affordable insulation kits which are very easy to install. Insulated log cabins with light electrical heating can be used all year round in most parts of the UK.
Both cabins can also be amended if any changes are required to meet our customers' needs. For example, we can add internal rooms, change door and window positions, increase wall thickness to 92mm or change the cabin size if necessary.