Wooden storage sheds and workshop sheds
15.01.2016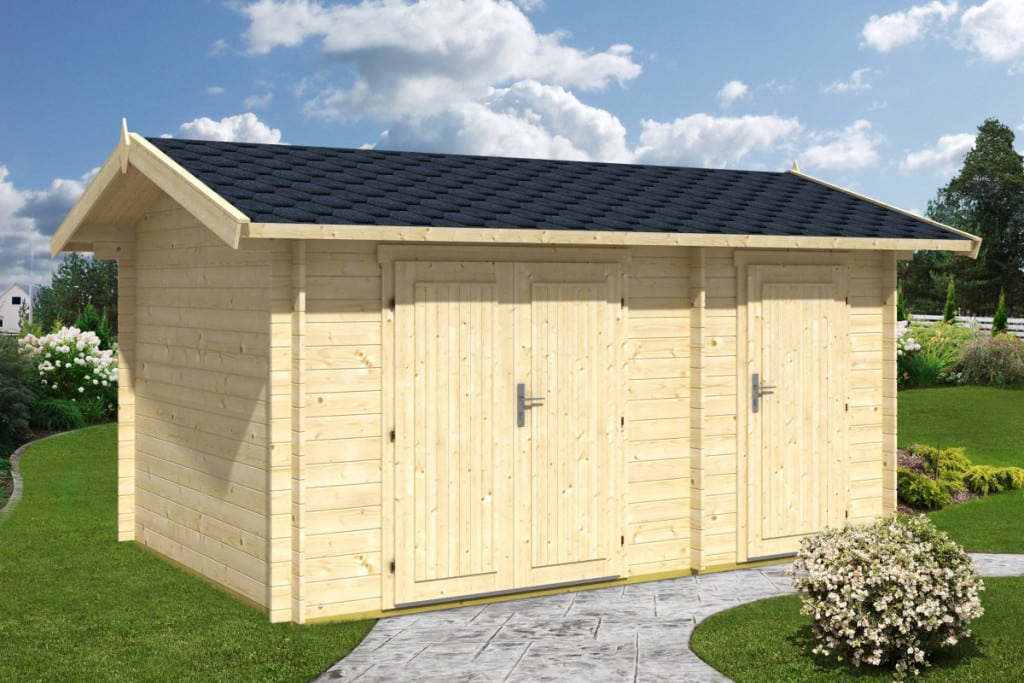 Gardening tools, BBQ's, garden furniture, bikes and other kinds of sports equipment are among the most common things to find requiring storage in UK gardens. These useful assets need a safe place to be stored when not in use or out of season.
For a stylish solution to this issue,  you should consider a wooden garden shed. A wooden bike shed, storage shed or a workshop shed is a great ammenity for any garden and it gives you the flexibility to personalise the exterior appearance with your choice of colors and roof shingles. Other benefits you get with wooden garden sheds are the natural beauty, coziness, and durability.
Small wooden storage and bike sheds are usually 8'x6' and 6'x6' log cabins (2,5x2m and 2x2m). The most suitable wall thickness for these wooden garden buildings is 28mm. You can always go for more, but less than 28mm is not stable or durable.These wooden sheds do not require a concreate base and they are easy to install yourself within a day or two.
True garden enthusiasts usually have more garden equipment and therefore need more storage space. The most popular large storage sheds are 13'x10' and 10'x10' wooden sheds and double sheds. Double sheds (duplex sheds) make very convenient garden buildings. A double shed helps you to organize your things and find them quickly and easyily or the flexibilty to use one part of the building for your DIY projects and the other part for storage. Common wall thickness for a large storage shed is 28-44mm. Most of these wooden sheds do not require a concreate base and installation takes no more than 2-3 days for two people.
Large wooden sheds are also widely used as workshop sheds. A standard workshop shed is usually 13'x10' or 10'x10' with smaller windows which are good to have in order let in natural light and make sure your shed is well ventilated.
DIY flat pack log cabins are a quick and inexpensive way of how to build a garden shed. These garden building are supplied in water- and weatherproof packages. All logs and wooden components have been prefabricated and precut in a ready-to-fit state. All screws, fixings, storm braces, doors, roofing felt and other parts together with an installation manual are included as standard.
All you need are tools (hammer, saw, pliers, drill, screwdriver, measuring tape, ladder, knife and water-level) and two days to build your own garden shed.
Click here to see our range of wooden storage sheds and wooden workshop sheds.
Want to discuss over phone. Let us call back to you
If you need any additional info regarding any product, please fill in the below form and we will get back to you, usually the same or next working day.
Have any questions regarding some product?
If you need any additional info regarding any product, please send us your questions.