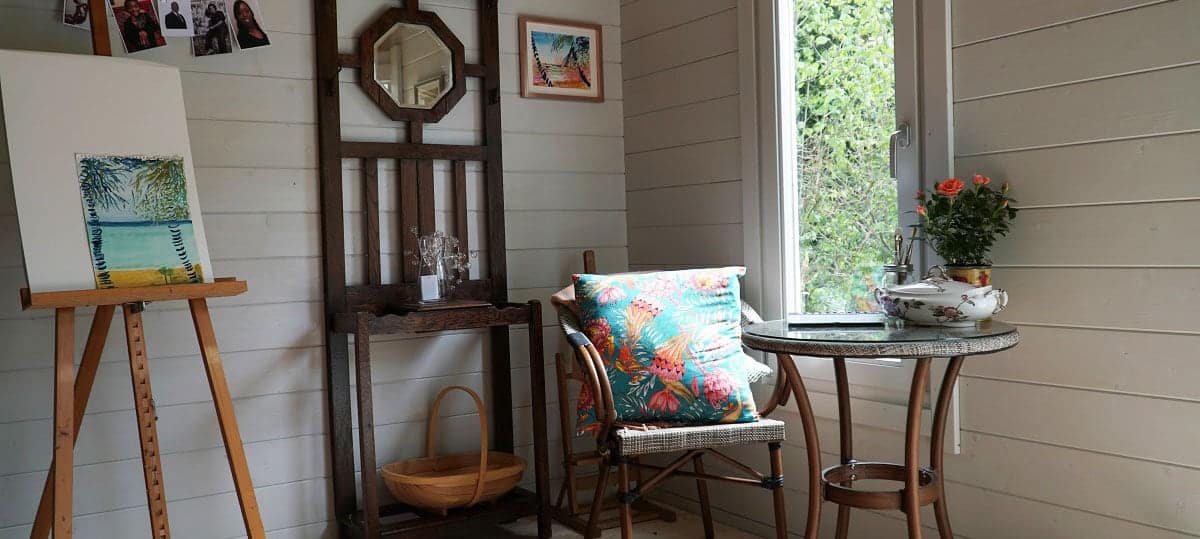 Over the top. What's the first thing that comes to your mind when you think about this? That 'over the top' should be avoided, that it's too much or that it is, perhaps, in bad taste? Or maybe your head starts buzzing with clashing patterns, mingling textures, and so much visual noise that you can't even focus anymore. What if we told you that there's a beauty to the over the top in your home and garden rooms. Or that 'over the top' is actually a trend right now?
It's called 'maximalism' and it's here to make your modern interior design dreams come true! Maximalism is for people who are tired of decluttering and of nude tones or white walls that are so impersonal. It's for Gucci fans who have watched their latest runway shows with avid interest and noticed how the brand is redefining the 'more is more' mindset.
Maximalism is a way to liberate yourself from the shackles of traditional interior design rules. Those rules that have forced you to shop for a white couch and never display that jungle wallpaper you love so much! So let's take a look at a few ways in which you can incorporate maximalism into your home and garden rooms.
A) Wallpaper is step number one
Since we've just mentioned wallpaper, it's also important to tell you that, when it comes to maximalism, it should also be number one on your list. This is a perfect little trick you can do if you don't want to change your whole house. Or if you don't have the budget for that but you're still in love with this trend.
Choosing a maxi wallpaper is also a great idea for your garden rooms. The small space in there will be immediately opened up by the addition of a bold wallpaper. Go for the removable type if you're not sure you're ready for such a huge change or commitment.
B) Artwork, artwork, artwork!
The maximalist trend can also be expressed by turning your house or garden rooms into a veritable art gallery. You can achieve this in two ways. The first one is by using oversized paintings and prints that will become the focus of the space you are trying to decorate. The second is by choosing normal-sized art work, but creating a gallery wall with it. This means occupying every inch of the wall.
Use all the paintings and prints you already have on hand but never got to hang. Alternatively, if you don't have enough, you can buy some more. A good place to start are yard sales or vintage stores. The prints might need a few touch ups, but it's a good idea if you're on a budget!
Here's a tip. Remember that everything you hang in your gallery wall must be cohesive. The maximalist artwork trend for your garden rooms or living room doesn't mean you can just crowd a wall with every piece of canvas you come across. Choose a theme and stick with it! For example, you can hang family pictures or vintage landscapes. Seascapes can work just as well or you can go for a unitary color scheme as your theme.
C) Playing with textures
Another way in which you can nail the maximalist interior design trend is by combining textures. Most people stay away from this idea because it's a bit more difficult to do. But it's not impossible! And when done right, it looks absolutely stunning!
The simplest way to go about texture overload is to start with your basics. Go for wooden chairs mixed with metallic storage units or even a metallic table. Add an animal print rug, and you already have three textures mingling. Layer them with velvet pillows here and there and some silk curtains. Of course, you can go overboard if you're feeling brave by now and throw in plush accessories that will border on the kitch side!
D) Color, anyone?
One of the easiest ways in which you can bring the maximalist trend in your garden rooms or home is by playing with color. Step away from the comfort zone of white walls and into the enchanted world of maximalism!
It's all about contrast now! Depending on the room you are decorating, you can try different color combinations such as the following. An elegant purple and turquoise for your bedroom that will make the room look calming and relaxing. A set of peacock colors coming straight from the 60s for your living room that will breathe some life into it. They include orange, yellow, kiwi green, and pink. And a lush green palette for your garden rooms that will match the organic environment outside.
E) One bold accessory
Maximalism expressed by one single thing. A paradox, yes. But when that one thing is oversized, you start to understand how it will convey the maximalist trend. The accessory is entirely up to you because wherever you decide to place it, it will become the heart of the room.
Therefore, it could be a large crystal chandelier for your living room. Or a beautiful, ornate headboard for your bed that takes up half the wall. It could also be a large house plant or tree such as a lemon tree or an olive tree. You can place it in your garden rooms as a way to bring more of the garden inside.
It could also be a collection of wine bottles, jars of sand from around the world lining your walls, or a vintage bicycle displayed high up on the ceiling. Everything screams maximalism!
What do you think?
Are you ready to go a little bolder when it comes to your interior design habits and try maximalism? Or are your house and garden rooms perfect the way they are? Let us know in the comment section down below because we're super curious to find out!