What Is the Process Involved in Manufacturing a Bespoke Timber Garden Room?
At Summerhouse24 we have the expertise to transform your outdoor living space and create the garden room of your dreams. Have you found yourself wanting some additional space but don't want to move house? Or perhaps you just want a sanctuary to escape to where you can releax and unwind or focus on your hobbies?
We can help you design your ideal garden room and then turn it in to reality by manufacturing it in our state-of-the-art factory. Our service doesn't stop there as we also offer a national installation service.
How it works
Measure the area.
Sketch out the layout you desire.
Fill out our enquiry form below.
We will get in touch with any questions.
We will provide a quote to produce your building.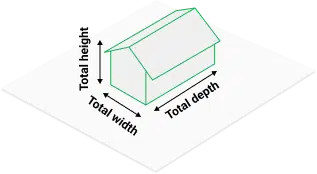 Requesting a bespoke garden building has never been easier.
Our team at Summerhouse24 have made the process of buying a bespoke garden building straightforward and effortless. All you're required to do is provide us with your requirements and we will provide a no obligation quotation. The more information you can give us, the more accurate we can be and the quicker the process is for you. Please provide the following information: