A note saying "This cabin can be installed reversed (mirrored)" means that apart from the cabin plans and images on the product page, these cabins can also been installed reversed without requiring a bespoke cabin. Commonly, reversed installation involves changing the veranda from one side to another, changing side wall windows from a wall to the opposite wall or swapping the positions of two rooms of a cabin (mostly garden rooms combined with storage shed).
Swapping veranda and room
All that is required to install a cabin with reverse veranda is mostly rotating the back wall planks 180 degrees, reversed to cabin plans and doing the same with the front wall planks and finally repositioning side walls accordingly. All the wall planks are identical from the inside and outside. It is important to follow the vertically pre-drilled holes in the planks and make sure that holes in each next plank row match the hole in the previous row. This is for inserting strengthening metal rods throughout several planks in some parts of the wall and throughout the entire wall in the corners of the cabin during the later stages of cabin installation.
In apex- and pent roof cabin sets you can find extra upper row components for the walls parallel to eaves. These components are made for reversed installation only. Upper edges of these extra components match the roof slope and make sure that roof boards sit tightly when in reverse. These additional components are clearly marked and are to be used instead of the standard components.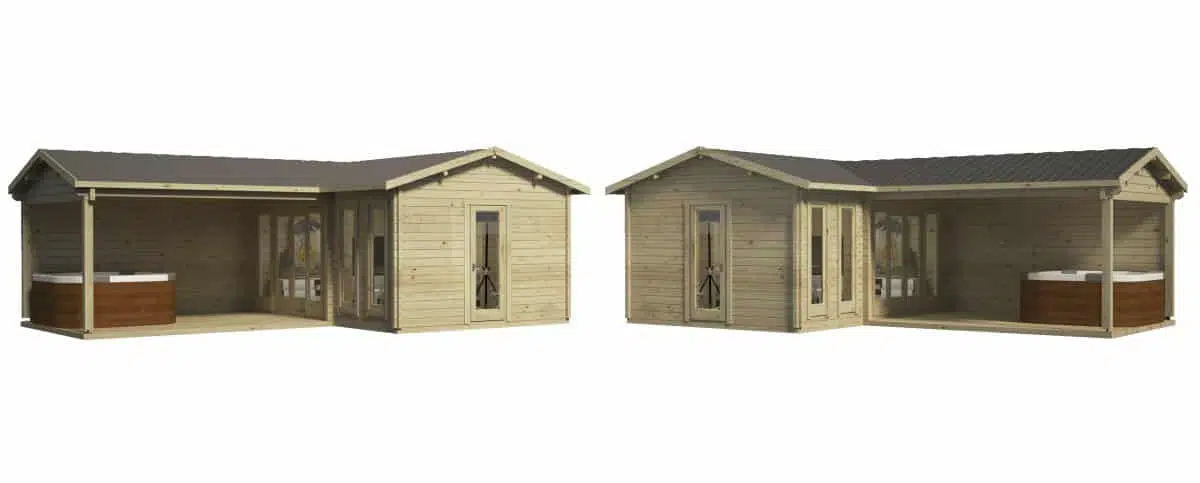 Repositioning windows from one wall to the opposite wall
Windows in side walls can be moved to the opposite side wall by swapping side walls, no need to rotate wall planks. Simply rotate the windows or doors by 180 degrees so that they face the correct way. This is similar to installing a cabin with veranda in reversed way, it is important to follow the vertical pre-drilled holes in the wall planks.
Swapping room positions of a cabin
For swapping positions of a storage room and living room, like cabins with a veranda, turn the back and front wall planks horizontally 180 degrees, swap the side wall planks and follow the pre-drilled holes in the wall planks.