We can offer a factory painted finish on this cabin. So if you are looking for a super convenient and quick finish to your cabin, then select this option at checkout. Once your new cabin has been carefully produced, each panel will be hand sprayed with several layers of wood preservative and top coat. This gives your cabin a super slick high-quality paint finish and excellent protection against the elements. No further painting work is required after assembly, simply get on with enjoying your new outdoor retreat.
How your cabin will be finished:
Please state your choices for both internal and external finishes in the order notes on checkout or tell the sales advisor processing your order:

1. Inside walls & ceiling: Transparent Wood Varnish or Semitransparent White Lazur finish. (Please state TWV or SWL)
2. Floor: Primer + Semi transparent grey paint + top coat varnish.
3. Outside: 2 Coats of paint with a satinwood finish. Please choose up to two colours with your second choice being for window frame depiction if this is desired. (Please state colour name or Art – No.)
See colour swatches below – Please note that the colour may vary depending on the screen or monitor you are viewing on.
Opaque Colour Finishes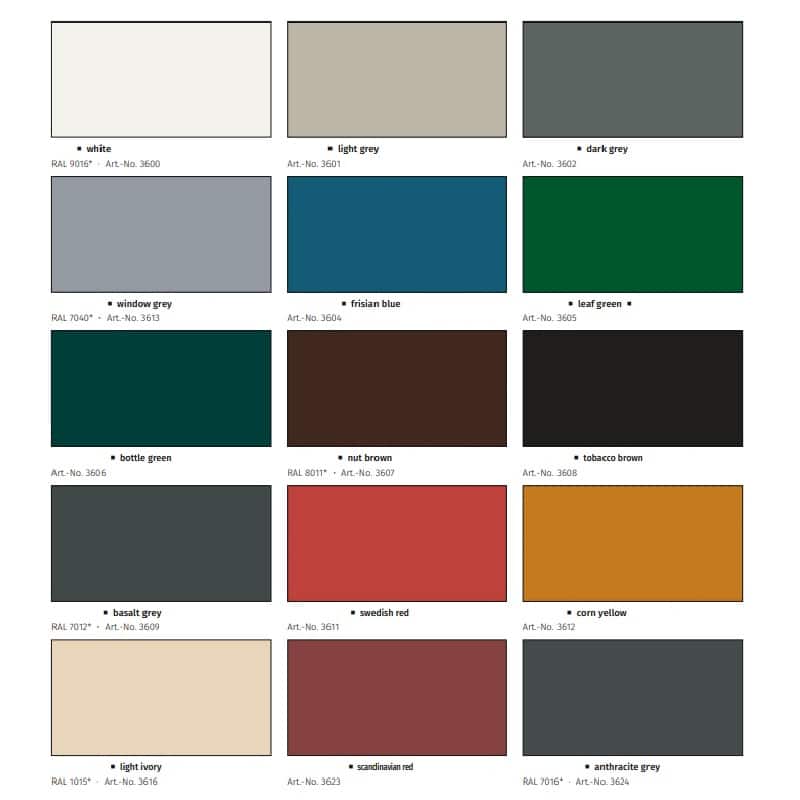 Semi-Transparent Finishes