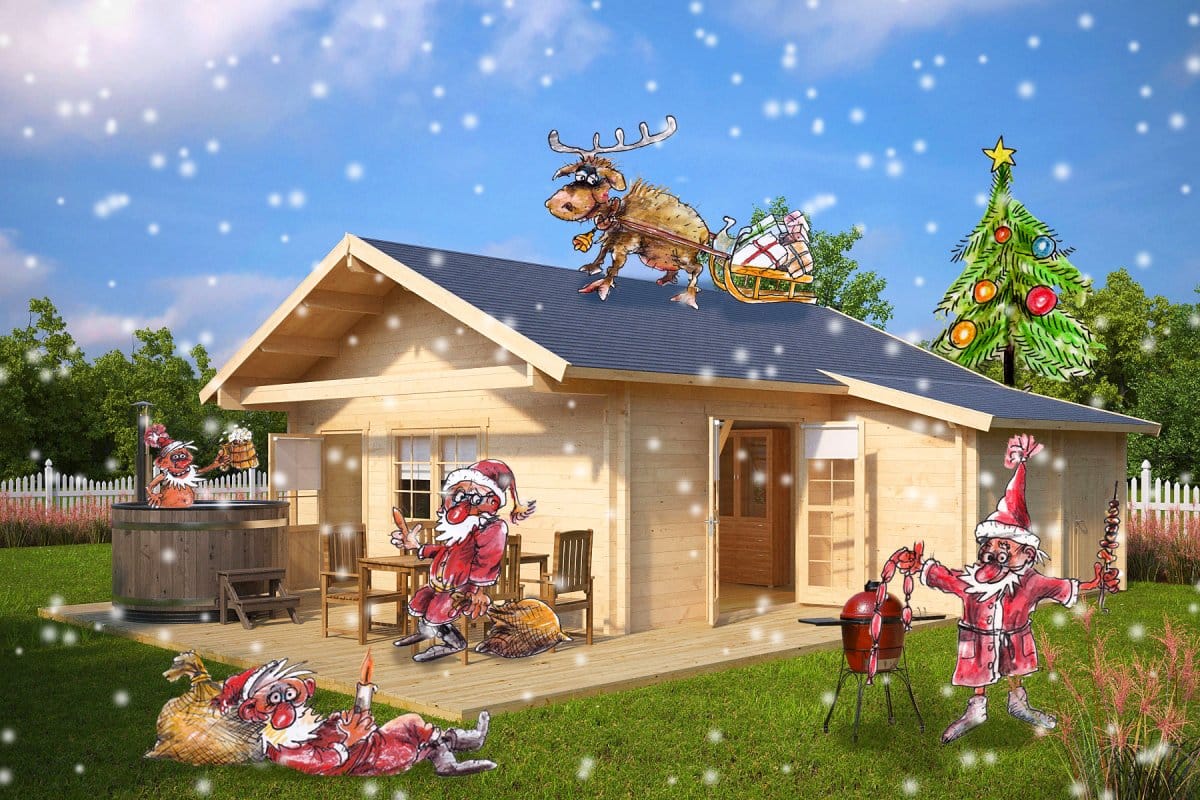 If you think your summer house can only be used during summer or at least during the gardening season, then you miss out on an opportunity to get out of the house and enjoy a bit of nature and fresh air during the chilly time of the year. Fresh air cures many ailments! This is not only true in the summertime but equally in the cold winter breeze.
Now, a summer house may originally be made for seasonal use during the warmer times of the year, but it is really no problem to put in a heating and a proper insulation and use it as an expansion of your living space all through the year and we have already published a guide on how to insulate your summer house here. You will regularly find equally useful information here about how you can use your summer house as an all year round living space.
This time we would like to inspire you about how to have some fun with your family around the summer house during winter and especially Christmas time.
Motivate your children and grandchildren to get away from their lonely activities behind the screens and jump into real life with lots of fun with real things and real people around them!
A White Cap on the Roof of the Summer House Indicates There´s a Lot of Fun to Be Had
With snow in the garden around your summer house, of course, it´s easy to find fun activities. Building a snowman is something everybody should have done at least once in his life. If you haven´t yet had the opportunity, use it as soon as the snow has the right consistency to be rolled into big barrels, rounded into big balls which are then piled on one another to form the snowman. Stones, pieces of wood or all kinds of materials from the garden can be used to give him his individual look.
If a snowman is just too small a fry for you, you could direct the children on building a real igloo. Children love building their own little houses. This is also one reason why they will love a little extra living space in the summer house.
One classical snow fun activity for children is of course building a slipway. This always works best where a car has already pressed the snow to the ground but also stamping it down will do. Experts of this trade will build the slipway with inclined rims and make the ground extra slippery by pouring cold water over it. After that it´s an in-run to the slipway and sliding along in a standing position.
Be it playing with sledges or a snowball fights: After the outdoor-fun it should be a hot chocolate in the warm summerhouse, where some more activities are waiting.
Indoor Activities inside the Summer House
The summer house should be heated; a shoe rack takes the wet shoes which are exchanged for dry warm socks from the wooden box next to it. Some towels from a shelf behind are also very welcome, If you have already installed an underfloor heating in your summer house, it will come in handy now. We will write about how to do this in a later article. Otherwise some cookies with a hot chocolate will do the trick and warm candlelight sets the mood for crafting some Christmas decorations.
It makes a lot of sense to collect things from the garden, which can be used as raw materials for this purpose. As for example: cones from conifers like fir cones or pine cones are very pretty and also spruce – and larch cones have great beauty. These cones can be painted or sprayed golden and find their way into the Christmas tree. They can be painted green to resemble little Christmas trees and if you have some tools in the summer house, they could be hot-glued to little miniature flowerpots or fixed to the Advent wreath with wire. They also look nice in red and white or whatever the children come up with. A little glitter finishes the Christmassy look.
Chestnuts, acorns or walnuts can also be painted or put together with wire to form little figures of animals or humans.
Some Old Fashioned Activities in the Summer House Still Are a Lot of Fun
In some summer houses there is not that much space so a folding table and folding chairs may give the opportunity to sit down and play some old fashioned board games. A game of Sorry, Scrabble, Candyland or whatever you have in store brings up corporate feelings and many of us have nice memories playing these.
Also rehearsing some Christmas carols that will be heard under the Christmas tree on Christmas Eve is nice. If the children can play instruments, why not find the harmonies to try some accompaniement for the Christmas carols? Also solo- or mixed performances could be practised or rehearsed.
When bedtime draws near you could read from a suitable children´s book which will make the audience calm down again and this might be a good way to initiate the bedtime routines.
Garden and Summer House Are Still Good for Some Family-Fun Even after Christmas
A garden party at your summer house is a special event during the winter. Still it can be a big success. Find a time when it is a bit dry outside and heat up the summer house as a retreat for the more sensitive guests. Wooden benches or logs invite to sit around the fire. Cushions and blankets provide some shelter from the cold. Potatoes cooking in the glowing ashes get their very special aroma that can´t be found from any other sources, Someone might play on the guitar to sing along. A fire is always fun for children.
In the summerhouse you may have prepared some hot herbal tea for your guests to heat them up from the inside. This might be a bit unconventional but it can be a great positive memory for everyone.
Summary: An article describing and inspiring some ideas for family activities around the summer house with your family including children and Christmas preparations.