How to build a Finnish Sauna Cabin fast and inexpensively
13.01.2016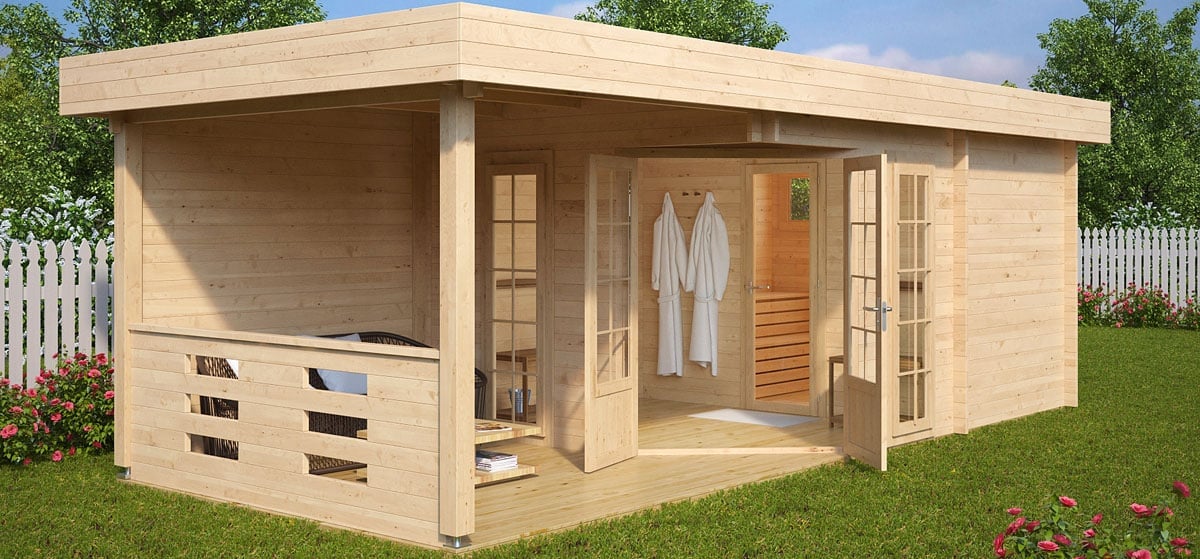 Click here to see our best sauna cabins to buy or check our full range of garden SPA products
DIY log cabins are the easiest and cheapest way to build your own sauna in your garden. Flat pack log cabins are supplied with prefabricated parts, fixings, all sauna room components as well as very detailed assembly instructions. All wooden details are numbered. Self assembly requires two people and takes no more than 2-3 days.
We recommend thinking about the following things before you buy:
How many bathers will the Sauna room need to accommodate?
The most popular outdoor sauna cabins are designed for family use. These sauna cabins come with room for 3-4 people. They have two benches, approximately 2m in length with one upper bench and one lower. The lower bench is made primarily to put your feet on but it is also very useful for smaller kids to sit on or to enjoy a lower temperature for longer. If you are looking for a garden sauna for 5-7 bathers then you should look at larger options. Larger garden saunas come with two upper and two lower sauna benches.
Which style should I choose? Basic sauna cabin with sauna room only, or a sauna with changing room, veranda and an extra space to install a shower box?
To enjoy proper sauna bathing in your back garden by spending as little as possible, you should go for a simple sauna cabin without a changing room or other extras. A small outdoor sauna cabin is a 2x2m log cabin with all sauna features inside. You can change indoors, put on you bathrobe and off you go for a great sauna experience in your garden! These sauna cabins can be bought for as little as £2000 and can be installed within a day or two. They are a the best choice for gardens with limited space.
But if you would like to take your sauna bathing to the next level you should consider a larger garden sauna cabin with changing room and veranda. Larger outdoor saunas with a veranda are very convenient for spending lazy afternoons with your friends or family. You can enjoy cold drinks and snacks on the veranda and grilling your favorite BBQ meals between bathing sessions. Larger outdoor saunas usually have enough space inside to install a shower box. This size of Sauna with more amenities cost around £3000-8000.
What are the necessary sauna features?
When you buy a log cabin sauna, make sure that your sauna cabin has a sauna room with insulated roof to retain optimum temperature, a wooden sauna door or a special sauna door made of safety glass, wooden sauna benches and a stove (heater) guard. Wooden headrests and floor grates add comfort.
What sauna heater to buy?
Before you buy a sauna heater you must know the volume of your sauna room. By taking a width, height and length measurment of your sauna room you can calculate the volume in cubic meters and buy the heater with the right output.
There are many different Sauna stoves on the market. We recommend Finnish sauna heaters. Whether you go for a basic heater or a more advanced digitally controlled sauna heater, with Finnish heaters you cant go wrong. Most of these manufacturers have over 50 years of experience and know what they are doing.
Basic heaters usually have built-in operating  switches and controls. They are easy to operate with two buttons: one for temperature and the other for switching on and off. The latest sauna heaters with advanced technologies have digital control units, so you can control your sauna temperature to within 1˚c. In addition, the operating panel can be placed outside the sauna room, to switch on your sauna and adjust the temperature without entering to the sauna room.
Pillar-heaters with sauna stones are the newest trend in sauna heaters. These sauna heaters provide an opportunity to adjust the nature of the heat: soft when throwing water to the side of the heater and sharp when throwing water straight on top of the stone pillar.
Want to discuss over phone. Let us call back to you
If you need any additional info regarding any product, please fill in the below form and we will get back to you, usually the same or next working day.
Have any questions regarding some product?
If you need any additional info regarding any product, please send us your questions.