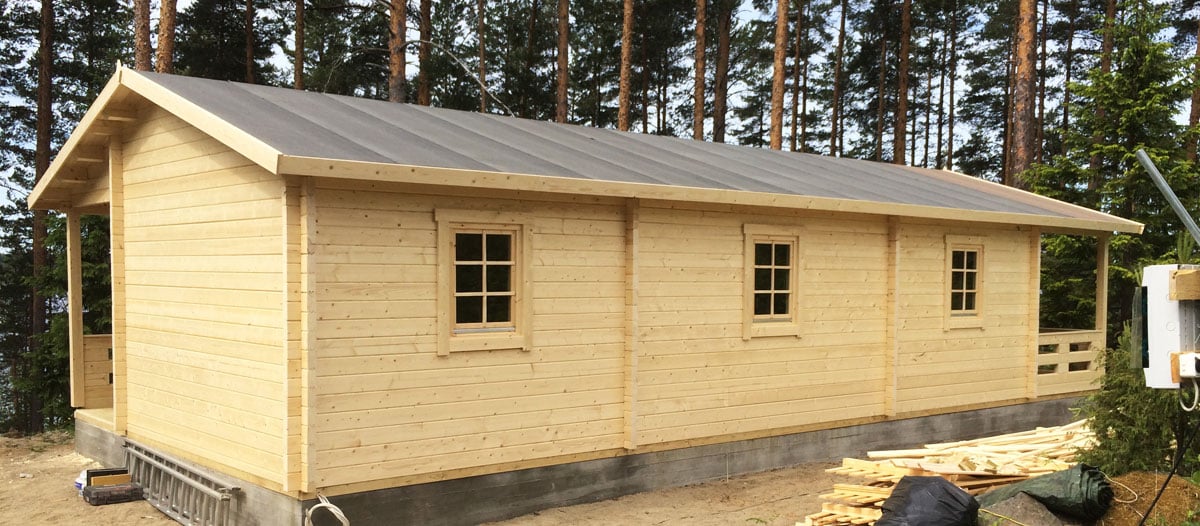 If you own an inhabitable log cabin somewhere in a nice spot, not too far away from home, maybe somewhere on a camping ground, a private piece of land near a river or lake, or close to the beach, you will want to prepare this log cabin for lodge holidays, maybe hot tub holidays, not necessarily to rent it out to paying guests, but why not just for your own little, private log cabin breaks on a long weekend, or as a cheap alternative for an occasional week or two of holidays.
No long-term planning in advance is necessary, no booking, no uncertainty if the holiday home really is as nice as it looks on the picture, and after leaving for home no anxious doubts if the landlord will try to hold you responsible for any damages that he might just have overlooked before you came.
Renting out your own holiday home – a good business model?
Once you have prepared your log cabin for your own log holidays, you might consider renting it out to paying guests while you are not there. There are some advantages and disadvantages to the idea:
Advantages:
Income on the side
An inhabited log cabin will be heated and thus stay dryer than an uninhabited one
Easy booking possible with the help of internet platforms
The pressure to keep the holiday lodge in perfect condition will prolong its lifespan
Disadvantages:
You will have to coordinate the new usage with the local authorities
Administration, like accounting, taxes etcetera will have to be done
You might need some local guy for maintenance cleaning, introducing new guests to the log home, and being a local contact and a link between you and your guests if your holiday home is too far away for you to do all this yourself.
Using anything will wear it off more than unused items, this is the same for anything including inhabitable log cabins. So compared with just using it for your own log holidays, you might have more need and costs for maintenance.
Renting out a log cabin has become much more uncomplicated by internet platforms that coordinate the dates for booking and process payments.  However, it is also considerably more effort than just using it for yourself and your family.
You might have to install a locker to store personal items that you don't want to share with your guests. Responsibility, accounting, managing this little business is may be a little stressful, and you should consider carefully if the small additional income and the other advantages listed above are worth the effort.
How to prepare your inhabitable log cabin for log holidays
Basically a stay of just more than a few hours will require the log cabin to have the same basic facilities as any permanently inhabited log cabin. Only they can be much more basic and rustic than you would like them in your permanent home. A simple life, rustic, close to nature is something that you expect from a holiday log cabin. Thus, a small kitchen will do, a kitchen unit at one of the walls of the living room. Camping atmosphere is fine, and you also might get some valuable ideas for furnishing researching space-saving solutions in tiny home websites.
If you have enough space and funds for more comfortable ideas, that's also OK, of course, but it is not indispensably necessary. It depends on your expectations for a log cabin holiday.
Wet rooms in a log cabin – is there a problem?
Although it is very beneficiary for the timber of a log cabin to stay as dry as possible, getting wet temporarily will do no damage to the cabin. However, talking about wet rooms, like showers, bathrooms, toilets and even saunas, there is no need to let the timber get wet regularly. Using tiles or slabs from natural stone on the walls or on the floor inside a log cabin is no problem at all if you follow certain building standards.
Timber and stone or ceramic react differently to heat, cold, moisture and draught and so you will need to keep the tiled walls or floors independent of the logs they are attached to to allow for movements against each other. Of course, there are highly flexible tile cements nowadays, but our advice would be not to rely on these alone.
The best way to tile walls would be to put the tiles on a board of water repellent chipboard like they are used to lay floor screed on and fix this board to the walls using slabs for the screws  instead of holes with just the diameter of the screw. To be flexible to all directions, you could place this board on the floor and fix it to the wall with screws with flat washers in larger holes, and don't apply much pressure on them so that they are free to slide in any direction.
Floors can be tiled or laid out with natural stone slabs on floor screed or on plates on a sliding fleece that will allow adjusting movements of the wooden floor boards to the tiled floor.
Of course, you will have to make watertight baseboards as well, and for wet rooms, you should install an option for sufficient ventilation.
Other considerations
For a rusty yet cosy feeling during your log cabin holidays, you might consider having an open fireplace. What could be more romantic and satisfying than warming your bones in front of an open fire in your cosy holiday lodge after a day out in the snow or while the autumn rain is drizzling onto the roof? If you plan to do that, please also consider fire safety regulations already during the planning stages, and get advice by experts early in the process. Other options of heating your log cabin with special focus on heating smaller buildings can you find here, and we have also  made a manual for you on how to insulate the log cabin from the inside.
A sleeping room could be upstairs under the gabled roof, so that you will have some warm air during the night up there, even if the fire in the fireplace or the oven has burnt out.
A bath in a wood-fired hot tub would be very satisfying, too. So, if you like hot tub holidays, why not put a hot tub in your own inhabitable log cabin and get your holidays whenever you like for very affordable costs or even completely free of charge, if you can get hold of fire wood somehow.
For any questions, please contact us or call Oliver at 020 3807 0369!