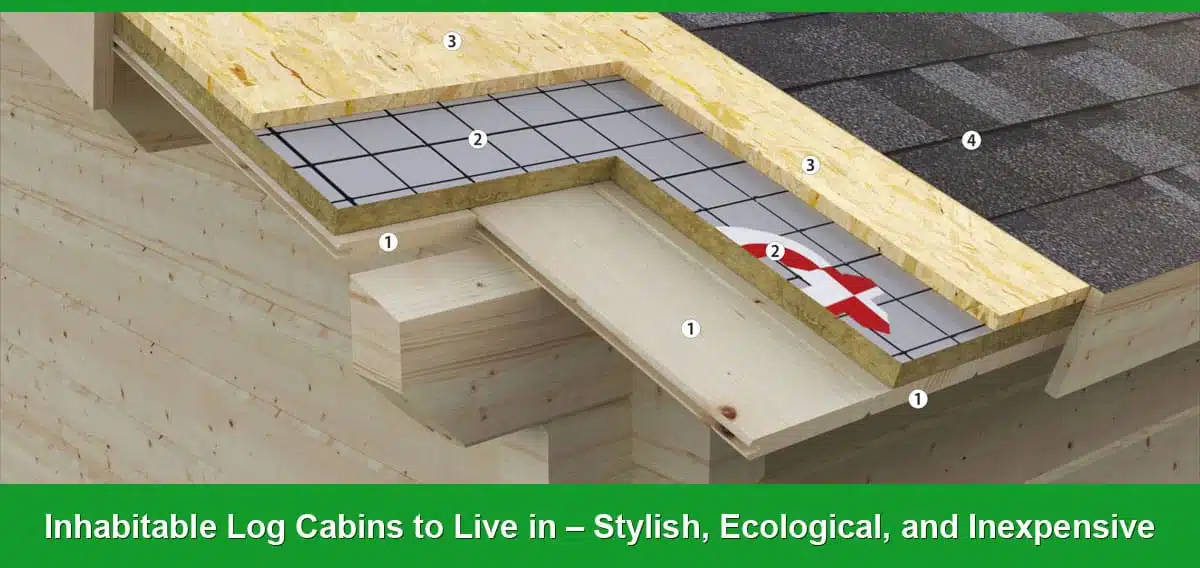 Inhabitable log cabins are becoming more and more popular not only as holiday homes, but also as primary residences. Plenty of reasons can be made out for that:
Wooden houses, especially log cabins open up an option to create living space for a price per square metre that is much below that achievable with stone buildings while offering a comparable average lifespan.
Inhabitable log cabins are offered by manufacturers of summerhouses, garden sheds, and other wooden garden buildings, can be purchased ready-made, and can thus be erected in just a few weeks, whereas an individually planned and built stone-house would take years.
Wood creates a comfortable and healthy interior atmosphere, smells nicely, cleans the air, and smoothens peaks in moisture and temperature inside the building.
Inhabitable log cabins can be treated as mobile homes. That means, once erected, it is possible to deconstruct them backwards and rebuild them somewhere else. In fact, there is even a second hand market for log cabins.
Log cabins are made from a renewable resource. They are ecologically much more recommendable than stone buildings.
Wooden log cabins look good, especially in a natural backdrop with a little garden, trees, flowers, or bushes, and they signal an ecological mindset, love of nature and the self-confidence to take an individual approach to living rather than doing what everybody else does.
How can these high-quality, sturdy and long-lasting log cabins be so inexpensive?
If you purchased a log cabin planned by an architect for you, and built from whole round logs, you would just simply have to calculate about the same prices as you would have to pay for a conventional stone house of comparable size.
The sensationally inexpensive prices for inhabitable log cabins derive from the customer driven expansion of the portfolio of manufacturers of garden buildings. As soon as more and more customers detected that the larger models with thicker walls could very well be used as permanent residences, demand started to rise, and we started to develop models that were suitable not only as holiday cottages, garden offices, garden saunas, workshops, garden lounges or sheds, but were clearly designed as holiday homes or homes for small families, while from the commercial side demand grew for business rooms, offices, exhibition- or sales bungalows, even classrooms.
So our portfolio grew with our customers' demand, and now we use our know-how of building high-quality log cabins in Northern European tradition to produce them in larger and more sophisticated designs that are very well suitable for permanent living.
Your advantage from that is that now you can basically purchase a full-grown house for the price of a large garden shed.
Ready-made and individuality, a contradiction?
Would a ready-made log cabin contradict your sense of individuality? Firstly, if you look around in your neighbourhood: how many families live in log cabins? Is there any chance that your log cabin home would not stand out as an individual statement?
With that said: If you look through our portfolio, and find a model that suits you but not 100%, you do have the option to contact us with your ideas what you would like to have different. Our engineering department will cooperate with you to create your dream wooden home for you, tailor-made for your needs and wishes. In the end you might be able to live in an individual inhabitable wooden log cabin like no one else on the planet has for the price of just a fraction of your neighbours' houses.
Using timber to build houses is the sensible thing to do
One reason for inexpensiveness of inhabitable log cabins as well as their swift construction periods is that it is just much more sensible to use a sturdy, light, and extraordinarily well insulating material like timber directly as a building material for the construction of the house, instead of using a very well heat conducting material like stone as primary material, and in later steps put on layers of insulation, plasterwork, or even wood for decorative reasons in the interior. This complicated construction method makes stone houses so expensive and expands the construction time.
With a wooden log wall of an appropriate wall thickness you have a sturdy primary building material, a highly effective insulation, and a nice look to the inside as well as to the outside all in one step.
What about insulation?
Our inhabitable log cabin will span wall thicknesses from 44mm to 92mm. Especially the thicker walls of 70mm or more do possess an insulating capacity equal to a stone wall of 42cm. So, if you use one of these cabins as holiday homes or guest rooms just for periodical inhabitation, you might not even have to insulate them any further.
As a matter of fact, we do offer insulation kits to insulate the floor and the roof to cover the two areas most important for insulation. Keeping away the cold from the floor, so that your feet will stay warm even with freezing temperatures outside, and insulating the roof, where the heated air will rise first to keep it in the room. These kits are designed – as all our log cabins are – to be constructed by laymen with just a little of DIY-experience easily, quickly, and properly.
Generally all our products do arrive at our customers' in a weathertight package suitable for longer periods of storage outside, with all components numbered, and with a detailed manual for the construction. For electricity, water supply, waste water removal or treatment, you might find experienced construction experts, at least for electricity, this would be much recommended.
For permanent residence you might want to insulate your log cabin even further
Permanent residence means that the log cabin will also permanently be heated during the winter time. In this case the costs of further insulation for example of the walls from inside or outside might be smaller than the summed up expenses for additional heating. Moreover, insulation gives you an opportunity to include further design options contrasting the timber in the form of walls of natural stones, white surfaces, modern elements, or tiles for example in the bathroom.
We have compiled an easy to follow manual for you on how to insulate your log cabin from the inside. Insulating from the inside is a bit easier and more affordable than insulating the outside because inside you will not need any weathertight cladding for the insulating layer, but you can use whatever you like to, and what looks best for your interior design.
Our windows and door panes are double glassed and with the German made "Roto-System" we use one of the best, if not the best door- and window operating system available in the UK. Doors and windows can one-handedly be operated and tilted, opened or closes with just one turn of the lever.
For any questions, please contact us or call Oliver at 020 3807 0369!