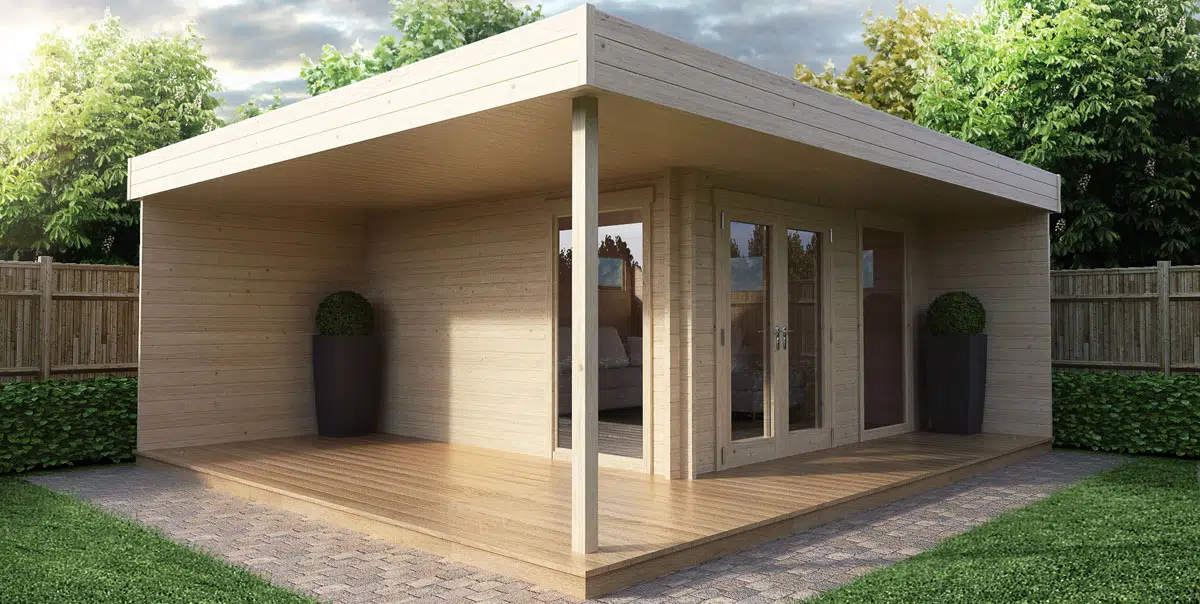 More and more people are becoming self employed and need an office. A Home office instead of renting a space in a business center will free you from rental costs and give you a more flexible and economic alternative. A Home office in the garden is one of the best options to create a peaceful and comfortable working place, away from all the hustle and bustle at home.
Click here to view our full range of Garden Office Buildings
If you have decided to build a garden home office and you are looking for different options to make it happen, then we would recommend you consider a log cabin.  First of all, DIY log cabins are the most affordable garden office buildings that you can possibly find on the Earth and secondly, we have nearly 100 log cabins to choose from to match your requirements and budget! Read on so we can explain the important stages of building an office in your garden from a flat pack log cabin.
Building regulations and planning permission
Garden buildings that are less than 2,5 meters high and not more than 15m2 in internal area can usually be erected without any building and planning permissions. There are a few simple things (location in your garden, fire safety etc) that you have to follow. If you are after a small to medium cabin in your garden then it is unlikely that you will be subject to any of these regulations. Just contact your local planning office and get all the answers to your questions. This will give you peace of mind to be sure that everything goes to plan with your new garden office building.
Moreover, garden buildings under 2,5 meters can be placed as close to a boundary or a fence as you want and therefore they are a good fit for smaller gardens.
Large garden buildings need approval from your local planning office, but it is still only 4-6 weeks you need to get your plans accepted.
Size of your garden office building
Most of us have a good idea of required size of an office to accommodate all your needs and work in comfort. Renting an office space in a business center or buying a custom made office for £15,000 – £20,000 is where each m2 matters. This is not the case with a log cabin garden office.  By spending a few extra hundred of pounds you can acquire a significantly bigger garden office to enjoy the spaciousness and impress your business partners and clients.
More functions
Garden buildings with several functions save space in your garden and money. For example, one multifunctional log cabin can accommodate your office, storage shed and a veranda for BBQ's and al fresco dining. If you are tight on space in your garden for several garden buildings or sheds then a multifunctional log cabin is a great solution.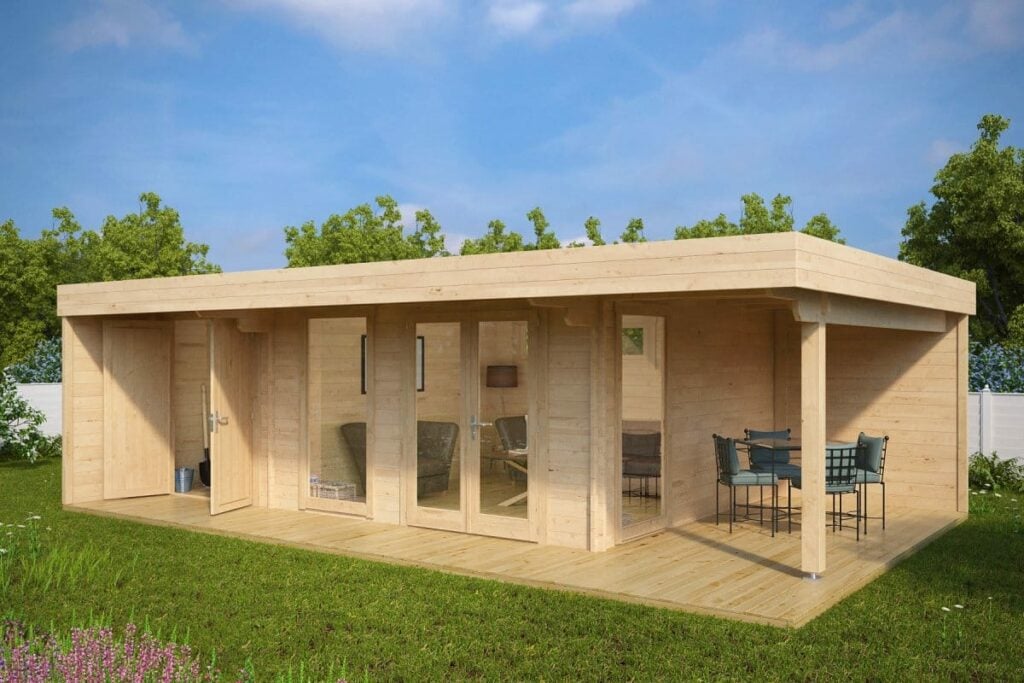 Wood as a material
Wood is a natural material, growing and adapting depending on the humidity, temperature and other weather conditions especially during the first month after your garden office has been installed. It is common that you must adjust doors and windows a few times during the first month after the log cabin has been assembled and then once in a year to keep them functioning well. Small cracks, knots and color tone differences are not errors but inherent qualities of wood.  We recommend that you treat floor boards with a wood impregnation agent before installation, especially the bottom sides of the boards, because after the assembly you will not be able to access the underside.
When your home office has been installed, it is time to treat your cabin with wood preservative stain or other protective coatings. One of the many great things about wooden garden buildings is that you have the flexibility to personalize your garden office with your favorite colors.
Untreated wood becomes grayish, and can turn blue and become moldy or rot. It is wise to inspect your garden home office once in the year and retreat accordingly to the instructions set by the wood preservative manufacturer.
Log cabin garden office as a product & Delivery
Flat pack log cabins are delivered in weather proof packages so that they will not be influenced or damaged by the sun or rain during the shipping or if your packed garden office stays packaged for few weeks outside before the assembly. Log cabins are delivered on vehicles equipped with one of the following facilities: tail lift, forklift truck or hiab crane able to unload heavy packages (700-2500 kilos). All wooden details and panels have been prefabricated, precut, numbered and ready to install (like a giant Lego set!). Standard log cabin – garden office kit consists of impregnated foundation beams, untreated wall logs / panels and other wooden details, roof and floor boards, windows and doors, roofing felt, screws, nails and other fixings, storm braces, user manual and assembly instructions.
Base for your Garden Office
The Required foundation type depends on the size of your garden office and the firmness of the ground in your garden. The easiest and cheapest foundation type are concrete slabs set on sand and gravel. This foundation type is fairly simple to construct and can be done by a DIY novice without having to hire in a professional. This type of base is suitable for smaller cabins up to 10 m2. To achieve this base you will need to dig out 25-30 cm from the surface, fill it with gravel and then a good layer of sand to provide a level surface. Then, lay down the concrete slabs, blocks or similar. It is vital that your base is level as your cabin will only be as level as your base! Failure to erect the cabin on a level surface will affect the operation of the doors and windows. The most popular, but more expensive and durable foundation type is a concrete base. A concrete base is a perfect fit for all types of garden buildings. For preparing that kind of base you will probably need to hire a local professional or small building company, because concrete foundations involve more know-how and you really have to know what you are doing. These two are the most popular foundation types for garden buildings, but there many other ways to do it. It is good to consult with local experts before you choose, taking in to account the firmness of the existing ground and size of your intended building.Whatever your choice, you have to know that a firm and level foundation is crucial! If you fail with the foundation you will fail with your entire garden building. Twisted walls and non functioning doors and windows as well as very short life span and voided warranty will mean you do not enjoy your garden building! You can read more about foundations on our assembly page.
Self assembly or hiring a building company?
The assembly of most garden office buildings is achievable by a competent DIY enthusiast. Especially small and mid-sized log cabins up to 8-12m2. We would always recommend that two people undertake the assembly and that care is taken with lifting as some of the panels are heavy. Our statistics show that 85% of our clients do the assembly themselves or hire one local expert for assistance to make sure that everything goes well. For the assembly of your garden building you need at least 2 adults, tools (hammer, saw, pliers, drill, screwdriver, measuring tape, ladder, knife and spirit-level) and not forgetting 1-3 days of your precious time, depending on your skills and the size of your log cabin. If, at least, you or your companion is familiar with fixing things at home or doing small DIY projects in the garden, assembly with prefabricated details, proper installation instructions and user manual should be achievable for you. But, if you are not confident in your DIY ability or just don't fancy the assembly then we would recommend you hire a local professional.
Insulation, wall thickness and windows
28mm, 40mm, 44mm, 50mm and 70mm are the most common wall thicknesses for wooden garden buildings.  28mm wall logs have single tongue and groove and wall logs from 40mm and up have double tongue and groove. 28mm walls are used for smaller (up to 8m2) seasonal cabins. If you intend to build a proper garden office building for all year round use, you should go for 40mm or thicker walls and make sure that your log cabin has double glazed windows in the standard set.
There are 4 areas to be insulated: floor, walls, roof and windows. Choice of materials that you can use for insulating your home office is very wide, depending on your local weather conditions and your budget.
It is also very important to choose the right foundation type and insulate the floor first. Having a layer of insulation beneath the floor boards will contribute towards keeping the contents of the garden office toasty. Roof insulation is crucial, because of the fact that warm air rises and approximately 35-40% of warmth exits through the uninsulated roof. Then walls, windows and heating if necessary. Installing a log burner in your garden office building is a great way to ensure you get year round use. You may get a burner that you can cook on too! It is obviously important that any combustion device is installed by a professional installer and that ventilation requirements are met and functioning carbon monoxide and smoke detectors are installed in your garden building.
By now, you have built your garden office, you have treated your cabin with wood preservative and the insulation is done, it is time to take care of interiors, furniture, office equipment and get your business going. We are sure that you are not going to miss these traffic jams and sky high rental bills and you don't mind to sleep longer for an hour or two each morning 🙂