Exploring the Different Types of Wooden Summer Houses
04.10.2023
Let's face it. Very few things make adult life as magical as our childhood memories. But having an at-home getaway is undoubtedly a close second! Wooden summer houses offer so many benefits for our everyday life, from your very own home SPA to a distraction-free office space.
And the best part?
Wooden summer houses come in various shapes, sizes, and styles, so you can pick the perfect one for your garden space and requirements.
Here, we will explore the different types of wooden summer houses you can pick from to create the perfect small pocket of magic in your back garden.
Different Types of Wooden Summer Houses
Large garden summer house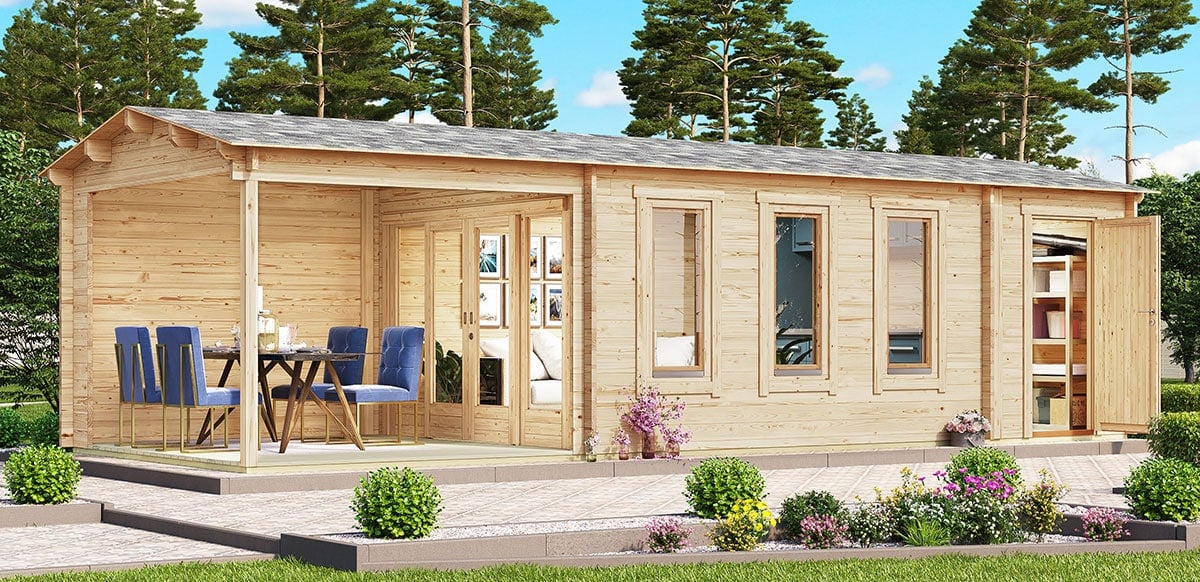 First and foremost, if you have enough space in your garden, you might want to consider adding a large summer house to your back garden.
The added space is ideal and makes your wooden summer house even more versatile. You can use some of the space for work and the rest for relaxation or storage.
Small garden summer house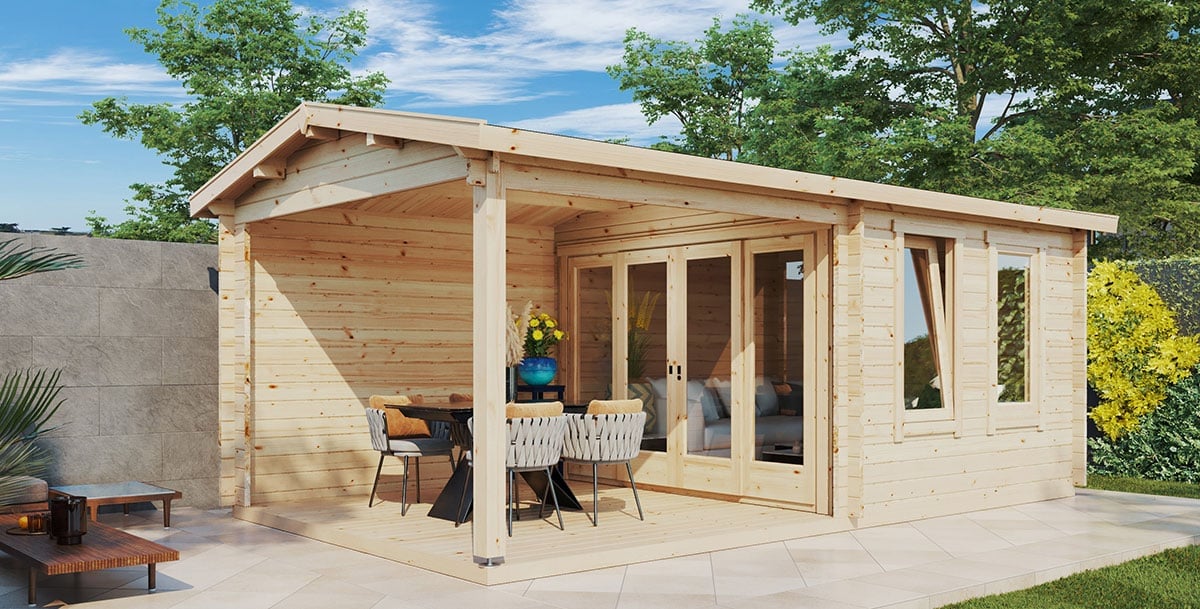 While a large garden summer house certainly has its benefits, it isn't always the perfect choice for everyone.
For starters, if you have less space on offer, you might not be able to add a large summer house to your garden, or you might be reluctant to use up so much space.
But that doesn't mean you can't have your very own wooden summer house.
Even a small garden summer house offers plenty of advantages and can be used in many ways, such as for storing garden equipment, as a small garden office, or even as a small workout space.
Summer house with veranda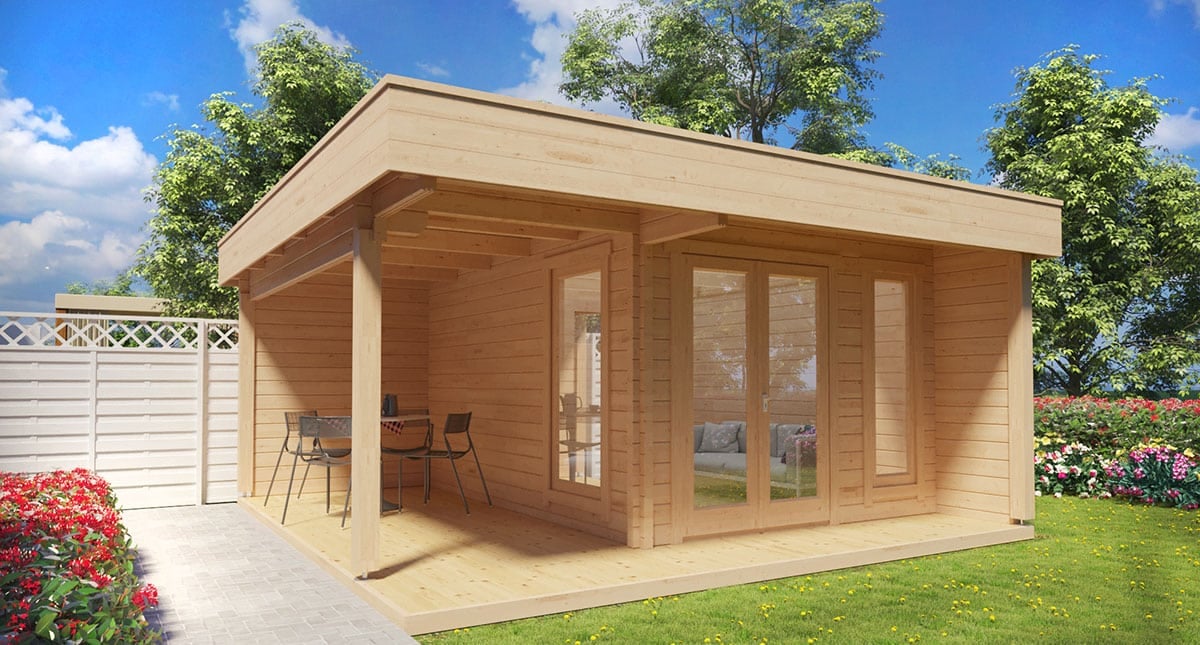 Another excellent option for you to consider is a summer house with its very own veranda. A veranda is an excellent addition to any garden summer house, as it offers a great place to sit outside and enjoy the outdoors while also offering some shelter from the sun if needed.
Even when the UK weather inevitably takes a turn, you will be covered by the roof of the veranda, or you can make your way into the wooden summer house to continue feeling warm and cosy.
Corner summer house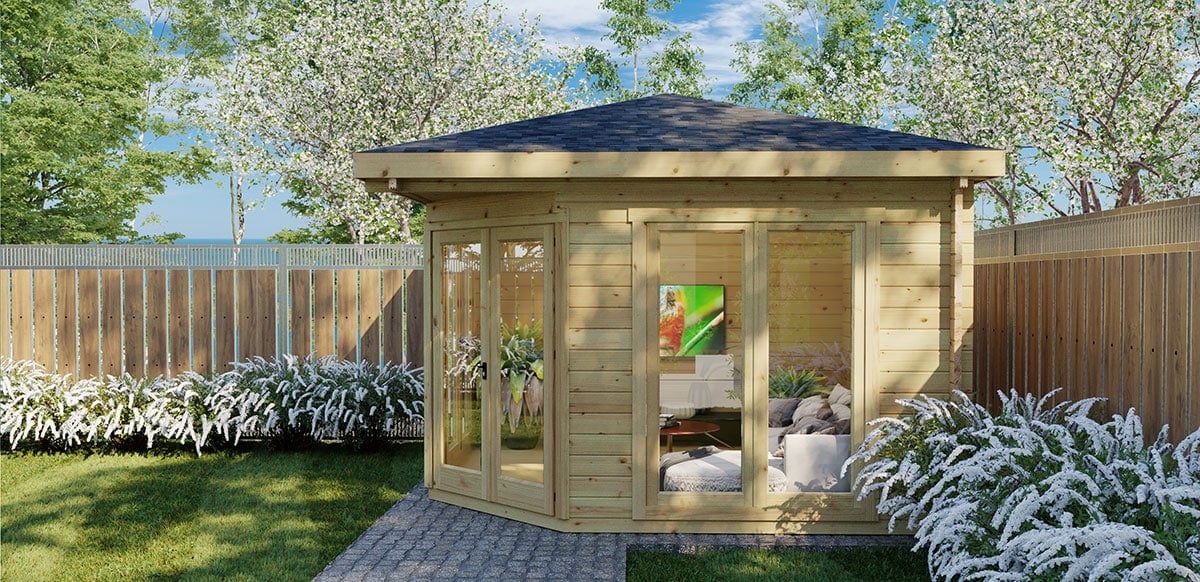 Is there a pesky corner of your garden that never gets used?
Perhaps it's in a part of the garden where your flowers or vegetables have never done as well, or it is covered in weeks of unusable soil.
Well, rather than leaving that corner of your garden empty and wasting the space, why not add a corner summer house?
A wooden summer house specifically designed for a corner is excellent as they provide the perfect solution for anyone with additional space available in the corner of their garden.
Insulated summer house
Finally, if you plan on using your wooden summer house all year round, you really ought to consider insulation.
Summer House 24 summer houses all come with double-glazed windows and doors and 44m wall thickness, but the additional insulation will help make your wooden summer house usable, even in the coldest months of the year.
If you plan on using your wooden summer house as an office, this insulation is absolutely essential, until you plan on taking the winter off every year!
Final Thoughts on Exploring the Different Types of Wooden Summer Houses
Don't leave the touches of magic to our younger selves! Find your perfect wooden summer house today, and experience the wonder and excitement of having your very own place to retreat to, work from, or turn into a home gym.
Contact us today if you need help finding the perfect new summer house, traditional summer house, log cabin, or contemporary summer house.
Frequently Asked Questions About Different Types of Wooden Summer Houses
What are the benefits of a wooden summer house?
In truth, a wooden summer house offers so many benefits. However, some of the most common include a space to relax in, an opportunity to decompress, a place to work, a place to train, or a space to express yourself through your creative side.
What types of features can I add to my wooden summer house?
Wooden summer houses are incredibly easy to customise. You can add features such as verandas, extra storage, insulation, or even a built-in sauna.
How long does a wooden summer house typically last?
The longevity of a wooden summer house depends on many factors, such as the type of wood used, the quality of construction, and the proper maintenance. Generally, a wooden summer house can last 10 to 20 years or more with proper care.