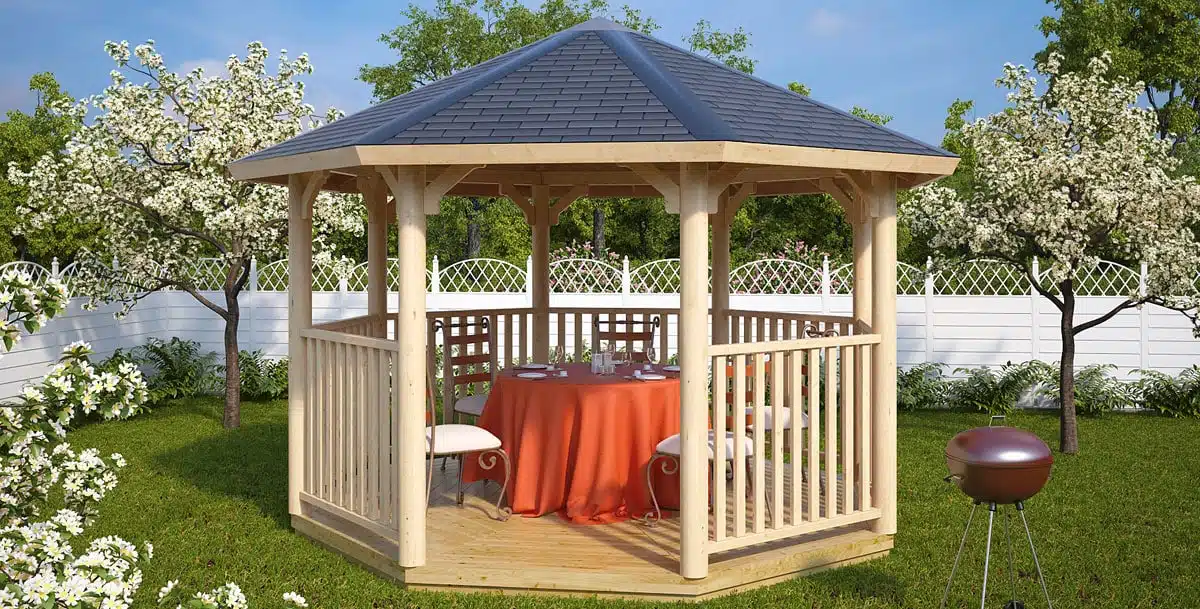 As all other garden buildings, gazebos make your garden look more cultivated and inhabited. With a gazebo in it, it will no longer look like just "outside" but more like an inhabited area outside the house.
While all kinds of garden rooms have this effect, an open gazebo is an especially elegant, light and airy building that has a great value as a decorative element in landscape architecture. On sight, it immediately creates associations to summer, alfresco living, warm breezes, and casual summer dresses. For many, memories will be associated of happy summer night parties with friends, enjoyable conversations, fun and maybe even romantic adventures.
How could you create such a space for well-being in your own garden for your friends and family?
The first step to your own gazebo: planning
What kind of gazebo would suit your purpose best? If you start planning for your own gazebo, you might be aware that gazebos are not for late night summer garden parties only, but can serve a variety of other purposes, too. So let's have a look on purposes gazebos are used for.
A gazebo is a place to sit down outside during the warmer season under a roof that shields not only from rain, hail or fog, but, of course, also from sun. In the evenings the roof will provide a dry place without any dew falling out of the cooling air.
One of the first ideas that come to mind when thinking about gazebos are weddings. Now you might think that it would be too much to buy a wooden gazebo for just one wedding, but if you look for renting fees of popular venues for weddings, this may quickly become more sensible. Moreover, if you erect the gazebo somewhere central in the open for a wedding, you can, of course, later disassemble the gazebo and erect it some other place in the garden where it better serves its main future purpose that you have in mind for it. Disassemble your wooden gazebo at any time and loan it out to a friend or relative for his or her wedding.
Gazebos can make a great replacement for a terrace. In fact, a gazebo in the backyard is probably even much more inexpensive to build compared to a covered terrace. If you already have a deck or a terrace behind your house, think of the gazebo as a terrace that is not fixed to be directly at the back of your house, but instead you can choose any area of your garden, maybe where it is especially quiet and beautiful, and simply build your movable terrace there.
If you would like some privacy for example for bathing in tubs, a gazebo that can be shielded from views by curtains is a great way to put a tub there. In case you have a garden sauna, you could place the tub with cold water to cool down after each round there, and if you like hot tub bathing, the same can be done, and you can enjoy hot tub bathing outside in the fresh air, yet shielded from rain and views.
Such gazebos that are closable with curtains also make great changing rooms for example next to a swimming pool.
Of course, just to have a nice covered sitting place out there in the garden for reading a good book or for having fun at summer garden parties with your friends alone is already good enough a reason.
However, as we offer several designs of wooden gazebos, think about which kind suit your possible usages best.
Which type of gazebo is right for you?
Some gazebos are offered with a deck as floor. A deck will generally keep your feet warmer if you stay there during cooler seasons or the cooler late hours of the day. On the other hand, it kind of confines the space to the deck while gazebos without floor are more flexible when it comes to placing additional chairs to the round.
The same is true for railings. Gazebos with railings kind of offer a more confined space that might feel more protected while gazebos that are basically just roofs on posts, have a more open feeling and allow for more moving, and changing audiences.
For gazebos without floors and railings, it is on you to prepare a suitable floor that may contain of a concrete foundation, a paved floor, or a larger paved area. However, these gazebos are also lower priced because they contain less material and therefore you might have the opportunity to opt for a larger version without stretching your budget too much.
Gazebo or hexagonal or octagonal summerhouse?
A gazebo is more or less the open version of hexagonal or octagonal summerhouses. It offers the possibility to shield the inside from views with curtains, but that's it. If you need more security, like a lockable room to store things in, but you don't want to do without the pleasing visual appearance of such a little wooden castle, then you might decide for a hexagonal or octagonal summerhouse. These do also have windows which, of course, can as well be equipped with curtains to block uninvited views, and they can even be heated inside, and you might be able to extend your season for garden parties far into the cooler times of the year or even make a winter garden party on Christmas or New Years Eve in an insulated and heated hexagonal or octagonal summerhouse.
The breezy, light, summertime feeling of a gazebo, however, will be gone once you have double glassed windows all around you.
For any questions, please contact us or call Oliver at 020 3807 0369!