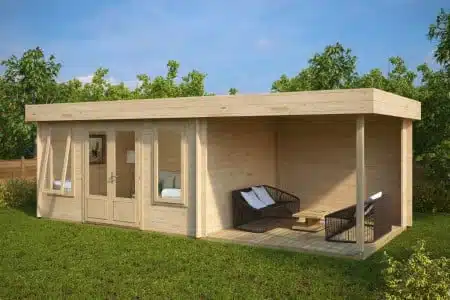 Contemporary garden rooms are a great way to use your garden to create new spaces where you can enjoy your leisure time and rest from your everyday life. If you decide to order one of our DIY contemporary garden rooms from Summerhouse24, you can be confident to purchase a garden building of the highest quality, that you can design your garden room in a way to express who you are, and to make it a place to adore and enjoy relaxing in.
Out of thousands of design ideas that you can use to make your summerhouse something special, we have selected just four ideas for you as an inspiration while planning the steps to realize your vision of your very own contemporary garden room with your individual signature all over it. We do have a huge experience creating and designing garden rooms, so why not take a look at the following design ideas that we think are the best starting points for you to develop your own piece of interior design art.
1. Contemporary Interior
The interior design that you apply to your garden room will set your mood while you spend your time there. So make sure to use some nice features that you like to give it an upbeat atmosphere. You could see to it that the cosy wooden interior is freshened up with some other elements like tiles, natural stones, appliances from shiny metal like stainless steel or put some fountain in there to acknowledge the element water that made the timber grow that you are decorating.
A wall or maybe a ceiling with a light colour enhances the natural light coming in from the floor-to-roof windows and modern appliances like spotlight-lamps and broad armchairs make your contemporary garden room a modern oasis where you can thrive. There are endless possibilities for contemporary interior designs of garden log cabins. Why not try Scandinavian, Naval, Beach, or Minimal interior design?
2. Roofed Veranda Outside
The first thing people think about when they read "contemporary garden room" is living outside, spending time in the garden, having a breakfast on the terrace or the veranda of the garden room, or spending a nice warm summer evening there eating with some friends and talking.
A roof will shelter you from sudden rain and you might discover that your garden is a nice place to stay even during a shower. Moreover, you might use the construction to mount some hanging chairs there.
While it surely helps to have some of the veranda covered by a roof, another part or maybe another area next to the contemporary garden room might also be covered by some climbing plants where you can sit and enjoy the cool shade of the leafy green under a trellis even during the heat of a hot summer day. There is a reason why places like these are so popular, and there is no reason why you should not own one of them yourself.
3. Great View
Being out in your very own piece of nature you will love to also keep it in view while staying inside your contemporary garden room. We offer many options when it comes to windows, and most of our garden rooms boast large windows with a great view onto your garden and providing lots of natural light inside the garden room.
Opened large glassed double doors are a good way to keep in contact with your garden while you are in your garden room during the summer time and a double glazing all around that we include in all our models with more than 40mm wall thickness will keep the warm in during the winter while you still will be able to enjoy the view into your snow-covered garden realm.
4. Edible Plants Freshen up the Garden Room
Talking about an upbeat atmosphere, indoor plants are a reliable way to bring some life and freshness into every room. Now, as a gardener, you will quickly see the advantages of having a frost-protected room full of light at your disposal to grow some greens during a time when nothing edible grows outside.
Augmenting the atmosphere in your contemporary garden room, and producing some fresh greens for the salad or the smoothie can go hand in hand. Herbs and veggies look beautiful, and you can grow your own organic produce free from any pests inside your garden room. Micro-greens, like sunflowers, collards, basil, or mung beans are another possibility. These you will saw out in seed trays quite closely together and harvest them early to decorate your meals or make them a tasty ingredient in any smoothie or salad.
You could use the floor of your garden room for that, or enlarge the inner window sills. Though lots of natural light is possible in our garden rooms, you might also use LED grow lights during the darkest winter days that use very little electricity, but enhance the growth of your indoor crops.
If you use just a small space in your garden room for that purpose, if you grow small herbs and more decorative larger ones, everything is possible and you are the master to create your very own mixture of delicious and beautiful.
Bespoke Contemporary Garden Rooms From Summerhouse24
At Summerhouse24 we create great contemporary garden rooms from superior materials for you to enjoy your garden time in for many decades. We offer more than 200 different models for you to choose from, and we are quite confident that you can find the one that completely matches your needs in our portfolio. However, we are also open to your own design ideas. If you have any questions, please call Oliver at  020 3807 0369