A Garden Room For Extra Space
30.10.2018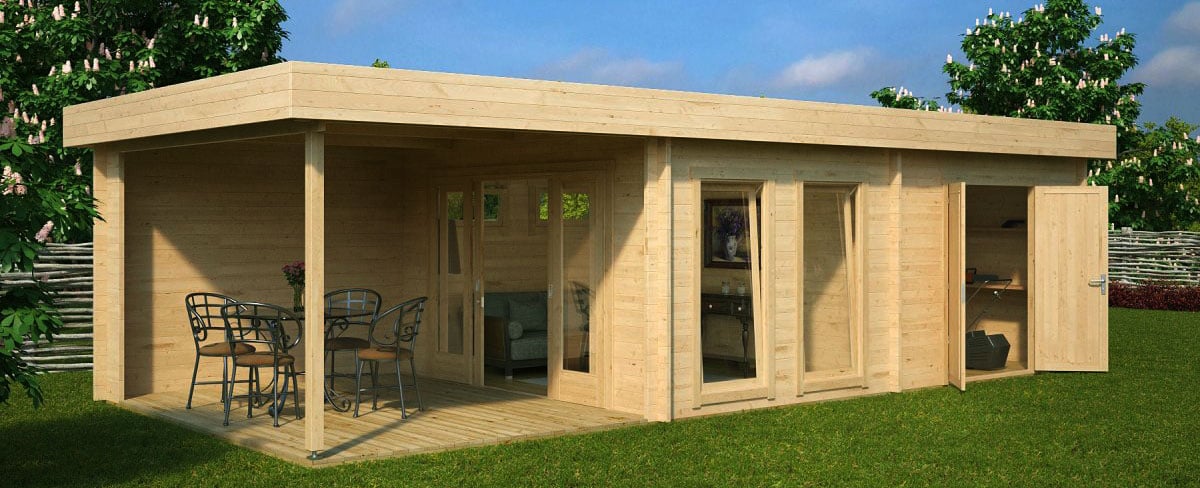 Does your garden have a garden room? And if not, why not? Ask yourself the following questions:
Could your home use some more space?
Have you ever thought about plans or dreams that you had, but your home was just one room too small to fulfil your dream?
Would you like to have a library?
A room to store the seeds and garden materials in?
A room to hang out in with your friends after work and on the weekends, to watch films, play games, with a bar and comfy furniture, a dart board, a small kitchen and a convertible sofa for your friends to stay the night when the party has gone late?
A meditation retreat with large windows and a veranda for the warm summer evenings where you could meditate peacefully away from the hustle and bustle in the house with a look into your green garden?
Or how about a little fitness-centre for your own and close friends and your partner? No commuting into a public fitness centre, no fees, no lines behind the most popular devices? Sweat all you want; your secret training won't be watched, you will show just the results during your next beach holidays?
The list could go on and on and on. The usage for an extra room is as variable as single individual characters are, but one thing is true: Nearly everybody could somehow creatively design an extra room to enrich his or her everyday life, add possibilities, freedom, space to live.
Whatever your dreams are: a private garden room is the means to make them come true. It will provide you a fully functional extra room or even some rooms for you to furnish, equip and use anyway you wish.
A huge portfolio of garden rooms for you to choose from
A garden room can be a room for your hobby, a work shop, a garden office, or the room to start a business in. It offers huge capabilities for wellness. How about private hot tub holidays every day after work? How about your own garden sauna? Or combining the fitness centre with a spa?
Relax on the covered veranda in a comfy sunbed after the sauna and let your body slowly cool off. Or give yourself the necessary space to really create something for yourself instead of always just working for other people's businesses.
Another option would be to put a simple storage unit into the garden to free some space in the house that you might put to good use.
A large portfolio of different builds, sizes, functions, and floor plans of wooden garden rooms will give you the choice to find the garden room that is just right for you. Different styles and designs to choose from to fit into the settings of your home and garden. And, of course, timber can be painted in any colour to fit nicely into every environment.
For all year round use, choose a garden room with a sufficient wall thickness
For most of the for mentioned purposes, your new garden room would have to be fully insulated and heated during the winter, just like any other room in your house. In order to purchase a garden room with a long lifespan, and thus make an investment that will be sustainable, and also increase the value of your property in the long term, you would choose a wall thickness not less than 44mm, 58mm or even 70-92mm would even be more advisable even if that means that the garden room itself would be a little more expensive than one with thinner walls.
On the other hand, timber is such an excellent insulation material that you would reduce your energy costs from day one with just a few centimetres more wall thickness.
Proper insulation of a wooden garden room is just a walk in the park
If you have a look at our portfolio of garden rooms, you will see that we deliver all our garden rooms double-glazed. Other than garden rooms built from scratch by DIY-enthusiasts, who most often would just nail or screw wall planks to a wooden scaffold, our walls do not contain any nails or screws that always form thermal bridges lowering the insulation capabilities significantly.
Our garden rooms are actually built like log cabins. They are constructed extremely sturdy, held together by their extraordinarily stable corner joints. It is a piece of cake to insulate such a garden room to a very high efficiency, and we have in fact provided an easy-to-follow manual for that purpose.
A garden room can be a very affordable full grown place to live in
If you look for large garden rooms, you will find numerous garden rooms well suited as a primary residence, as well as those suited as holiday homes, guest houses and even school rooms, sales offices, exhibitions, or practitioner's offices. To find the right model for these kinds of garden rooms, please also look at our selection of large log cabins.
As a rule of thumb, just double the price for the garden room itself to calculate the costs that you need to spend for a garden room with full logistics in place, like water, electricity, heating, sanitation and telecommunication. Compared to a stone building of comparable size, you will still end up at a fraction of the costs if you decide for one of our wooden garden rooms.
For any questions, please contact us or call Oliver at 020 3807 0369!