Perhaps you have an elderly relative you need to care for or are looking to generate rental income. Or maybe you want to regain your peace and quiet and home noisy teenagers a safe distance away!
Need more space? Don't want to / Can't move? Read our article about adding a prefabricated log cabin annexes to your home and we may just have the solution for you.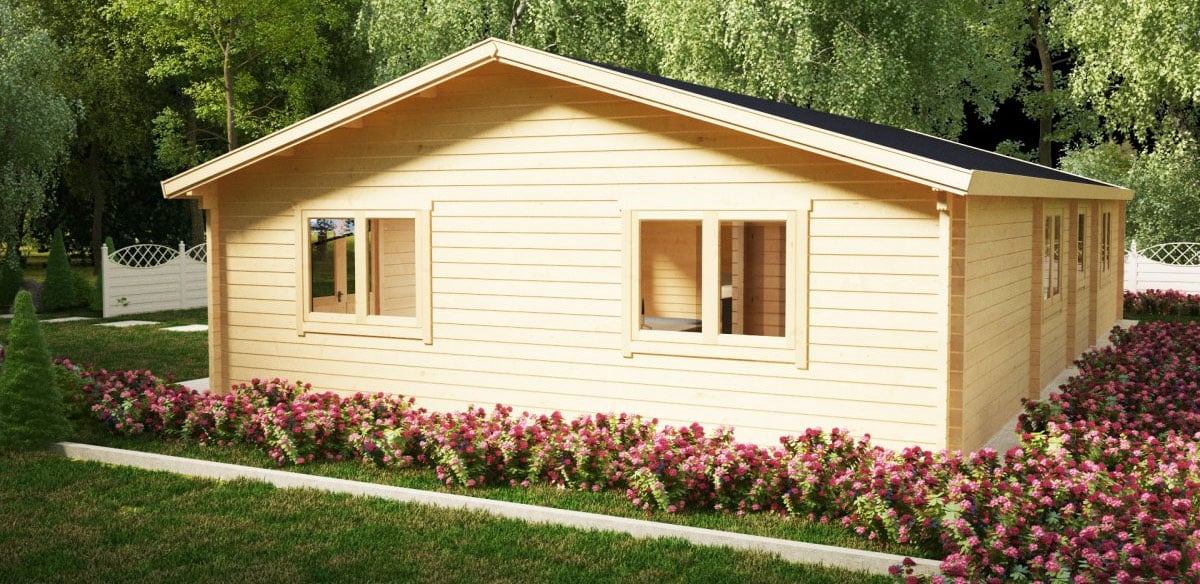 Why choose a log cabin for building an annex?
Building a log cabin extension to your existing home is one of the easiest, fastest and cost-efficient options. Typical lead time from order to delivery is 7-10 weeks and cabin installation in most cases is achievable within 2-5 days, depending on the cabin size and if you go for a DIY installation or using professional builders. Standard log cabin sets include wall planks (cut to size), all other wooden components, doors, windows, floor boards, roof boards, foundation joists, storm braces, metal fixings and detailed assembly plans. Installing a flat pack log cabin is similar to putting together a massive Lego construction kit.
Another great advantage to choosing a log cabin as an annex is its wooden interior that creates that comfortable and warm feeling as well as the unbeatable scent of wood.
Before the cabin installation can take place, a solid base for a cabin must be laid as well as installation of sewerage and water pipes should be completed beforehand. A concrete slab is the most common base type for large cabins. Laying down a concrete slab is a one-day-job and hardening will take 5-7 days.
Cabins for all year-round use require roof and floor insulation as well as heating for colder months. Floor insulation must be laid under the floor boards and the roof can be insulated from the inside or outside. Mineral wool panels are an affordable and efficient material to use for cabin insulation, but you can find many other options at your nearest DIY store.
After the cabin has been installed and insulated, it is important to treat a cabin with stain or paint from the outside and inside to protect the wood from moisture and sun. This will extend the cabin life span several times. The last step before furnishing and moving in are electrical works. It is important to use certified electricians in order to comply with building regulations as well as for your own safety.
The entire log cabin home extension can easily be completed within two or maximum three months and the result is an eco-friendly, comfortable and long lasting wooden structure that will look nice and will give you required extra space for a better life.
How to choose a right cabin?
Building living accommodation in your garden can be complex, so think carefully before choosing a cabin, building company and cabin supplier and ensure your finished design will meet all your requirements.
It is also important to make sure your cabin has double glazed windows, at least 58mm but preferably 70mm wall thickness, minimum 28mm floor boards and metal storm braces inserted throughout the entire walls in all four corners.
These features ensure your future structure will meet your expectations, will be stable, last for decades and weather resistant.
How big can an annex be?
An annex is always going to be fairly small by definition "a building joined to or associated with a main building, providing additional space or accommodation". Early in the decision-making stage you will need to consider and apply for permission to build a garden annex in your back garden from your Local Planning Authority (LPA).
It is a common mistake that people believe planning permission is not required for a granny annex. However, a granny annex with someone living in it on a day-to-day basis will always need either planning permission or a Certificate of Lawfulness from your LPA. Most of our other temporary-style buildings such as leisure buildings like the Hansa Lounge XL for example that are not going to be lived in rarely need planning permission.
An annex doesn't require a huge amount of space to build, but keep in mind that if your garden is small, the annex will need to be small as well. It is important to consider who will be living in the annex, the property they are moving from and how best to accommodate their needs now and in the future.
Try to be realistic about what can be achieved in a garden. A two bedroomed building with separate living room, bathroom and kitchen is a bungalow not an annex. Your local planning department is very unlikely to give you permission for a bungalow in your back garden unless you have a particularly large house with extensive grounds. Even then, planning is likely to be complicated.
Which Design Works?
Always keep in mind that the local planning and building control departments will want you to build a well-designed, safe annex that is appropriate for your house, garden and the local surroundings. If the annex is for an elderly or vulnerable relative, consider things like level access showers, a raised toilet, wider doors perhaps in case wheel chair use becomes a requirement and lever taps which are easier to use for arthritic hands etc. There are lots of clever solutions now that also look stylish.
Planning permission and a Building Regulations application are always needed for a granny annex or any garden office buildings that you intend to sleep in. Once you add sleeping and washing facilities the planning authorities become more interested in your building. You can read more about full details and definitions in the following document produced by the Government Permitted Development for Householders-Technical Guidance. – for England and Wales.
What is the planning permission process?
Planning really varies region to region and the level of difficulty / ease of planning permission depends on where you live. Attitudes to annexes and outbuildings with bedrooms vary significantly from local authority to local authority. In some areas planning permission may be impossible and in other areas the local authority will be positive about your application. It is important to check with your local planning department at an early stage and certainly before you commit to ordering anything.
We hope you found this article useful. You can also view our 70mm log cabins here https://summerhouse24.co.uk/70mm-wall/ and our range of large log cabins by clicking here https://summerhouse24.co.uk/large-log-cabins/ . Most of these cabins are ideal for building a granny annex or any other structure for extension of your current living space.