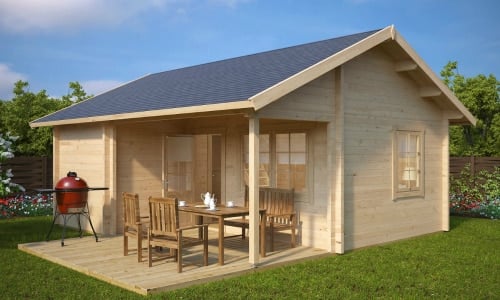 Garden summer houses are becoming more and more popular in the UK because they provide a valuable extension of living space for a comparably small budget and they use the private and picturesque background of your own garden to become a space to live in.
Whether you plan to use this new space as a room for your hobby, a guest room, an office, a meditation retreat for yourself or a teenager's den, you will want to think about how to furnish it to your requirements.
Summer Houses – a New Room to Live in for all Purposes
Modern garden rooms are well equipped to be inhabited. You have a wide choice of garden summer houses in all sizes and also fully equipped with insulation and double or even triple glazed windows in the internet. Several easy options are available for heating, wiring and water installation. So you are free to design this new garden room according to your own choices.  Decorations and furnishing can match the house or also be completely different because it is a separate room and not a part of the house.
Here are Some Tips When you Think about the Furniture in your New Summer Garden House:
As space is somehow limited in most cases, it is a good idea to look for multi-purpose furniture. A bench can be opened to become a storage chest, a table can be folded to the wall, a sofa-bed or folding chairs could make sense.
Use the rustic atmosphere of your garden summer house and use natural things like picturesque pieces of wood, dried flowers, or things made from leaves or chestnuts as decorations. Also don't be afraid to express your creativity by taking the paint brush into your own hands.
Use old furniture from the house or use furniture which is not very easily damaged like garden furniture or furniture made from Rattan. The furniture is well protected, safe and dry inside your garden summer house, but still it is a more natural environment there.
Voile curtains and glazing bars fit well together and they match the style of your wooden garden room. So if you are not too much into minimalism, which of course can also be an option for the interior design of a modern summer house, making it rustic and a bit pastoral is a nice option that matches the natural environment of the garden.
In case, you plan to hand the garden summer house over to someone else to live in, be it a teenager or a elderly resident, don't plan too much, but let them decide and then support their choices. Especially for teenagers such a move into their own little realm in the summer house is a great opportunity to develop their own style and find a real home for themselves right next to their "old" home.
A Garden Summer House can Easily be Rededicated
If you use your garden summer house for yourself, family members, your guests or even rent it out via the many portals offering cheap accommodation on the internet: Rededicating the garden room for another purpose is easy and quick. Garden summer houses are so versatile that they just accompany your personal evolutions and those of your family. A workshop, a garden office, a hub for organic vegetable gardening, a repair café or  a meditation retreat: What ever you can think of lies right around the corner and can become reality in a matter of days.