Garden Room Extension – Some Ideas You Might Like
21.02.2018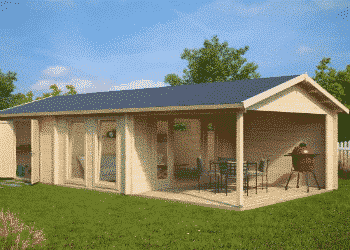 Bespoke contemporary garden rooms from Summerhouse24 are a stunning extension of your home and garden. Crafted from selected and sturdy northern spruce, designed with a long experience, each  piece has passed quality insurance and is kiln dried to 18% dryness to minimize settling movements after the assembly.
Our garden rooms offer a high quality-standard, longevity, sturdiness and aesthetics.  
We have selected some ideas of how to extend your garden room, how to customize it to suit your requirements for the high-quality room that suits you best.
Sauna, spa and hot tub
What could be more relaxing and soothing than to have your own spa in your own garden room to use anytime you feel stressed and in need to indulge your body to reimburse it for its daily duties at work.
With our garden saunas, garden sauna with spa and our collection of wood fired hot tubs you have a solid foundation to make this dream come true. Finish your home spa with fitting furniture, a bench to relax on, some shelves for blankets and towels and some comfy deckchairs on the veranda to relax with a view of your garden.
Garden lounge
Why not make your garden room a comfy area to hang out and spend your free time in? A sitting area with a sofa and comfy armchairs, a shelf with your favourite books, some entertainment systems, a bar, a dart, snooker, whatever you like is possible in one of our contemporary garden rooms that come in many shapes and sizes. A "man-cave" is feasible as well as a "lady's room". Let your creativity flow and design the room that you always wanted to have.
Cinema room
Why not equip your garden room with some more comfy seats and a huge flat-screen monitor or a powerful video projector and entertain your guests with the latest films or documentations? In our larger garden rooms, you might even think of making a business out of it by installing several rows of seats.
Garden office
Nowadays you don't need much to convert a garden room into a garden office. For some, just a laptop and a telephone line or Wi-Fi would already do the trick. A desk and an ergonomically designed chair, maybe a file cabinet, maybe a comfy sofa for your breaks or a sitting area for meetings with business partners or customers.
Our garden rooms offer the right backdrop for focused and creative work as well as for customer traffic and even garden offices with multiple workstations. Let your garden's oxygen-rich air vent through the tilted window to refresh you and the view of your green garden be your inspiration.
Guest room
Have you had parties spoiled by the inevitable question: Who's going to drive? With your own guest room in the garden, you can offer your guests a decent room to stay with a lot of privacy, Also, you could use the garden room as your own bedroom whenever your relationship needs some distance, or you could rent it out through the internet.
Kitchen
With all these usages involving longer stays in the garden room, a kitchen might be a good idea. A water boiler to make some herbal tea, a fridge to keep drinks and snacks cool, a blender for smoothies with fruits and veggies from your own garden, a toaster or even a small stove to cook something. You would, of course, also need water supply, and a sink to wash your hands would also be advisable for all the other usages mentioned above as well.
For any questions, please contact us or call Oliver at 020 3807 0369!
Want to discuss over phone. Let us call back to you
If you need any additional info regarding any product, please fill in the below form and we will get back to you, usually the same or next working day.
Have any questions regarding some product?
If you need any additional info regarding any product, please send us your questions.