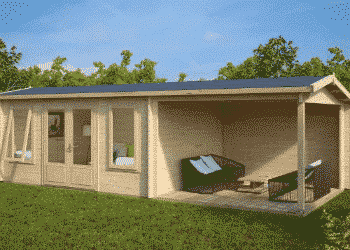 Not so long ago garden summer houses could not really compete with simple garden sheds when it comes to popularity. The garden shed functioned as the workhouse in the garden, the place to store the gardening tools and those needed for all DIY, and in many cases, it was not only there for storage but also contained the workshop with a workbench and a vice.
In some cases, it was also the place to grow seedlings in early spring or even a hobby room to house model railways or build bird's nesting boxes. The garden shed was a man's cave, a miniature pub, a place with an old sofa to read a good book in and it was always no big deal to saw some wood in it, make some dirt with soldering tin, or have some old screws laying on the floor.
According to most books and TV programmes about the topic, they seem to have been mostly the domain of men, but tradition has always been modified by fashions and nowadays garden summer houses offer living spaces as an extension of the living room in the main house, a kind of beach hut in our own garden, a modern looking space that can be furnished following the latest fashions and individual inclinations.
Many of us are realizing now how much an inhabitable comfortable space in our own garden can enrich our lifestyle.
Surely garden summer houses can still store the sun lounger and the garden furniture during the winter, but their main use has become to make the garden a more habitable space and to prolong the time the garden can be used for example as a dining or leisure space in the course of the year.   
Do garden summer houses really rival the humble garden shed?
Or is it not rather so that garden summer houses meet completely different needs? The answer to that question lies in the usage. Mixed usages are the norm for garden summer houses as well as for garden sheds. However, if you will use your summer house as a garden office, you will not want your customers stumbling over the skill saw on the ground, and if you use your garden summer house as a garden sauna or for private hot tub holidays after work, you will not want to step barefoot on old rusty screws lying on the floor.
You might be happy to store the tools and materials under the stairs while your new garden lounge is ready to impress your guests at the garden party, but you might as well miss the humble garden shed where you could wield your DIY tools.
Deciding what you really need to combine both needs might well be a financial question, too. Small garden storage sheds are well available to store tools and garden chairs, as well as maybe the bicycles and the lawn mower for not that much money, while prices go up for garden sheds as well as garden summer houses with sizes and sturdiness, and of course extras as a nice covered veranda to sit on during warm summer evenings with friends over dinner in the fresh air of the garden with the comfy armchairs, sofa and bar inside the summer garden house waiting for the later part of the party.
A combination of shed with garden summer houses might be the perfect solution to all your space problems
Garden summer houses that are being used as garden lounges, as places for studios, as spare bedrooms or guest rooms, or as garden offices open to customers or business partners will just not be the perfect place to store the wheelbarrow or the muddy spade in.
Luckily these needs have already been recognized by the industry which naturally came up with a perfect solution: Garden summer houses with shed meet both needs under the same roof and are therefore much cheaper than purchasing two separate buildings. While the garden summer house part is tidy, neat and clean and fit to be furnished and presented, the shed is accessible from the outside, so that you don't need to put off your muddy wellies to get the hoe while gardening, and you have a wide choice of sizes and floor plans to choose from so that you can be sure that all your needs will be met.
Looking for more information? Visit the link below: