Getting Ready for Summer
05.03.2017
How to Plan For a New Garden Log Cabin or Garden Room from Our New Improved Portfolio
If you are thinking to use a garden building like a garden log cabin, a summer house, a wooden garage or a garden room this summer, the time to order would be now.
What are the reasons for this? Now, apart from us having designed a whole new range of garden buildings, garden summer houses, garages, sheds and log cabins – this winter we have added more than ever before and also again developed new styles and modern designs – you will need some time to do the proper planning and make a good quality foundation which are time consuming tasks even after you have managed to find the perfect fit for your needs and ideas in our portfolio.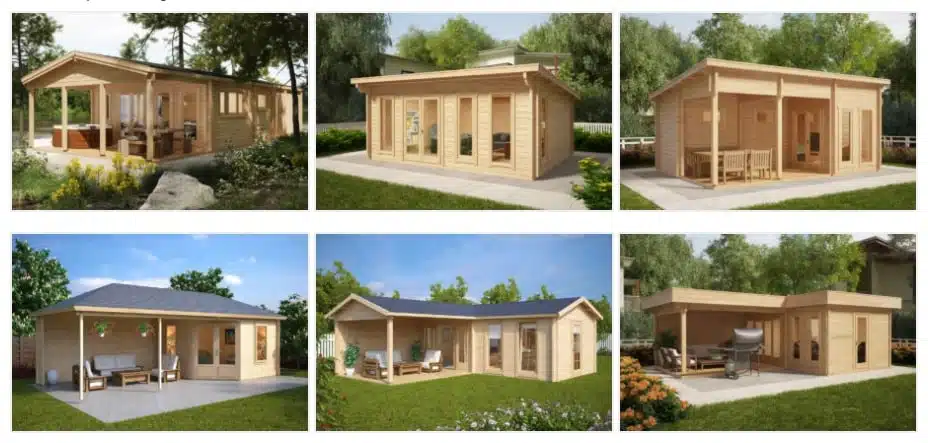 So now is the time to start planning in order for you to be able to enjoy your garden log cabin during the time you like to be outside, work in the garden, enjoy the summer. After all, that's what summer houses are made for.
From a garden room to be used as additional living space to a garden log cabin used as a workshop, garage or to store gardening tools and garden furniture, from an office in the summer house to a garden party room, the additional space in the garden could change your quality of life and make your and your family's everyday life more worthwhile. But to get the best value for your investment into a garden building, you need to plan thoroughly and consider all the details. In the following article we have compiled some tips and hints for you to consider during the planning stage.
Size and Log Thickness Will Define the Future Use of Your New Garden Building
So, even if you have a certain use for your new garden room in mind now, you might want to choose options which allow the garden building to evolve. A summer house planned as a storage room might evolve into a small workshop, where the stored tools are put to use or into a party room. A garden log cabin planned as an office retreat for the summer might evolve into a guest house or a living space for a teenage child to be used all year round.
So generally speaking you would rather plan the garden building a little bigger than it seems necessary now and also consider that thicker logs will come in handy once you might think about why your garden log cabin is unused half of the year and decide to put an oven in there and add insulation to make it a full time usable and inhabited extra living space.
You might be interested to hear that in our new collection we have designed the majority of the garden log cabins and garden rooms with extra thick 70mm walls to provide for a more than doubled life span. greater strength and of course huge advantages when it comes to insulating and using the garden buildings during the winter as well.
Our new line of large garden log cabins called "Holiday Line" even comes with 92 mm log thickness and brand new double glazed Roto windows and doors made in Germany.
But although thicker walls have numerous advantages, we will not keep it a secret that if you are looking for a bargain for all year use, then looking for a garden log cabin with just 44mm wall thickness is also possible, if you plan a very thorough insulation for example double-walled and cold bridge-free.

Planning the Size of Your New Garden Building Properly
There are four aspects to planning the right size of a garden log cabin or summer house:
What usage do you plan now and which needs could evolve in the future?
How does the new garden building fit into your garden and where is enough space for it?
Can you get the necessary planning permission for your new garden rooms?
Does your budget allow for the size you wish to order?
We have mentioned some things to consider about No.1 already. A sufficiently sized garden log cabin is a significant expense for most, and so planning ahead is key to make your investment useful for the future.
2. Visualizing the size of your new garden room
To find out the proportions of your planned garden building to the rest of the garden and plan the right position in the garden you can use things to mark the corners. Even better would be to mark the corners with canes or tent pegs and connect them with lines in order to get a better picture of the space, that will be offered and how the garden building will look in your garden. Also mark the position of doors, windows, decks and think about how you would provide electricity and water. Think about the height of the foundation and the total height of the new garden log cabin and how it would interfere with trees, power- or telephone lines. You could use a rod to visualize the heights.
3. Planning permission
There are different regulations across the UK. Generally, if your new garden building is more than 2,5m high and closer than 2m to your border, that would require a planning permission. The same applies, if you plan to connect your summer house or garden log cabin to mains electricity or plan to use it to live in it in a wood.
It might be worthwhile to seek a planning permission to be able to erect a higher foundation, which can be a good way to raise the lower wooden planks of the summer house above the spray water from rains and storms.
4. Budget and value
You will have to find the right balance there. Generally thinking about opportunities that the future may hold, it might be a good idea to go for a little larger and a little better quality than what you might have planned originally even if this means digging a little deeper into your pocket now.
Please keep in mind, that our products are among the very best available at the market. Manufactured from high-quality Nordic spruce,processed with the latest technologies, designed with a decades long experience, constantly improved, and offering extremely strong and durable garden buildings with wall thicknesses up to 95mm. A strict quality control is established to clear the way to delivery. A construction period of only 2-4 days with DIY easy self assembly and a five year guarantee to all our garden buildings round out the features that guarantee a sustainable investment.
If you start the planning process now, you might be able to explore the uses and benefits of your new summer house during the whole summer of this year.
Summary: An article about the best time to buy a new garden building, as f.e. a garden log cabin and how to plan the size and features of the building properly.
Want to discuss over phone. Let us call back to you
If you need any additional info regarding any product, please fill in the below form and we will get back to you, usually the same or next working day.
Have any questions regarding some product?
If you need any additional info regarding any product, please send us your questions.