How To Move A Garden Shed: Relocating Storage Units Made Simple
07.03.2022
At Summer House 24, we know whether you're changing homes, your shoffice, need to redo the landscape, make more space in your backyard or garden,  your neighbours are having issues, moving your shed may be inevitable and you better get ready!

First, ask yourself:
Is the weather okay?
Can you move the shed yourself?
How many helpers can you get?
Is it possible to relocate an entire shed without dismantling it?
Make proper preparation before you get to it! As reputable experts on garden sheds, garage sheds and log cabin sheds, we put forward this guide on how to relocate your shed. We've got you covered!
Dive in our helpful tips on moving your storage unit to your new desired spot.
How Movable is Your Shed?
Relocating a storage unit is quite the challenge – it is time-consuming and can burn a hole in your wallet.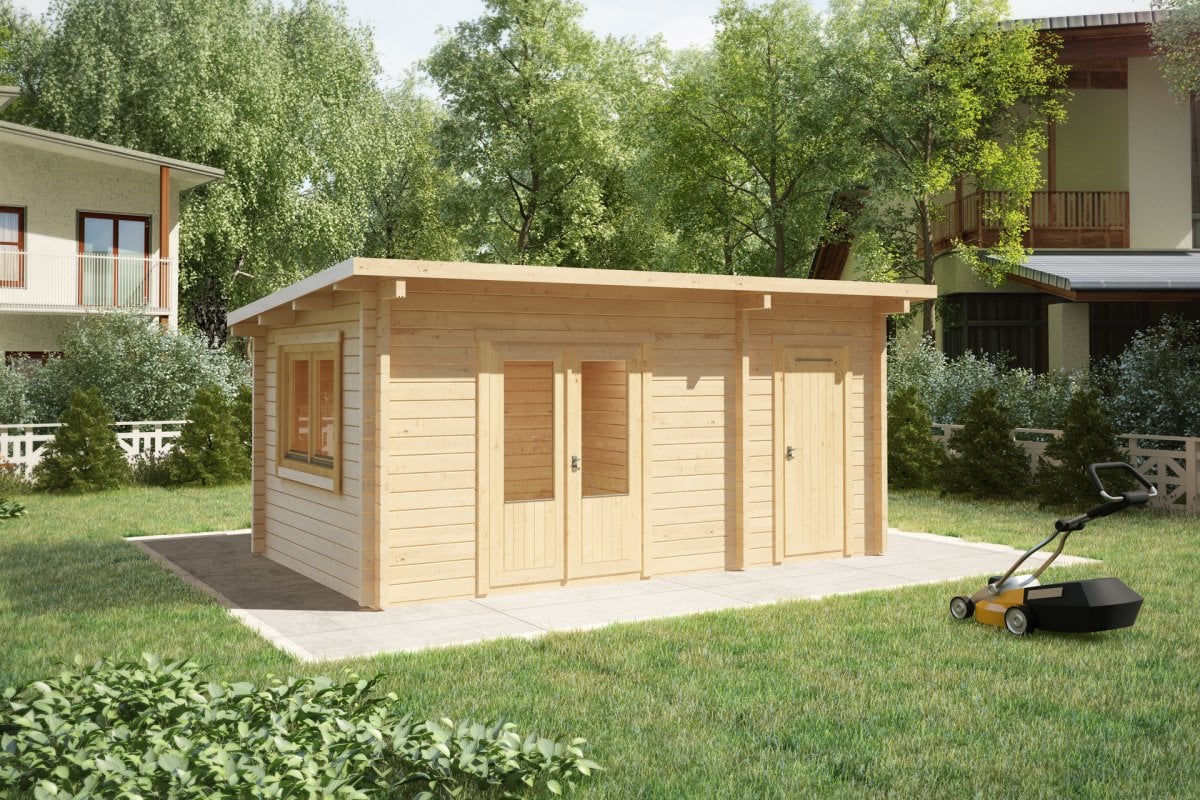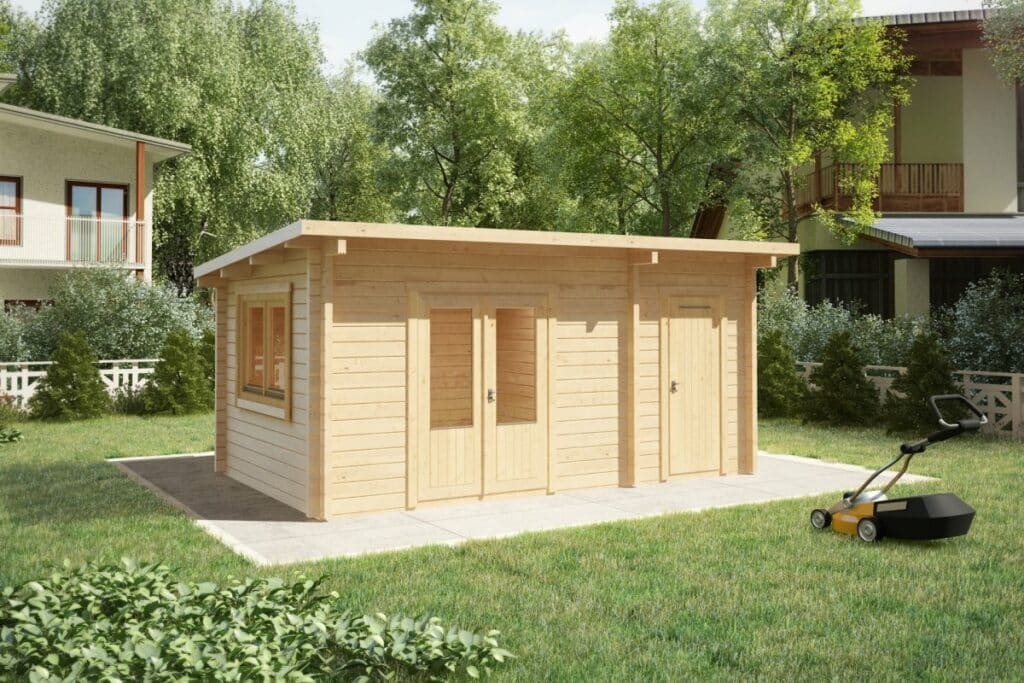 So, before you begin, make sure it is possible to move your storage unit. Whether the shed is movable depends on the size, weight, material, and current location of the unit.
Take a really close-up inspection of the condition of the shed. If foundations show even the slightest sign of being compromised, the entire thing can fall apart, experts advise. That's why doing a round of reinforcements to the shed foundation is e a wise move along with a fresh roof covering as moving will often harm it. On the other hand, if the structure is too wobbly, there is no point in relocating it, no matter how much you want to. In such situations, it is best to save yourself time and effort and invest in a new storage unit.
However, if your shed is structurally sound, you have the green light to start the moving process.
Secure The Unit Structure
Before you begin the moving process, it is essential to ensure the integrity of the structure and the safety of the transit (both for the storage unit and you!).
What to look out for?
Start with windows.
First, remove panes.
Attach two wooden planks to the studs and form an X-shape.
Apply reinforcement to the unit's doors.
Empty The Shed Before Moving
The storage unit must be as light as possible, so clear out all items from the interior before you begin the relocation process. This means your lawn tools, bikes, tools and benches, supplies, and other possessions that you've piled up over the years. If you're planning a long-distance move and you have more delicate interior, factor time, effort, and materials you'll need to prep to move furniture, as that's a common, yet unforeseen caveat.
No matter what moving method you go with, the shed will surely rack a bit during the relocation. A helpful tip is to remove glass panes and prevent windows from breaking.
Some of our other guides to read:
Additionally, this action helps lower the overall weight of the shed and makes the move easier.
Clear The Relocation Site
The first thing you need to do:
Clear and level out the new spot for your shed.
Once you've marked the place, create a wide enough pathway across the yard and make the relocation easier.
Clear debris as well and ensure as flat a surface as possible.
Pay attention to overhead obstacles and watch out for electric lines and tree branches that may become a health hazard.
Safety first!
Read: How to Clean Your Decking without a Pressure Washer?
Gear Up For Moving
Proper gear makes all the difference in the world. The materials you'll need depend on the moving method you wish to implement. Below is a list of essential tools and machinery:
PVC Pipes or Moving Rollers;
Hi-Lift Jack;
Floor Jack;
Shovel;
Forklift or Crane:
Trailer/Truck.
Only when you have all the necessary equipment, may you start the relocation process.
Break Out The Shovels
Sheds tend to sink into the ground over time, so you will need to dig around the base to free it from the grips of Earth.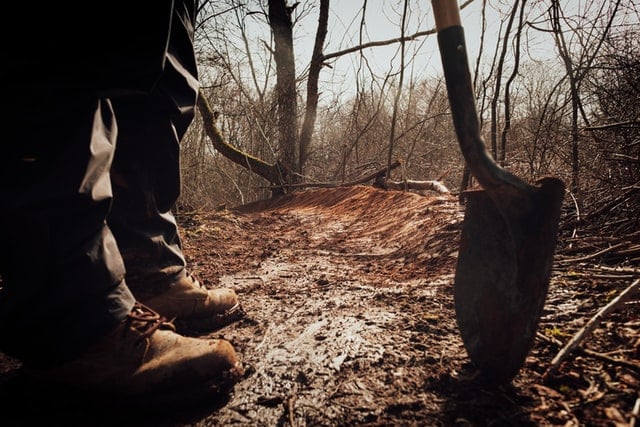 Shovels and a few extra hands can simplify the process. Once you have dug out your shed from the ground, create four pickup points at the four corners of the unit by digging out enough room to fit a jack underneath (or at least your hands).
Note: If your garden shed is on uneven ground, take precautions and be careful to avoid it from tumbling downhill.
Lift & Move The Shed
The right way to move your garden shed depends on the size, material, and location of the storage unit.
Methods:
Move The Shed By Hand
The first technique is best for short-distance relocations. Moreover, if you own a small shed with a size of 8 x 8 or less, this method will do the trick!
However, unless you are The Hulk, you will need the help of friends or family. If ancient Egyptians can build the pyramids without technology, a garden shed will be a piece of cake for you, right?
Move The Shed With PVC Pipes
This method is excellent for medium storage units. Once more, an extra hand will prove useful.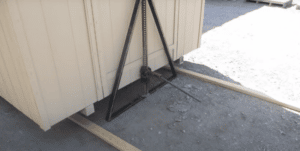 After you've finished digging and clearing on the edges:
Clear the path to your new desired location.
Enhance and strengthen the integrity of your shed (base or entire structure).
Lay wood tracks on the pathway to your desired new spot.
Lift the shed and carefully slide 4 PVC pipes under it to act as a conveyor belt.
Centre the shed, so it doesn't tip over.
Put a person on each piping end to spring and control in case of it getting off the right track.
Push the shed in one direction slowly.
As you move forward, there will be a pipe coming out at the end, which one of your crew must carry to the front position.
Repeat this step until you reach the destination in mind.
Return all the gear you borrowed.
Thank everybody who helped.
This technique is simple to implement and will make the relocation easier since these materials are durable and inexpensive.
Move The Shed With A Forklift Or Crane
Large and heavy sheds that you cannot dismantle are best to be relocated with forklifts.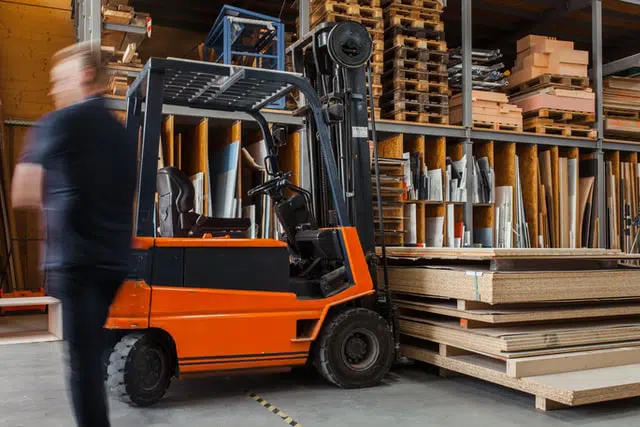 Though the latter may be available at some equipment rental businesses, in most cases, only commercial clients with experienced operators can get a hold of them.
While hiring a forklift and an operator is heavy on the pocket, having the right equipment is essential, and it outweighs demolishing your shed and risking severe injury.
Tug The Garden Shed on Skids
Do you have a machine with strong pulling power? Lucky! Start it up, save yourself some exertion and make your shed a sledge.
In theory, it is fairly simple to relocate a shed on skids.
Attach the latter to a chain or other heavy-duty strap and bolt them with long lag or carriage bolts.
Fasten the strap or chain on the outside of the skids on either side of the shed.
Once attached, pull.
No matter how simple it sounds, always be cautious – the more power you put behind, the more risk for structural damage.
Load Your Shed
Loading is the most difficult part of the relocation process, and it also requires the most muscle. So, round up your crew and get ready for action.
Loading Your Shed On a Truck
The easiest way to load your shed on a truck prior a long-distance relocation is to use a ramp.
Step-by-step guide:
Have two people positioned on each side of the unit (front and back).
Use a jack (or do it the spartan way) to lift the side of the shed closest to the truck.
Ensure the people in the back are ready to hold up the shed and keep it from tumbling over.
Next, have all four helpers lift the shed to a level position and move it into the truck or trailer. Here comes the tricky part – this step calls for some serious shoulder strength, as the two closest to the vehicle won't be able to stay in the truck bed for the entire time – they're better off carrying the shed from along the sides.
Lastly, let the storage unit down gently in the truck or trailer bed.
Loading Your Shed on a Trolley
The one catch with trolleys is ensuring a sturdy base. You can't trust the integrity and condition of the structure and you don't want it to fall apart either.
Turn To Moving Professionals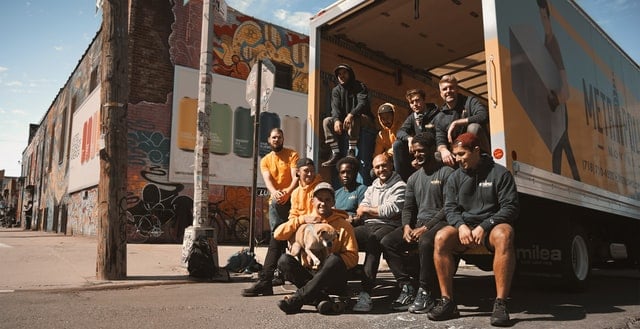 It is a challenging task to move a garden shed from one location to another. If you have more pressing matters at hand or feel unprepared for the process, leave it to the professionals to carry it out for you, advise relocation professionals What Removals. After all, moving experts have the experience and tools needed for a seamless relocation. Not to mention, removals companies often have insurance policies that will cover accidental damage.
Read: Moving into a Container Home: How to Make the Process Fun and Straightforward
Demolish & Buy A New Shed
Sometimes, moving a shed ends up in a disaster, and your old storage is as good as rubbish.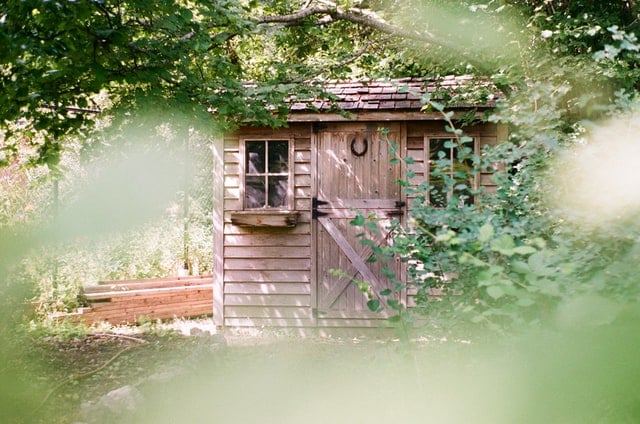 The best thing you can do is buy a new one.
At Summer House 24 you will find a magnificent selection of units along with the option of a bespoke garden room tailored to your specific requirements and taste.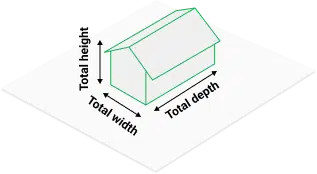 Now Try & Move Your Shed! Ciao,
With our easy to implement tips, you should solve the mystery of how to move a shed! Whichever method you choose, communicate clearly with your crew and make safety a priority.
Good luck with the relocation of your garden shed, and think how would your life change if you move into a container home.

Explore the rest of our blog! For orders, questions, and advice, contact us and get in touch.
Want to discuss over phone. Let us call back to you
If you need any additional info regarding any product, please fill in the below form and we will get back to you, usually the same or next working day.
Have any questions regarding some product?
If you need any additional info regarding any product, please send us your questions.