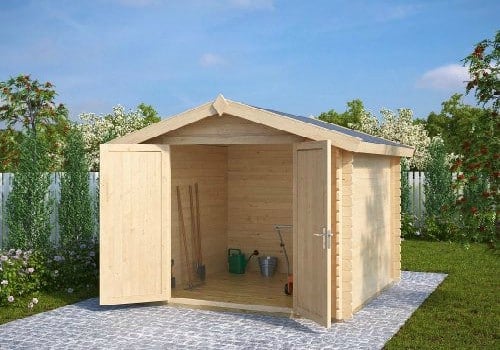 In the first part we have covered the pros and cons of having a wooden floor in the garden shed and given some tips and information about preparations of the ground and how to construct the underfloor.
In this part we will look at different options for flooring and how usage and flooring go together in a garden shed.
Of course the usage you have set aside for your garden shed is the determining factor when it comes to the choice of the flooring. It makes a big difference, if you will want to step inside with muddy wellies to get a gardening tool or if you want to sit down for a meditation in clean and cosy house shoes. Do you want to install a private fitness room, a sauna or do you plan to rent it out as a holiday home? Your choice of flooring will follow your plans about what your garden shed will be for you.
Flooring in the garden shed and ventilation of the floor boards – does this work at all?
Vinyl-flooring or linoleum often come to mind, when it's about providing a mud- and waterproof floor to your garden shed. It could just be laid on the floor boards, but that would stop ventilation from above completely. So would you have to expect rotting floor boards due to moisture or condensation that is not ventilated away?
While this is a theoretical thought, practical experience shows that this will not happen, if the underfloor is well ventilated. Also the flooring should be watertight, if you use it as a protection against muddy or wet footwear or if you plan to clean it with water.
The same of course applies to any flooring laid on the floor boards: It should be watertight or you should do the cleaning without excess water, plus the underfloor ventilation of your garden shed should be fully functional.
Flooring in the garden shed – Insulation and underfloor heating
Building a garden shed, underfloor insulation should be one of the first steps to take care of, even before you lay down the floor boards. Think of the requirement that there should be some ventilation at the floor boards. If you want to use mineral wool, which is good, because it does not rot, use a metal mesh to shield it from mice, rats or martens. This mesh between the bearers can also hold the mineral wool.
For an underfloor heating in your garden shed, several options are available. An independent system for example with the help of solar panels or a thermal heat pump are quite costly and are perhaps more for large garden sheds used for example as a garden office with public access. Another option can sometimes be taken by extending a insulated pipe from the central heating of the main house. The easiest option is to install electrical underfloor heating between the floor boards and the flooring.
A garden shed used as a gardening hub, a hobby room or a workshop could use a wear resistant flooring
The same is true for a garden shed used as a garden office with public business or a party room. Moreover should the flooring be easy to clean. Aside from linoleum, vinyl or laminate, floor tiles offer an opportunity to make your garden shed look a little bit more high class.
Tiles should not be fixed directly to the floor boards though. You would need a layer – for example a suitable fleece – to disconnect the tiling from the wooden floor.  Another way to go would be to lay a press board or a dry screed on the floor boards and lay the tiles on these. The dry screed would also have the advantage of providing a footfall sound insulation. That way the floor of the garden shed makes a more solid impression when someone walks over it.
If you want to have tiled toe boards, you need to glue them onto sliding guides. These are boards that are held to the walls with screws in vertical slots, so that the movement of the walls, for example when the planks shrink and the garden shed settles, is decoupled from the floor.  That way the edges of the tiled floor will stay watertight, so that you can easily clean the floor with water. Still it is recommended to use a flexible silicon tile cement because a tiled floor on a wooden underfloor will still bend a little more when you step on it than a tiled floor on a concrete or stone underfloor.
More comfortable floorings for the garden shed
The following options are for garden sheds used more privately. For example a meditation retreat in the picturesque surroundings of your own beautiful garden, a garden office, a private fitness centre, a room for a teenager, a place to play for the children or a garden lounge to sit comfortably and receive guests could be floored with parquet, carpet or laminate. There is such a wide variety of colours, woods and materials to choose from.
Persian carpets, Flokatis, rugs or oriental cushions add a lot of cosiness and create a comfortable living atmosphere.
Keeping the floor with the original boards is another option. Why not use a durable white lacquer, combine it with whitewashed walls and furniture to have your daily light therapy in your garden shed?
For yoga rooms, meditation retreats, fitness rooms or also garden sheds designed as a playroom for children, a flooring from rubber mats might be a good solution. Unlike carpets which can be slippery, they provide a good foothold and reduce the risk of accidents.
In these kinds of garden sheds it might be best to establish a strict "no shoes inside" policy. In this case a shoe rack near the door and maybe a box with warm socks or home slippers would also be a good idea.
There are many ways to make your garden shed your favourite room, and as it is always a garden room separate from the main house, you have the free choice of decoration and putting your own personal style on it.