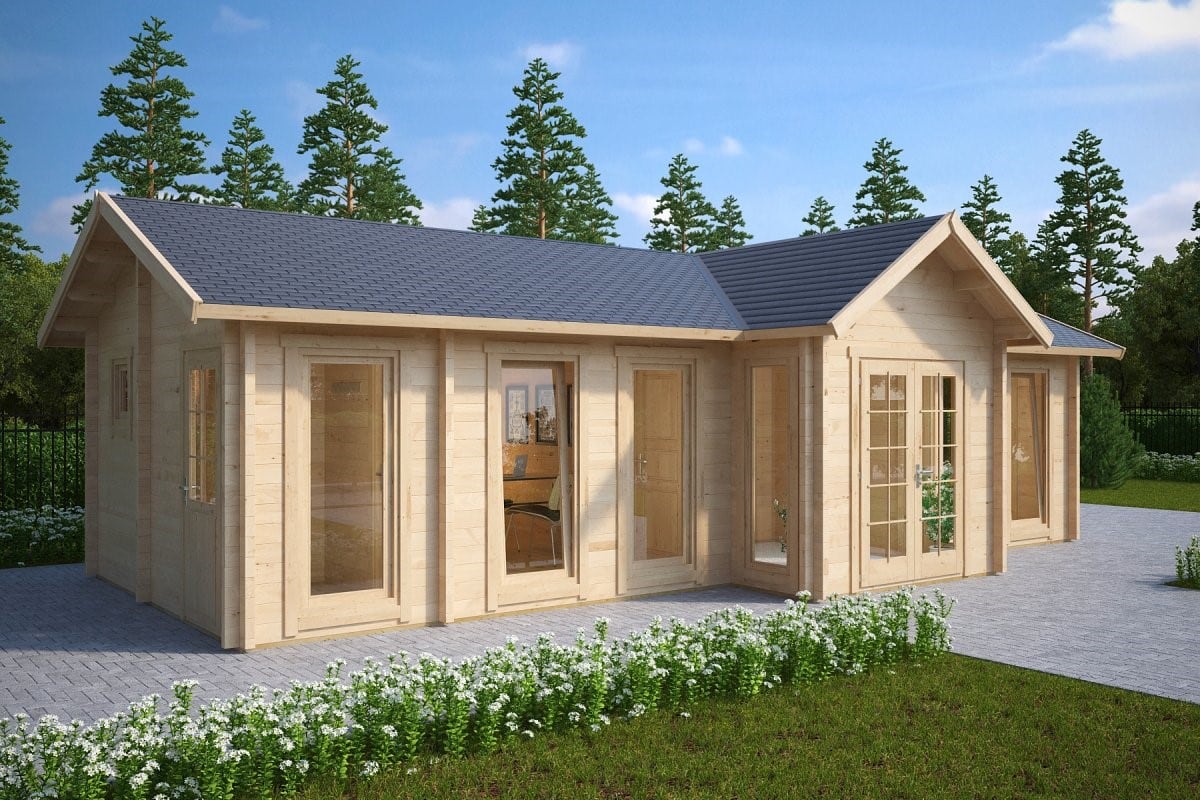 Would you not like to work in your own garden office? But how to set up one in your garden to enjoy the bliss of every morning comfort?
With the increased popularity of flexible working in recent years, it's no wonder more and more employees are taking advantage of their right to request it. As well as employees, employers also recognise the various business benefits of flexible working such as increased morale, productivity, creativity, reduced absenteeism and an increase in overall engagement.
This is why most of them encourage their staff to take advantage of their right for flexible working. While not every business is equipped for flexible working, a great number of them are.
Those that allow from flexible working would have a work from home policy that'll provide guidance for staff looking to make a request. And with an efficient home office set up, you'll be increasing the likelihood of your work from home request being accepted.
Whether you already have a gem from SummerHouse24 or a garden shed that could be converted into a garden office or you plan to buy and build a new summer office:
Overall costs and requirements are pretty much the same because rededicating existing space will have to count as a loss of space, and, by the way, there are some good reasons why shedworking, as it is known by most, has become the newest bang-on-trend for office space.
London's V&A had an exhibition for National Shed Week, BBC Radio 2 has made a broadcast about it and a new coffee-table book jumped on the train with a book titled "Shedworking".
Not only brings a garden office a new, trendy, and healthier feel to your daily work, but it will also improve work-life balance. This also, respectively, makes you understand that work and life should be the same as opposed to being perceived as different or even opposite experiences. From a psychological standpoint, it's a better start of the day to take a walk to work through the garden then compared with fighting through the traffic congestions.
Now what's really to shedworking, and could this be something for you? We will answer some of your questions in the following article.
Garden office vs. office in the workplace – Which wins the competition?
If you already have a summerhouse in your garden, you are aware how quick you could be at work every morning in your very own garden office, and if you go to work every morning, you also know about how stressful and time-consuming the journey through congested traffic is.
So it is probably clear, which alternative is more desirable in this area. Take a look at the contemporary garden offices you could buy from SummerHouse24 or maybe those having a veranda?
Large or small, which is the garden office for you?
As technology improves, many are able to really get a big workload done with a laptop and, WiFi-connected broadband connection, a notebook, and chargers. Given the time saving and the boost in motivation, your superior at work might be open to suggestions aiming at doing at least a part of the work in your own garden office.
Also, many jobs allow you to work from home – at least partially – where you are in a relaxed atmosphere and can chop the work down to convenient pieces you can handle over the weekend.
For all you homeworkers who already work from home, setting up your own garden office is often connected with some big advantages compared to working in the main house. Apart from the question of where to find the space, tips to plan for all the requirements one even more important question is:
Where to find the necessary concentration and the seclusion needed for constructive work.
A garden office in the summerhouse helps you to get rid of the two biggest enemies of creative work: noise and distraction.
So in this regard, a garden office also beats an office with lots of colleagues somewhere in town. Be it the postman at the door or a delivery man, spouses, children, pets at the house, colleagues or your boss at work:
Everybody has legitimate concerns, but your garden office should be your own realm.
Your own garden office is open to any design and function that caters to your specific business
Summerhouses with terraces can be used to receive business partners, garden offices can be fully insulated to use full time during the year. If you want to integrate a toilet, the drainage pipe might probably go to the toilet in the house. With proper insulation, heating, as well as air-conditioning, it all becomes possible.
Electrical, water, as well as a telephone line, can be extended from the main house. As to interior design you are free to shape it in a way that makes the most sense to you and your business.
You can customize and personalise your working environment tailor-made to your needs and visions. So any compromises over colours, textures, design and style that you had to make in the main house are literally out of the window here.
Shedworking in your garden office – how to get it right
Basically there are two options:
You could convert an existing summerhouse into a garden office
Or you could invest in a new one.
If you would use an existing garden shed, then the amount of work depends on how this one is already fitted. So insulation, heating, and air-con would be already there or you would have to fit it in. The same is true for electricity and water if you think water to be essential.
Wifi from the house can be extended with the help of a simple wifi extender that connects to your existing network and extends the signal. So you would just plug the extender into the mains at a location closest to the garden office so that the signal is extended into the right direction.
Wifi extenders have relatively short ranges of around 30m and you might repeat the extension f.e. with an additional extender in the garden office if your garden office is further away from the house or if you need to run a smart wifi-connected air filter,
On the other hand, if you already have a highly functional summerhouse in your garden, chances are that you will use it in one way or another. In this constellation gaining the space for the garden office will mean losing the space for whatever it was before.
So in many cases, it would probably recommendable to build a new garden office. Good for you that we have already designed quite a number of garden offices with different sizes and designs for you to order directly.
Building a new garden office in four easy steps
The first steps of building a garden office are of course the same as building any other garden building.
Step 1: Planning regulations
Your new garden office has to be at least 5m away from your house and it must not take away more than 50% of your garden. If its average height is over 2.5m you will also need planning permissions. Anyway, after your choice for the new garden office with the most important details is made, it's probably worth talking to your planning authority just to be sure – if it turns out that you will need planning permission it will probably be done in 6 – 8 weeks. Check out the 7 garden offices with roofs under 2.5m to evade planning permission.
Step 2: Setting up a proper foundation for your garden office
It is possible to purchase garden offices which are specifically designed to sidestep this requirement, but when it comes to protection against moisture from the ground and anchoring against strong winds, nothing beats proper foundation with deep parts for the anchoring and flat parts for the water protection. As any other wooden garden building, a garden office will gain durability and life expectancy from resting on a slightly elevated foundation to protect against the surface – and spray water, too.
Step 3: Erection of the garden office
If you ordered a prefabricated garden office, you can do the erection yourself or – if DIY is not your thing – also order a local firm to do it. Often times the manufacturers offer packages where the erection is part of the package. The same options apply for all the interior facilities.
Step 4: Equipment, furnishing interior design is now all up to you
Make it a place where you love to be so that your work is influenced by "good vibrations"!
The costs for a garden office vary according to the circumstances
Of course, one big factor is, how much work are you willing and able to invest yourself.
Suitable wooden buildings, be it summerhouse style, maybe even hexagonal or octagonal, with terrace or without or specifically designed as a garden office come at prices between approximately  £3,000. – £6,000.
For the foundation, you might spend between £200.- to £2000.- depending on the size, type and how much you can do in DIY-mode.  Fittings, insulation, heating, essentials like electrical wiring, and so forth, furniture also of course largely depends on your choices.
Probably a range between £1000.- to several thousand pounds would apply.
You may think this is a lot of money for your business so the decision hinges on how long-term you think and what the alternatives are. Renting an office or workshop space somewhere plus costs of commuting will in a matter of just a few years get you to amounts that exceed the investment for the garden office.
On the other hand, a good garden office can easily add up to 5% to the value of your property and is a clear advantage, when it comes to unique selling points on the property market.
Finally
What will the new garden office do to you, your productivity, your creativity, your independence, your health and the reputation of your business? It's yours to decide.