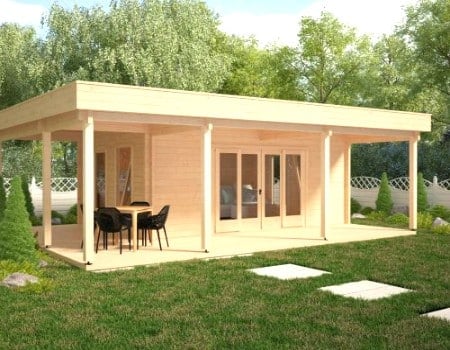 For most people, their limited space at home is the most important obstacle to develop their lives, find new hobbies, get creative or simply evolve their pastimes along with their evolving personalities. Living in confined spaces makes people search ways to the outside using TV or the Internet instead of developing their real life.
If you think you have hidden talents, wishes that you don't pursue because there simply is no space left in the house to make them real, think again! If you own or pay rent for just a small garden, you have the opportunity to erect one of our prefabricated garden rooms there to give you a new space to shape according to your dreams and wishes in your very own style.
Here are our top 7 ideas what you can do with a new garden room:
Garden Lounge
A garden room can be perfectly well made into a garden lounge where you can rest and relax every day after work and during the weekends. Comfy sofas and armchairs, a large flat-screen to play games, watch TV, or surf the Internet, a little bar to sit with friends, a dart board, some posters on the walls. The interior design is entirely up to you!
Maybe your garden lounge has a covered veranda to spend hot summer nights with friends, maybe your sofa can be pulled out to become a bed and you can host your friends after the party.
Hobby Room
Do you like to play snooker or pool? We offer garden rooms with just the right size for this. Or do you like playing table tennis? How about a 30m2 8x4m garden room with sturdy 70mm walls and 28cm floor boards?
Of course for other hobbies, you will need much less space. A quiet place in the beautiful surroundings of your own garden for reading books, meditation, or hand crafting can be much smaller. Art studios for painting, wood carving or sculpting, workshops of any kind of for repairing things or even set up a repair cafe for your whole neighbourhood, building drones, or creating anything that you are interested in can easily be done in one of our garden rooms.
Garden Gym
A cross trainer doesn't take much space. A few mats for bodyweight training or lifting weights don't either. You could lay the whole floor out with soft rubber mats so you could do anything including yoga and floor exercises. A fridge would hold some protein drinks or a healthy salad for the breaks on the sofa with a view of the garden.
No gym memberships needed any more, no waiting lines in front of your favourite machine, no dress code, no wasting time searching a parking spot, no opening hours. Imagine how a regular, daily workout would make your body look in no time!
Garden Music Room
Many would like to play music themselves. However, some kinds of modern music actually need to have a certain minimum volume to really sound well. If the rest of the family or some close neighbours have a very different taste in music, this might have been the main reason for you to not pursue building your talent.
If you follow our guide to insulate your garden room, you will have your music room available all year round, also during the winter time plus you can also take care to make the insulation more soundproof. This room will be perfect for self-made Rock 'n Roll, Heavy Metal or just sit there and listen to your favourite records with the surround sound fully turned on.
Garden Office
Commuting to your job and back every day takes a lot of time, costs, and it also involves some risk. If you work mainly from home or if you would like to do your regular job from the comfort of your own home: a garden office in the garden room makes your life easier and spares a lot of time and money.
That is also true for companies, which can spare the costs for workstations at their offices. Nowadays everybody is connected via Internet or company specific intranets and many desk jobs could be equally well performed from a garden office. Why not ask your boss about it and exchange the daily commute with a daily walk through your garden to your garden room?
In your garden office you can set up your perfect workplace; you will be focussed, uninterrupted, and your creativity will climb to new heights that will impress your boss, too.
Teen's Room
A garden room can easily be made into a room for a teenager who wants to have more freedom to create his or her own space with some more distance to his parents while not yet ready to fully move out. Teenagers will enjoy having their very own realm to design after their own liking where daddy and mummy are not just a thin wall away but a short walk through the garden.
Insulating the garden room, installing electricity and maybe tap water will be enough to relieve families with a pubescent teenager of a lot of unnecessary tension.
Guest Room
A similar setting with a bed, a sink with running water, and electricity in the insulated garden room will also be sufficient to set up a guest room. This will alleviate the burning question at every party: "Who's going to drive?", or "Will we afford a taxi, or is somebody going to drive drunk?" Your guests can simply stay in your guest room in the garden where they also enjoy some privacy for any mutually agreed activities after the party.
Moreover, guest rooms can nowadays easily be rented out to paying customers via a variety of internet platforms.
Whatever your choice, a garden room can enrich your life and open up new possibilities and ways.  If you need some inspiration, please have a look at our portfolio of garden rooms, or please contact us for more information.