What Are the Benefits of Investing in a Large Garden Log Cabin?
01.11.2021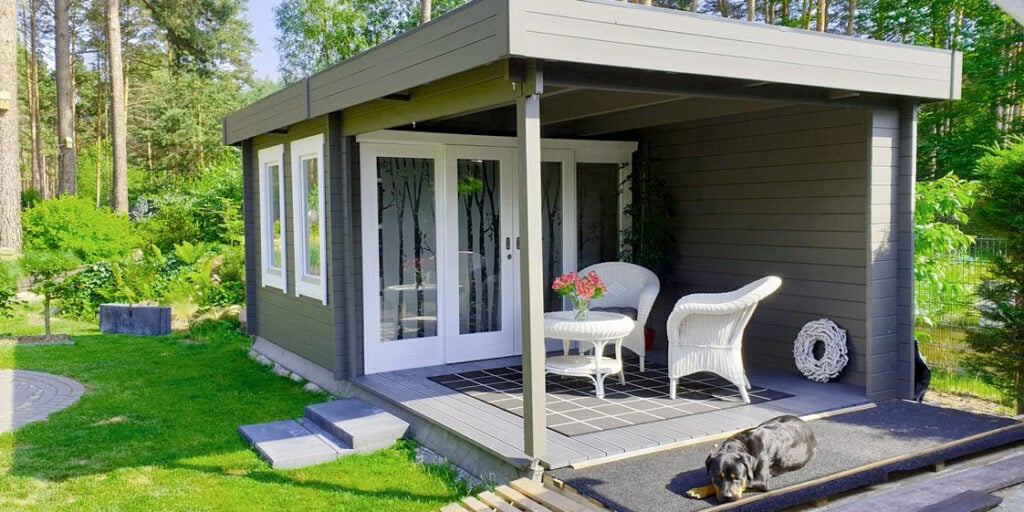 Large garden log cabins come with many benefits and over the past years, their popularity has increased substantially. They are affordable, easy-to-install, versatile, and can be used for many different purposes. If you want to know whether investing in a large garden log cabin is a good idea, keep reading. Throughout this article, we'll discuss some of the most notable benefits of investing in a large garden log cabin and we'll get you more familiar with some of our most popular products.
A large garden log cabin can have many different uses
The best thing about large log cabins is the fact that they can be used for several things. If you've read our other articles about the many different uses of insulated garden log cabins, then you are already familiar with their versatility. You can do many cool things with a garden log cabin and if you have more space available in your garden or backyard, why not invest in one that's spacious enough to accommodate all of your cool ideas?
You can think of your large garden log cabin as a blank canvas that can be transformed and customized based on your taste and preference. So, whether you want to use your garden log cabin as a hobby room/tool shed/gardening shed, as a home office/studio, or as a man cave/guest house, you can surely organize the space in a spacious log cabin in any way you want. Not sure what large garden log cabin to choose? It all depends on whether you prefer a classic or a modern design.
There are many different types of large garden log cabins to choose from
We offer many different types of large garden log cabins and all of them can be used year-round if they are properly insulated with our floor and roof insulation kit. Some of our most popular products are:
Large Garden Room D, – this big log cabin has a classic design. It can accommodate your hobbies perfectly and is equipped with large windows that are double-glazed.
Garden Log Cabin with Storage Room Barbados – this modern and spacious log cabin is designed to have two main purposes and is equipped with two large windows that have a German tilt and turn system and two fixed windows and you can choose their position.
Corner Log Cabin with Two Bedrooms Devon 2 – if you have a very spacious garden and are looking for a lavish corner log cabin, this one is a perfect choice. Designed as a luxurious garden guest house, the Devon 2 log cabin can also be used as a holiday lodge. This log cabin features two spacious bedrooms, a 22 m2 dining or living area, and a bathroom.
Large garden log cabins are easy to install
If you're familiar with garden log cabins, you already know that one of their most notable advantages is the fact that they are so easy to install. The good news is that this doesn't just apply to small garden log cabins but also large garden log cabins. So, no matter the size, a log cabin will always be easy to build. The whole process of getting a large garden log cabin installed in your backyard is quicker and more trouble-free than you think.
Most Summerhouse24 garden log cabins can be installed by two experienced people and don't require the help of a professional. But, if you're not a fan of DIY projects, you can also use our installation service. Our team of professionals will make sure that your log cabin is constructed safely and correctly. Once you opt for our installation services, your log cabin will be installed within 7 working days after the product has been delivered.
Large garden log cabins are eco-friendly
Our garden log cabins are made of slow-grown Nordic spruce that is harvested from sustainably managed forests. Investing in eco-friendly structures is important if we want to don't want to have a negative impact on the surrounding environment or expose our loved ones to harmful chemicals. And the best part about eco-friendly materials is the fact that they are extremely comfortable and cosy. We love wooden log cabins because they make us feel closer to nature even if they are located in busy cities.
Log cabins are affordable and make good investments
It is quite common for people who desperately need extra space in their homes to postpone searching for a solution because they are afraid of the costs. But the cost of a log cabin isn't something that you need to worry about. Building a log cabin is an affordable DIY project and if you don't have a lot of time on your hands, you can simply buy one of our log cabin kits. This will save you a huge amount of effort and all of our kits come at reasonable rates. A log cabin kit includes all the components and supplies needed to build a high-quality residential log cabin. In addition to that, you can choose from a variety of sizes and styles, based on the space available in your garden, your needs and preferences, and your budget.
Log cabins, be they small or large, are not just affordable, but they are also attractive and will make your property more attractive. Your guests will be thrilled if you throw a BBQ party or if you invite them to watch the game in your man cave. Everyone loves to spend time in a log cabin, so buyers will also be thrilled if you ever decide to sell your property. According to experts, a log cabin can boost the value of your property by 5% to 15%.
A small garden log cabin comes with many benefits as well
Can't afford a large garden log cabin? Don't worry! Our small garden log cabins are just as versatile. Designed to fit in smaller gardens, tiny log cabins make perfect home offices, sheds, BBQ huts, and can also be used as extra storage space or hobby rooms. Small garden log cabins are more affordable and will also increase the value of your property considerably. So, if you want to make your property more attractive for potential buyers, a small garden log cabin is surely better than no log cabin. And, if you already have a small garden log cabin, you'll be happy to learn that there are many design tricks that can make your small log cabin seem more spacious.
Want to learn more about the best log cabins the UK has to offer? You can always contact our experts by e-mail at info@summerhouse24.co.uk or you can give us a call at 020 3807 0369. Our lines are open on weekdays from 9 a.m to 5.30 p.m and weekends from 10 a.m to 4 p.m. You can also visit our Devon display site which is in The Cider Press Center of Dartington Estate.