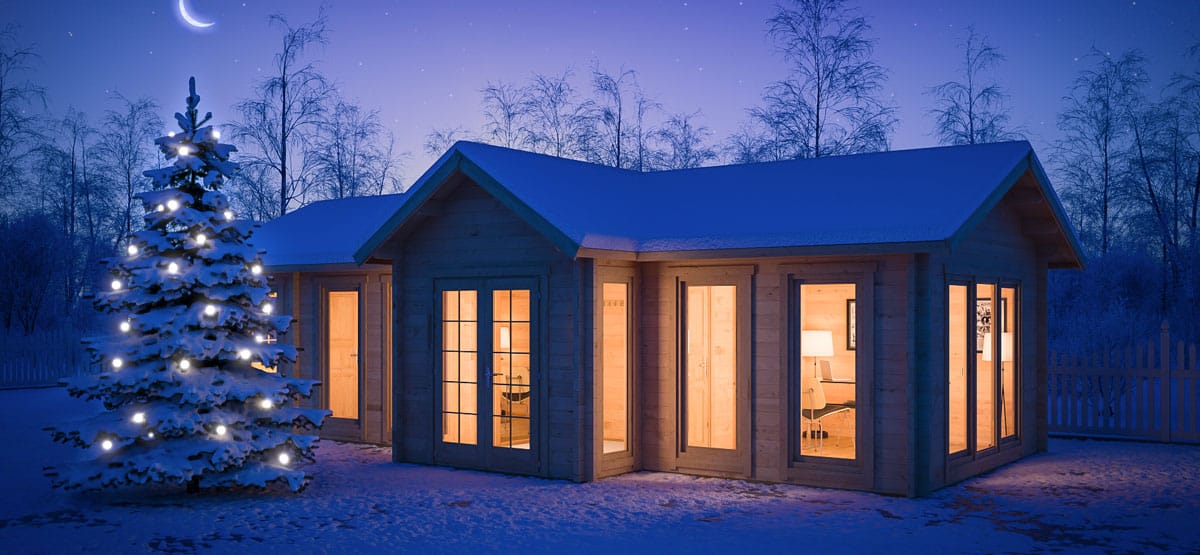 A summer house serves us well not only to store things in it but also for every purpose that we would need an extension of our limited domestic space for. Summer houses serve as guest houses, as garden offices, as workshops, as garden saunas, as private fitness rooms, as garden lounges, or garden rooms for children or grandparents.
A wooden summer house is a decoration for every garden anyway, it has become a part of our daily life also during the winter holidays. We decorate our houses and the front sides of our gardens, so why not decorate the summer house as well for Christmas? Be liberal this year with lanterns and evergreen boughs and give the summer house its share of Christmas-y beauty.
You might be astonished to see how good your summer house will look in your garden with some atmospheric lighting, evergreens, and bright Christmas ornaments.
Some ideas for Christmas decoration on the summer house
Using as much natural material from the garden around the summer house would be just fine. Evergreen branches of spruce, pine, yew, junipers, gorse, broom, holly, laurel, ivy, or box tree will provide some green, one of the symbolic traditional colours for Christmas. Some of these plants will also provide nice red berries to use for decorating wreaths.
Some ornaments, maybe a bright galvanized Christmas-Star might be behind the window, illuminated with garlands from the inside.
The whole beauty can be illuminated by icicles or colourful lanterns added to the roof of your summer house. LED reindeers, twinkly net lights or flickering candle lights are options to achieve the final wow factor that will also impress your neighbours.
Of course, also trees and fences can be decorated and illuminated. The options are endless, and you might find yourself wandering through budget stores and charity shops imagining which items could be used to make a nice decoration for your summer house.
Just please be aware of the fact that not all garlands and electrical lights are made to use outside. Be sure to only install those outside that meet the necessary specifications.
Use the opportunity to upgrade your summer house
If you do not yet have window boxes or plant boxes at the handrails of your veranda at the summer house, this might be the opportunity to install some to hold some evergreens or lanterns and you could just continue using them during the next gardening season for flowers or herbs.
If you have not yet installed a light at your summer house, buy a nice one to spread some light during the long nights of the Christmas season and continue using it for example with a motion detector, so you will never have to sacrifice your toes again if you want to get something out of the summer house after dark.
Warm fairy lights inside the summer house, which you could also completely turn into a Santa Claus grotto to the joy and excitement of your children, could be a cheerful source of light also for  other activities after dark during the rest of the year.
If you use screws to fix green boughs or garlands at the walls, just leave them there to use again next year. They can hardly be seen from a distance. Paint them over with some wood protection as soon as the spring comes. This might be a better solution than removing them and leaving open canals in the wood.
If you think, your summer house could need some more colour to provide the appropriate background for your Christmas decoration, why not use the opportunity to add some colour by painting the door red or adding some colourful window shutters on both sides of the window? They don't necessarily need to be functional, but they sometimes just look good and give the summer house a more cheerful look.
How to use the summer house in preparation of Christmas
Another opportunity to make your summer house more comfortable could be to give it an oven or an electrical radiator, furnish it with a table and some chairs or a bench seat and do some handicraft working there in order to  make some self-made decorations out of natural materials from the garden.
Starting from making a wreath from evergreens and decorating it with red berries, pine or fir cones, which, of course, can also be painted, sprayed and covered with glitter to making little figures from chestnuts or other nuts and wooden rods. Children will love these handicraft sessions in which they will not only learn to use their hands and available tools, but these sessions can also be completed by learning Christmas songs or playing games, making candles and Christmas tree decorations, folding cardboard into stars, while the breaks can be filled with some activities in the garden, perhaps even in the snow and/or some hot chocolate with cookies afterwards.
For all this the summer house might be the far better location compared to the main house with its new floor, the expensive seating combination, and the necessary tools for the making might already be in the summer house anyway.
That way, Christmas could be the opportunity to change your summer house into something prettier and cosier than it ever was before. You might even consider insulating it. You can double the worth of your summer house by making it fit to be used in the winter as well to extend its usage period from 6 to 12 months per year.