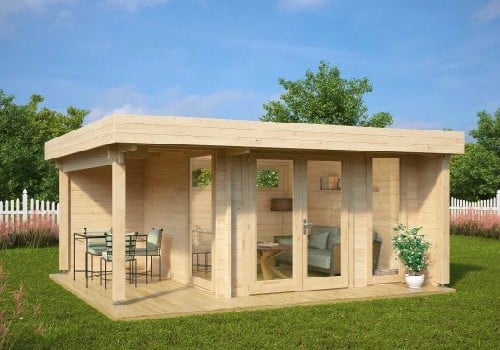 Walk to Work Day is over. Have you ever walked to work? Sure it would be nice to be able to walk to work every morning instead of punching your way through heavy traffic, but for most people that remains a dream. Walking or riding a bicycle to office is a good fresh start into the morning, physical activity will wake you up and boost your health and fitness. Fully circulated behind your desk, creativity will just explode. Or will it?
Imagine a work day in your own garden office compared to what usually goes on in an office. Would you rather sit in quiet and peace in the comfort of your own home or have so many colleagues bring their personal problems to the workplace, fight through animosities, deal with annoying habits, smells, loud voices, topics totally unrelated to work; Meetings, team-building, administration, the list of things that are more a distraction from work than really helping it goes on and on.
So even if you could walk or bike to work every morning, the situation in most workplaces is far from optimal considering the needs that really are important for a work environment necessary for a creative, focused and productive concentration on the tasks at hand.
Thus garden offices have become a real alternative to office life because here the atmosphere is different, the attitude is a different one right from the start.
Imagine being able to have a short walk to work through your own beautiful garden every morning after a relaxed breakfast without just only one look to the watch. Your walk through nature leads you to a nice wooden garden office with a little veranda. Floor to ceiling windows make the inside bright and radiate with natural light. The interior style was completely your own choice. Your workstation is in just the right position with you sitting with your back to the wall and the view goes out to the lawn, the flowers, and the bushes, where birds are singing and squirrels are playing.
Green is the colour you meet when you look through the window; calming, soothing, motivating and even kind of meditative.
You switch the computer on and go online to get connected to the office, check the to-do-list and decide, what to do first. Your thoughts remain uninterrupted. After some time you feel a little hungry and you have a little break on the comfy sofa at the side with a snack and a herbal tea. Peppermint from your own harvest.
Do you think that health and focus could be keys to creativity and motivation and boost your productivity as well as improve the quality of your work?
After only three hours of concentrated work in your garden office, you will have finished a day´s scope of open-plan office work.
Why not talk about this option with your superior? Many jobs, especially office jobs nowadays allow for if not all, at least some days of work from home. Working in a garden office might really change who you are.