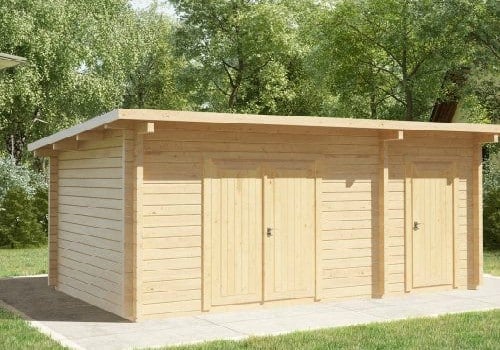 Garden sheds get more and more popular in the UK, and due to their popularity, the assortment has become so rich, that there is probably one for you already out there that exactly fits your requirements. Let's have a closer look on the basic considerations playing a role in the choice, before jumping to purchasing one.
Usage, style and construction materials, size, treatment, location, and – last but not least – your budget will play a role in choosing the right garden shed. If all of these aspects are considered thoroughly, chances are that you will purchase just the right one that will serve you and your family well and that you will once inherit it to your grand-children.
Usage
Even though usage is the number one priority to consider before buying your dream garden shed, you should be aware that interests, hobbies and living conditions in general change all the time.
So, if you are looking for a storage room, a garden office, a hub for gardening or even a place to propagate your plants in, a party room, a garden sauna, a garden lounge, a garden gym, a workshop for DIY, a painter's workshop, a meditation retreat or simply a garden room to have a tea and read a book in: Garden sheds are useful and are being used for many purposes in the UK, but an evolution of usage is also quite common.
So even if a 6ft x 4ft shed might give you the additional storage space that you might be looking for now, it might be wise to look for a larger garden shed with additional features so that there is some extra space for any additional usage, and an option to maybe change the usage completely. Who knows what your exact needs will be in – say 20 years – from now?
With increasing square footage the garden sheds get more open for a variety of different usages and for evolutions of needs and circumstances.
Size
Simply buying the largest garden shed you can afford seems like a sensible advice, but there are other things to consider like materials and style that play into the price, and therefore the budget as well.
Surely "the bigger the better" applies to a garden shed because options of usage, multipurpose usage, and evolution of usages will be easier to implement in bigger garden sheds. However, the space in your garden also plays a role. After all, you will want your new garden shed to also look good in your garden, even be a decorative element in it.
So before thinking about a suitable size, the sensible thing to do is to go into the garden and measure out the available space. Mark it on the ground, use a rod to indicate the height and see to it that you get a picture of how the garden shed will fit into the garden. Imagine where the door will be, and how the walkway will lead there. If you want a lot of natural light in there, plan which side the windows will be. Find a similar sized room somewhere, go inside and imagine how you will furnish it, how you will configure everything so that the garden shed will serve its purpose.
Construction material and style
Garden sheds come in so many styles in the UK. Most people care about looks and garden design and would prefer garden sheds that look nice and add something to their garden design.
Basically, there  are four kinds of materials possible:
Stone as for example bricks, lime stones, sand stones or concrete. These kinds of buildings almost always need a building permit in the UK and are a bit more complicated and time-consuming to build than ready-built garden sheds that just have to be erected from prefabricated parts.
Metal sheds often feature galvanized coated steel and have a high security and quite a low maintenance. However, the optic is often not quite to everybody's taste.
Plastic sheds are also available. They don't need any maintenance and they are durable as long as they live. Once the plastic gets old, they will disintegrate quickly and fill the surroundings with micro plastic.
Timber is probably the most popular choice for garden sheds in the UK. This natural building material fits into the landscape of any garden and different wood species, colours and shapes allow for a huge practical and decorative variety.
Talking about styles, there is one option to have sheds with a lot of glazing, large windows and a lot of natural light inside. These sheds look very decorative; be it as a hexagonal or octagonal summer house or garden pavilion with large windows with bars and pyramid roofs, or as contemporary garden rooms with modern floor to ceiling windows. These garden sheds offer opportunities to live in, to grow plants, to have a workshop, an atelier or a garden office. They can be used for storage as well, but if you have valuables to store, like machinery, motor vehicles, expensive bicycles or electrical tools, then you might prefer the "security garden shed" option, and choose one of those garden sheds which do not allow to take a look inside easily. They might have windows high on the walls and be fitted with pad bolts and other precautions against break-ins. Another option would be to choose a "normal" garden shed and just use curtains inside to obstruct the view from the outside while you are not "at home".
Location
Apart from the decorative value that garden sheds can offer, the question of location is also an object to some practical considerations: Wooden garden sheds, in general, have a quite long lifespan if the timber stays dry.
In order to achieve that, garden sheds should not be erected in swampy areas or natural sinks, where surface water accumulates after heavy rains. Locations slightly higher than the surrounding ground are usually advisable. Also, a good drainage of the ground will help to keep the exposure by moisture from the ground as low as possible.
An expertly built base is important not only for protection from moisture and raising the garden shed above ground level, but also to anchor the shed as a protection against heavy storms. For more advice how to make a concrete foundation, please refer to our blog on "Most popular base types for summer houses and garden log cabins".
The area below the garden sheds can also be prepared by setting up a drained gravel bed or by laying down paving slabs. The floor of the garden shed should be lifted by at least about 1.5ins above the ground to allow a clear ventilation.
Treatment
The treatment of the garden sheds will partly depend on the wood species and the pre-treatment. Some companies offer garden sheds from pre-treated timber. It can be untreated, dip treated or boiler pressure impregnated. Dip treatment is less complicated and thus these sheds might be generally a bit cheaper. Untreated and dip treated timber will have to be treated by you in all areas where water, like rain water, drizzle or fog regularly get in contact with the timber. This also helps to retain the original colour. One treatment every few years should be enough, however, if you treat the lower walls at the weather side more often, or whenever you see that the water drenches into the wood, this will probably also help. Parts that generally stay dry all the time don't need any treatment at all.
Some companies offer the timber of the substructure for the floor boiler pressure impregnated and the rest untreated. In any case, it is a good idea to treat these parts as well as the bottom sides of the floorboards before the construction of the floor, because usually they won't be accessible for treatment any more after the construction.
If you are lucky enough to find a fully pressure treated garden shed, you will not have to treat the wood for about 10 years.
Conclusion
Whatever you decide, you will find your new garden shed a gain for your lifestyle and a useful investment to enhance your quality of life, provide new opportunities for personal developments, hobbies or ways to spend your time with more value. Moreover, it will change your garden from an arrangement of beds and plants to a new outdoor living space and enable you a little cost-free holiday each day after work in the safety, the natural, and relaxing environment of your own garden.