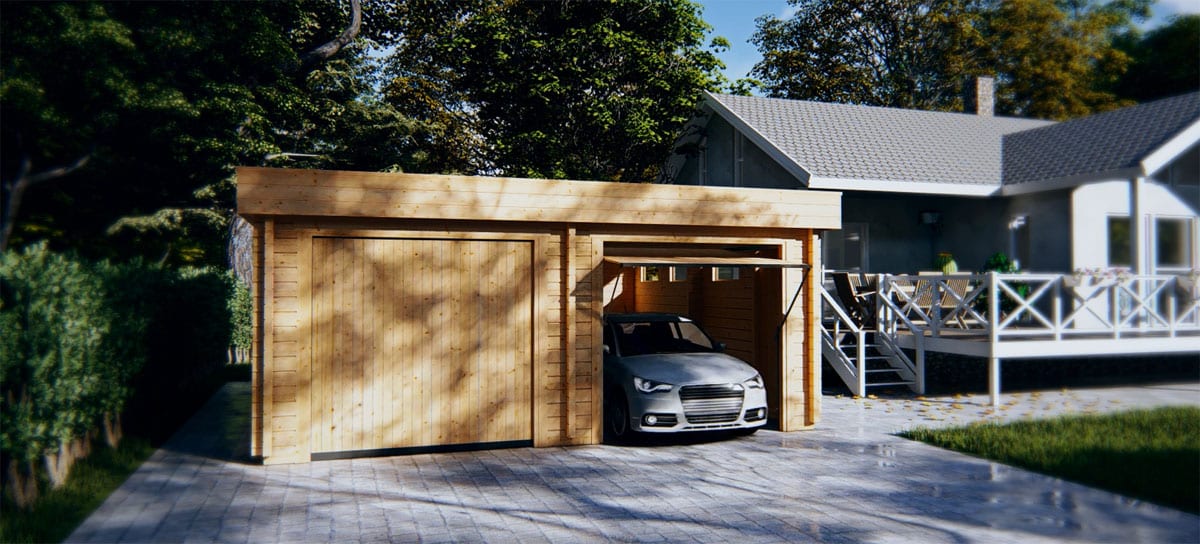 We have covered the many benefits of a wooden garage with carport before. From the usage for two cars with the option to have a safe and dry room to lock up all accessories, bikes, tools, toys and garden furniture to the use for just one car plus a snooker or table tennis under the carport.
A garage with carport under the same roof provides you quite a large building of at least 6×6 meters with a large variety of possible usages like for example a garage and a carport under one roof and thus for a price much lower than you would have to afford when you buy both components separately.
As a matter of fact, such a combination of a 3×6 meter dry and locked room with a 3×6 meter open roof can be used for many purposes. Why not make a little holiday cottage out of it with one small cabin to live in and a luxuriously large roofed terrace, for example?
While a carport and a garage are often situated next to the house or even in front of the house with a short connection to the street, we would like to propose a completely different usage here which would be as a roofed terrace with a convenient lockable room next to it behind the house where no car will ever go.
Can you use a carport for a roofed terrace behind the house?
Why not? If you compare the costs of a carport to the construction costs for any roofed terrace of 6x3m you will find that the carport is probably less expensive. So then, why not spare yourself the trouble of fixing a roof somehow to the wall of the house in a way that does not damage the wall too much and is watertight at the same time, and just lay a foundation plate, or just a well drained layer of gravel and sand, and cover it with paving slabs or plates of natural stone, marble, or whatever you like best, and put a carport on top. Leave just a few centimetres space from the roof to the wall of the house, and don't worry about weights, statics, the wall of the house any more because everything is taken care of by a professional manufacturer who even provides a five-year warranty on the carport if you use it for a car or otherwise?
Of course, you could extend the dimensions of the terrace to the outside to gain an unroofed area to use for sunbathing. Also, you could have a look at our carports with built in sheds. Imagine what such a shed could do for you when it comes to storage of gardening tools, lawn mower, wheel barrow, the garden furniture, pots, tools for building, and maintenance and materials.
Or to store additional chairs and table elements in the shed to equip your new roofed terrace for parties with many guests?
Garage with carport in the back of your garden
If you are happy with your terrace as it is, think about using a garage with carport in the back of your garden! A detached roofed terrace nicely integrated into the picturesque backdrop of your garden with a nice 180 degree view and a room to upgrade as a log cabin for overnight stays or as a guest room.
Follow our guide on how to insulate a log cabin and you will have the opportunity to start your garden party open air and retreat into a nicely furnished and heated garden room as soon as the temperatures get too low to feel comfortable outside. Of course, the roof truss of your wooden garage with carport will offer plenty of opportunities to install not only lighting for all occasions, but also hang infrared heating elements which will keep your guests and yourself warm even during chilly spring evenings without wasting any energy on heating the air.
During the other times, the garage will be just the right place to store the furniture safely, and it might also contain accessories of all kinds you need to make your stay in this fountain of nature comfortable. Even a small kitchen is thinkable.
A room of 3×6 metres right next to the roofed terrace could contain a full fledged garden lounge with a fire place, seating area by the open fire, a bar, snookers, consumer electronics, just think of it, and it will most probably be possible.
A detached garage with carport has plenty of possible usages
It might be an unusual idea to think of a garage with carport without even thinking about cars. But as a matter of fact, a 6×6 metre roof, half of it open and the other half as a closed room has a lot of potential. Be it as a holiday cottage, a log cabin to live in, a weekend cottage for hot tub holidays somewhere in a beautiful, natural environment, a guest house in your garden, a home for your old parents, or for your teenage kid, a place to party, or just to relax for free every day after work and on the weekends. With a sauna inside, and a cold water tub under the roof of the terrace, or a hot tub inside, and some deckchairs outside, the options are endless.
Why not check out our portfolio of garages with carports, get inspired, and start making some plans?
For any questions, please contact us or call Oliver at 020 3807 0369!