Log cabin garden room  – all stages from planning to completion
Building a garden room to get more use out of your garden and spending more time there instead of routine evenings and weekends home is one of the easiest and most affordable ways to have more fun and joy with your family. Outdoor cooking, Alfresco dining, hot tub bathing, playing billiards, fitness workouts or maybe even a home sauna are just few good examples of what you could have in your backyard.
A good way to get your project moving is to gather together all family members, present your plan, take everybody's wishes in to consideration and then choose the cabin model that will match as many of your family's requirements as possible.
The days of all garden wood buildings and cabins looking the same is long gone. Just take a look at the cabins from a number of different retailers and you can find so many brilliant designs, from very standard old school log cabins to contemporary NEW look, ultra modern garden rooms. This will sure make all the planning much more exciting.
After the decision is made on your chosen design and you know how large it is going to be, it is easier to calculate the amount of required space. You then need to carefully measure up your garden to make sure that desired garden room will fit in and work well in the space. We would also recommend you look at the building regulations and consult with your local planning office before you start your search. Maximum height, size and location in your garden are commonly regulated by planning and building laws and can vary between regions. Your local planning department is not a scary animal to be afraid of, but it will give you a clear understanding of what you are allowed to build in your garden. They are very helpful and lots of information can be found on your local planning offices website.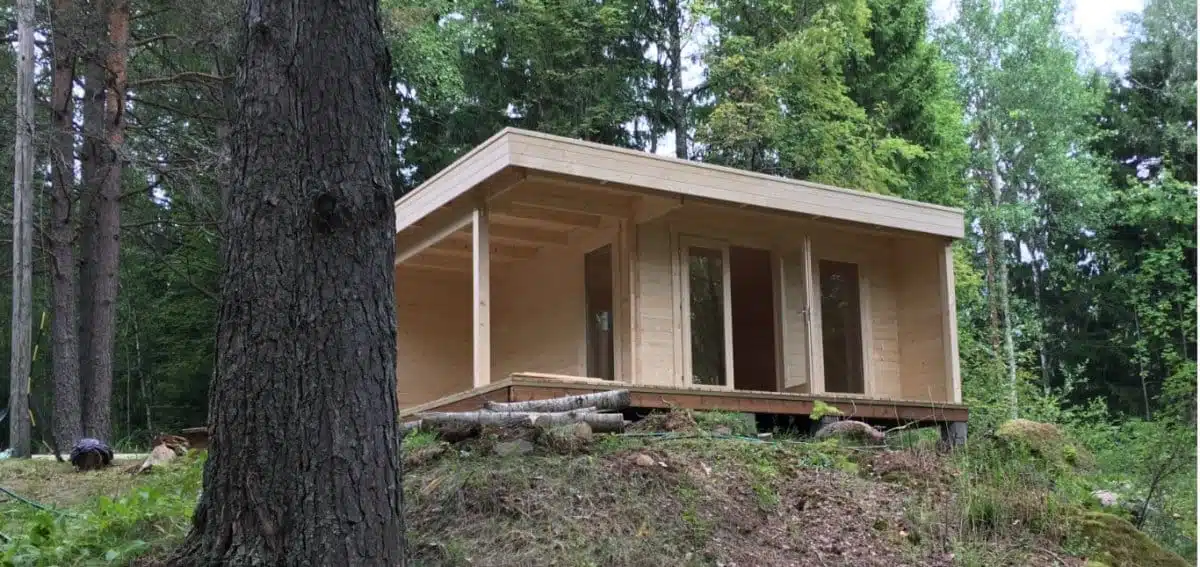 One important issue is the longevity of your cabin and what periods throughout the year you are going to use the cabin. The answer to these two things, pretty much depends on the same cabin features, which are: wall thickness and glazing in doors and windows. If you are looking for a permanent cabin which will last for the next 10 – 15 years or more and you intend to use your garden room for the most part of the year, then you should not consider a cabin with walls thinner than 44mm and you have to make sure your cabin comes with double glazed windows.
44mm-58mm walls are the most commonly used for proper garden rooms and extra thick 70mm walls for larger (from 20m2 buildings) snooker rooms, table tennis halls and other large garden rooms. Using your garden room for colder months requires some insulation, lighting and heating, but this can be easily achieved without spending a lot.
28-34mm garden rooms are also very common and there is nothing wrong with them. You just have to keep in mind that thin walls are not as sturdy and the outside temperature has a bigger impact to the inside temperature and a shorter life span. These cabins will be significantly cheaper, while the outer look is pretty much the same.
Now coming back from the slightly boring but very important technical issues to the cabin size and the outer look, it is good for you to know that most log cabin dealers can make changes to standard cabins. Increasing or decreasing its size, changing window styles or locations, adding or removing features is usually feasible. These changes usually lead to a 10-15% price increase and longer delivery time, but you can get a personalised garden room with your size and your look.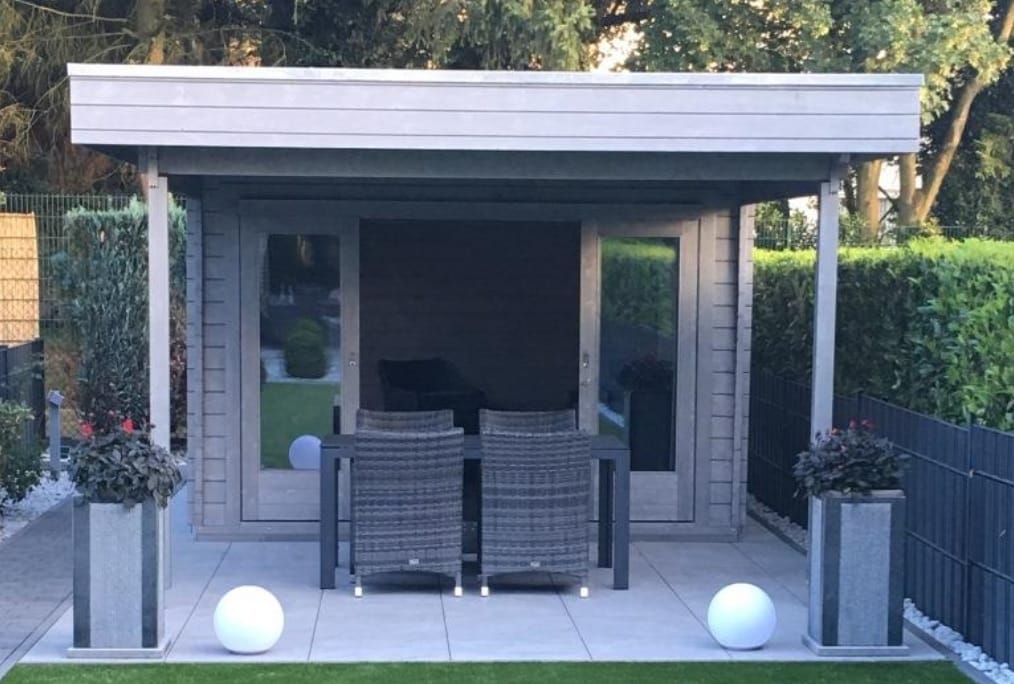 The above mentioned steps should help you to buy the best garden room for your requirements and after the purchase is made there are just a few other details left to consider.
A log cabin can only been built on a proper base. Concrete bases are one of the most popular options and fits great to almost any garden building. A Rapidpads base is a great alternative and it is gaining huge popularity, mainly because it is 2-3 times cheaper than a concrete base, is quick and easy to install and it is still very durable, reliable and safe.
Garden log cabins are supplied similar to massive Lego constructors! Building a garden room is pretty much putting together all the components. If you are an experienced DIY'er or you can involve at least one person who is, then building a garden room should not take more than 2-4 days. Otherwise, it is a good idea to book an installation service from your dealer or hire a local builder. Our general advice is not to try if you are not sure you are capable, because construction errors will spoil the final outcome, shorten the cabin's life span and could result in a cancelled warranty.
Insulating your cabin is best to do during the assembly stage, especially the floor insulation because it is laid beneath the floor boards. Roof and floor are the most important areas to be insulated, if you intend to use you garden room for most months of the year or even all year round.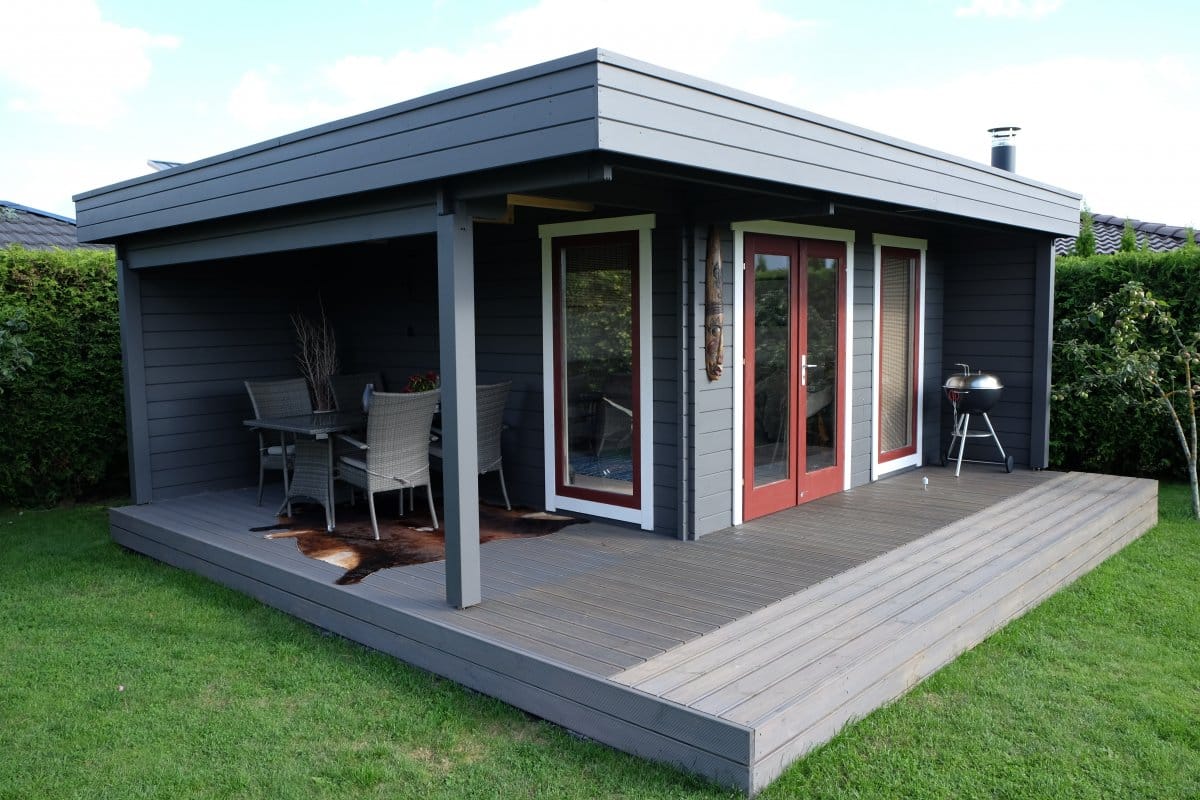 Coating your garden room with a wood preservative after it has been assembled is not only protecting its wooden components from rotting and developing mould, but it is a great way to personalise your cabin by using your favourite colours. Well chosen paints and decorations can make a huge impact to the overall appearance.
Last but not least, installing electricity to your garden room must be done by a qualified specialist only.
After all the above mentioned stages have been completed you will have your garden room built and well protected from weather. Now you can love your garden and family even more!
We hope that you found these tips useful.